Faculty Retreat Workshop with Studio Gang
Faculty Retreat Workshop with Studio Gang
Posted February 14, 2017, 12:00 AM
Updated November 7, 2019, 11:08 AM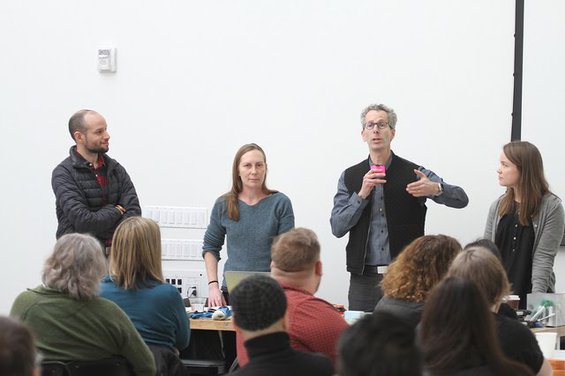 The following is a message that was sent to all faculty from Emily McVarish, president of the Faculty Senate
Thanks to all of you who contributed your thoughts, experiences, and ideas to last Saturday's [January 28, 2017] retreat with Studio Gang. The architects have said that what they gathered from you will be extremely useful.
About 125 faculty attended the event. For those who were not able to be there, here is a summary of what we did:
In the morning, Studio Gang led a series of interactions that began with faculty presenting objects that embodied for them CCA as it currently exists and CCA as they would like to see it in the future.
In the next exercise, faculty produced diagrams mapping flows "of materials, work products, people, energy, and ideas" on campus and beyond. These diagrams were collected by the architects, along with annotated images of the objects people brought.
Finally, Studio Gang presented a matrix made up of criteria that might go into a design decision for CCA's new campus. This was a mock-up intended to prompt us to think about what realities and goals should be factored into the evaluation of design possibilities.
After the architect-led morning session, the deans of the four divisions offered references and frameworks for the faculty-led discussions that followed. For these, we broke in groups of 10–12 and talked first about the types of spaces and adjacencies we hoped to see in the new campus, and then about our curricular goals for campus unification.
These discussions were reported out to the full group. Outlines and sketches documenting these conversations were given to the architects, who were present throughout the afternoon. Notes taken from audio recordings of these breakout sessions will also be given to the architects.
Currently in a discovery phase and listening mode, Studio Gang will be back on campus several times over the next few months. Stay tuned for opportunities to engage with them.
If you have suggestions about integrating faculty perspectives into the design process, please contact me at ec@cca.edu or Allison Smith and Brian Price, co-chairs of the Faculty Campus Planning Committee, at fcpc@cca.edu.