"Be the Voice of Iran"
Posted October 21, 2022, 8:40 AM
Updated January 24, 2023, 1:23 PM
---
Join us for this performance, turn outrage into action, and stand in solidarity with Iranian women.

"The Wind in My Hair" Performance in support of the Iran revolution and people in prison on 28th Jan at 12:30 pm @legionofhonor

Thank you @legionofhonor for your support!

---
This event is a continuation of "The Wind in My Hair" program curated by @katayounbahrami_ and presented by @clarionalleymuralproject in collaboration with @cca.caplconnects in San Francisco to show solidarity with the brave women in Iran.

The title of this event is borrowed from @masih.alinejad book, The Wind in My Hair.
"Woman. Life. Freedom." "Zan. Zendegi. Azadi." This is the slogan chanted on the streets of Iran since the Islamic Republic's morality police killed #mahsaamini after she was arrested because of an improper hijab. Despite brutal crackdowns and the internet being shut down, protesters have not backed down. These protests are about more than mandatory hijabs — they are about the systemic oppression of women in Iran. For more than 100 days now, the brave protesters in Iran have been risking their lives for freedom. Now women, men, girls, boys, and people of all ages are standing shoulder-to-shoulder against the regime that has segregated and oppressed women in Iran for decades.

Performance: @mobinanouri.studio
Music: Nima Sepehr @nima.lives + Mohammad Hassanzadeh

@badrivalian @katayounbahrami_

#mahsaamini
‎#مهسا_امینی

#freedomforiran #equality #womenempowerment #women #womanlifefreedom #womensupportingwomen #feminista #feminismo #womensrights #lgbt #woman #mahsaamini #metoo #genderequality #feministart #humanrights #womanlifefreedom #womenlivesmatter #female #memes #strongwomen #nikashakarami #opiran #nikashakaramiنیکا_شاکرمی #iranprotests #iranrevolution
---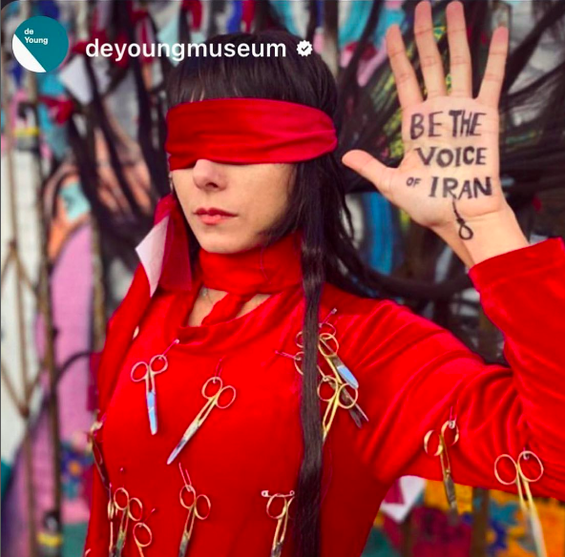 ---