The Center for Art and Public Life has hosted the Impact Awards each year giving the students an opportunity to win funding and mentorship for their impact project.
---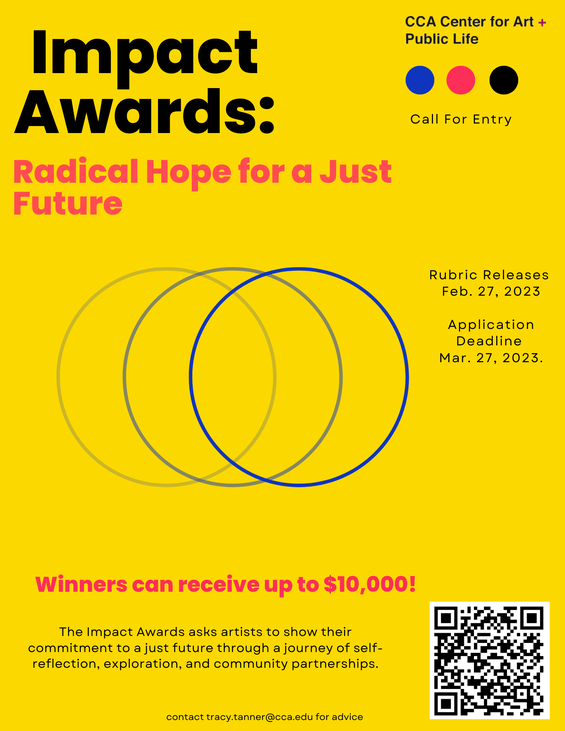 ---
2023 Impact Award Theme : Radical Hope for a Just Future
Artists and Designers have long contributed to engaging, educating, and defending the principles that make our world a space for joy, connection, and radical hope. Creatives are cultural communicators that draw from rich and diverse community knowledge to ignite social change. Racial justice, gender justice, and climate justice are urgent themes for transformation in our social landscape.
The Impact Awards asks artists and designers to show their commitment to a future we still believe is possible through a journey of self-reflection, exploration, and community partnerships.
The 2023 Impact Award provides the opportunity to take your existing project to the next level. Whether you already have a community partner and the work is underway, you are just beginning your partnership, or you have an innovative and exciting idea you are looking to develop, the Impact Awards can help with funding, feedback, mentorship, and development.
The application process allows for the development and strengthening of your project, your team, and your impact. You can sign up here for mentorship, brainstorming sessions, and internal and external partners.
---
To apply you will need to turn in the following:
A 250-word project proposal.
3 to 5 images of your proposal in Jpeg format.
A 10-minute video discussing your project, the issues it addresses, and the proposed outcome.
A 24" x 36" Poster of your project
---
The final Application Deadline is Monday, March 27, 2023 11:59pm.
Juried online interviews will take place the week of March 27, April 1, 2023.
Award Recipients will be announced here on the portal Friday, April 5, 2023, 12 pm.
---
The Community Impact winner will receive $10,000.
The Exceptional Innovator award will receive $5,000.
The Outstanding Startup will receive $2,500.
---
---
2023 Rubric for Applications
The Rubric for the 2023 Impact Awards is available for applicants to view ahead of time.
---
Remember the keyword is Impact. If you have a project or artwork you believe is moving something important forward, but would like help growing its Impact, please reach out to tracy.tanner@cca.edu for advice and guidance.
---
2022 Impact Award Winners
The Community Impact Award winner of $10,000.
Homefulness via Self-Determination, Niv Rajendra
The Exceptional Innovator Award winner of $5,000.
Global Makers Project, Michelle Zamora
The Outstanding Startup Award Winner of $2,500.
Healthcare Cost Transparency, Suruchi Tayshete
Congratulations!
---