The Center for Art and Public Life has hosted the Impact Awards each year giving the students an opportunity to win funding and mentorship for their impact project.
---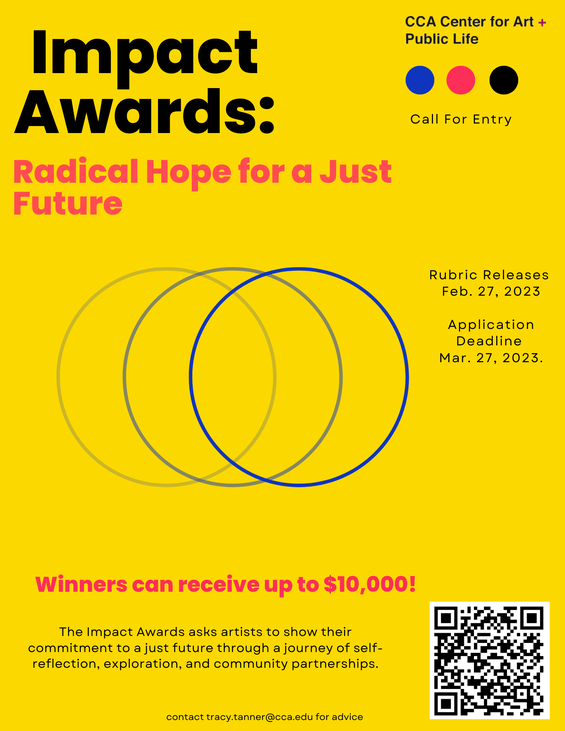 2023 Impact Award Theme : Radical Hope for a Just Future
Artists and Designers have long contributed to engaging, educating, and defending the principles that make our world a space for joy, connection, and radical hope. Creatives are cultural communicators that draw from rich and diverse community knowledge to ignite social change. Racial justice, gender justice, and climate justice are urgent themes for transformation in our social landscape.
The Impact Awards asks artists and designers to show their commitment to a future we still believe is possible through a journey of self-reflection, exploration, and community partnerships.
The 2023 Impact Award provides the opportunity to take your existing project to the next level. Whether you already have a community partner and the work is underway, you are just beginning your partnership, or you have an innovative and exciting idea you are looking to develop, the Impact Awards can help with funding, feedback, mentorship, and development.
The application process allows for the development and strengthening of your project, your team, and your impact. You can sign up here for mentorship, brainstorming sessions, and internal and external partners.
---
CAPL 2023 Impact Awards Recipients
The Community Impact recipient of $10,000
Resilience of Poppies: Manifest Differently by Katayoun Bahrami
The Exceptional Innovator Recipient of $5,000
Vote by Angela Becerra, Preet Rupareila, and Tanvi Jain
The Outstanding Startup will receive $2,500
Hack A:tack by Shreya Saraf
---
Congratulations to the award recipients! Thank you to all of the finalists and the jurors. This was a very close competition.
---
The Rubric for the 2023 Impact Awards is available for applicants to view ahead of time.
---
2023 Impact Award Finalists
---
Resilience of Poppies: Manifest Differently by Katayoun Bahrami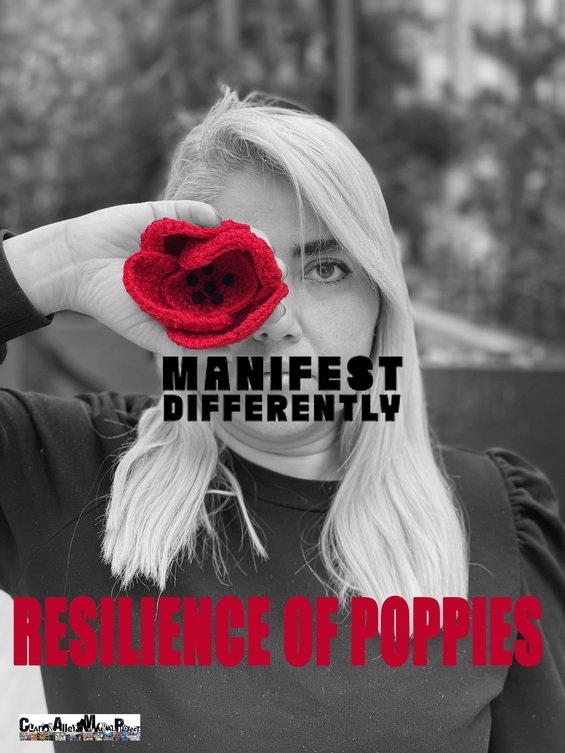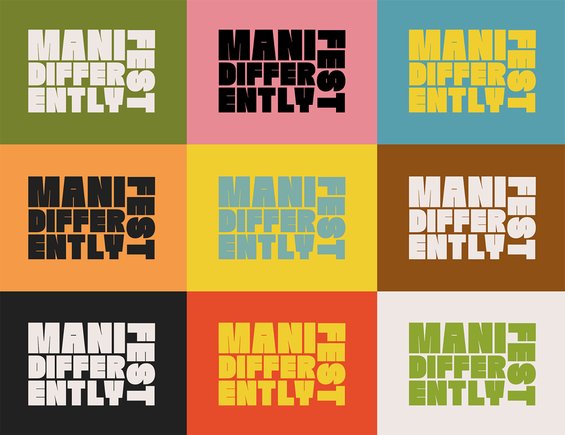 Katayoun Bahrami, in collaboration with Clarion Alley Mural Project (CAMP) as part of "Manifest Differently"

The Resilience of Poppies is a project that explores the inspiring story of those who have overcome tragedy and adversity. Through a combination of video and performance, this project tells the story of courageous survivors - men and women targeted by security
forces during protests and shot directly in their eyes, resulting in many of them being blinded. I will use the traditionally feminine craft of crochet to create poppies and distribute these as a performative tool to reflect the resilience and power of collective solidarity. The
poppies will be used in a series of performances, videos, and photographs to help build community and foster a sense of shared belonging. In addition to the physical works of art, Resilience of Poppies will include a series of podcasts available in Farsi and English. The podcasts will focus on the use of art to support and further the Woman, Life, Freedom movement and its impact. I will be
interviewing a range of experts, activists, and community members involved in this movement, exploring how they and their communities have been affected and what they see for the future.
---
VOTE by Angela Becerra, Preet Ruparelia, and Tanvi Jain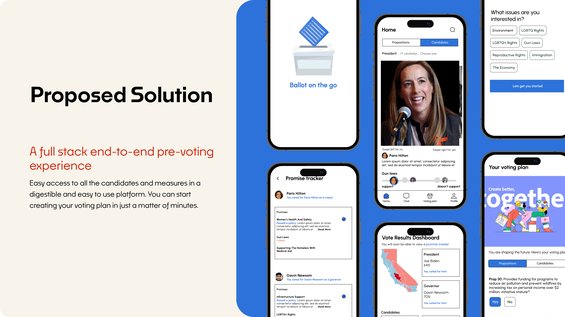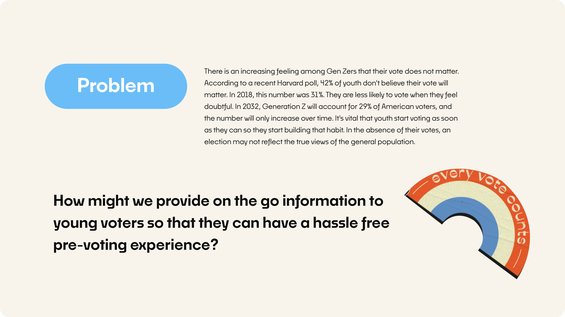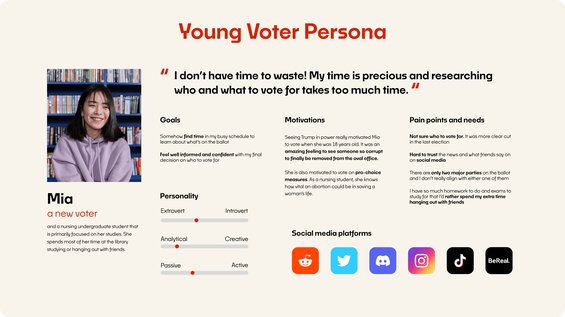 The crux of this research endeavor lies in comprehending the nuances of how younger demographics are swayed towards voting for a particular party, leader, or measure, and how voter activists can effectively engage them in the electoral process. As part of the overall research objectives, we will explore the challenges voter activists face in connecting with youth, devise strategies to involve young people in the voting process, make the pre-voting phase more engaging and convivial, and distribute relevant information to the appropriate audience. An initial supposition posits that voting is a learned practice that evolves over time, implying that the low frequency of voting among young people could stem from their limited opportunities to cultivate and reinforce this habit. Given the potential opportunity costs of voting, such as finding a polling place, learning about the candidates, or taking time off work, first-time or second-time voters may encounter greater obstacles than experienced voters. This is especially true for those with inflexible schedules, limited resources, or transitory housing. To fulfill these research aims, qualitative data collection methods, such as in-depth interviews, were employed to gather insights from young adults between 18-30 years of age residing in diverse regions across the nation. Voter activists and political parties can use the findings of this study to engage younger audiences, increase voter turnout, and streamline the voting experience to make it more accessible and enjoyable. Ultimately, this research and prototype have the potential to strengthen democratic processes by encouraging greater participation from younger generations.
---
Hack a:tack by Shreya Saraf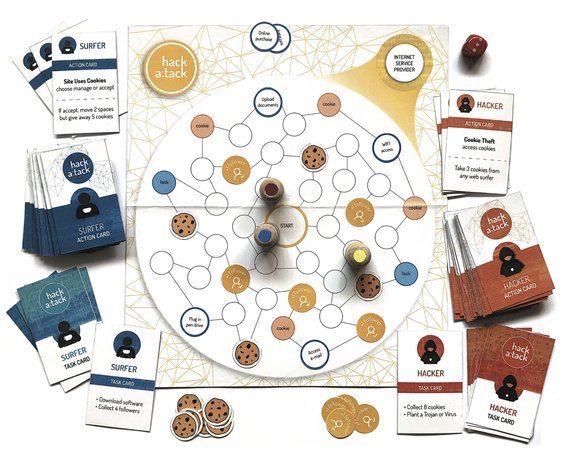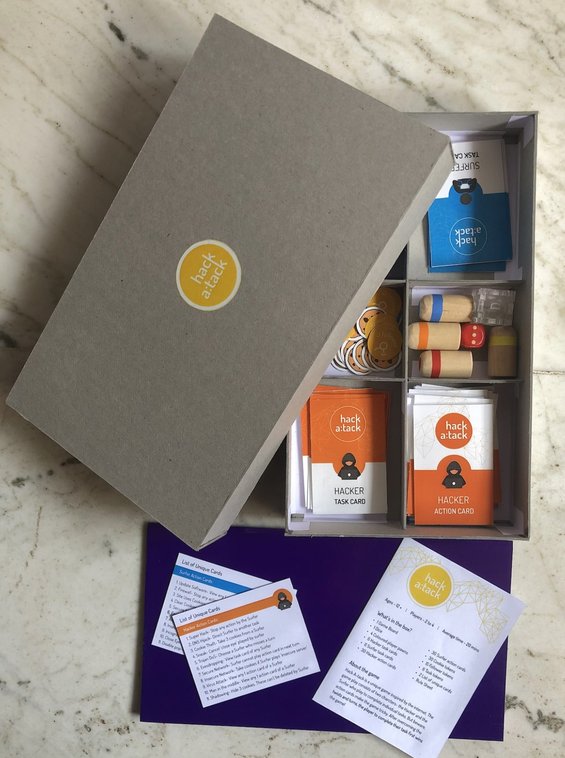 ITU reported that in 2020, 71% of youth actively used the internet. Social media has increased internet use since 1996, with kids preferring general apps over child-specific ones. Accessing apps early brings social status, but as they become adults, internet use becomes more serious and
sensitive information is shared. This puts them at high risk of cybercrime. Cyberbullying often goes unreported, and this project aims to suggest a design solution to encourage responsible internet use and protect against online risks. Hack a:tack was created to facilitate learning about online safety, using role play for fun and engagement. The board game aims to familiarize players with internet jargon and prevent common hacks. It involves two or more players who take on the roles of hacker and web surfer, each with specific tasks to complete. The concept involves using
"Action Cards" to introduce jargon in a fun way, encouraging players to apply it and learn. While there is an element of learnability, repeated play enables players to start using the jargon themselves. The main was to intrinsically motivate teens to play. Hack a:tack can be seen as a radical change in the way we approach digital literacy and online safety for teenagers. By making the learning process fun and interactive, we can encourage them to be more responsible with their online behavior, leading to a more just and equitable digital future. The expandable model
and the potential for a digital platform further increase the accessibility and potential impact of the game. The Internet is fun to use, why make learning about it boring?
---
Mindhouse by Erica Ales, Juan Hernandez, Luke Rolka, and Jinney Kho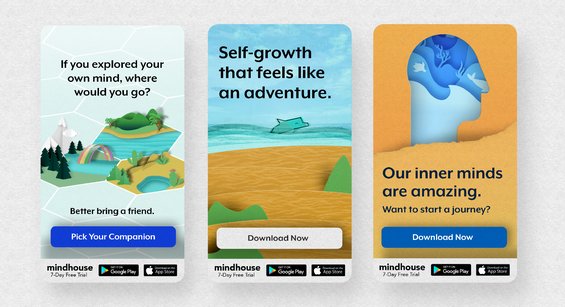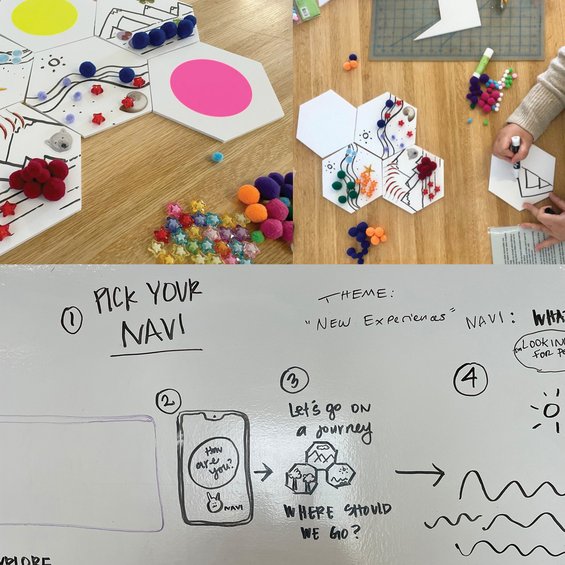 We started Mindhouse after speaking to those who have sought mental health care, and learning that nearly half of the people who could benefit from mental health care don't take that first step. Some are skeptical that they can be helped by professional support, while others aren't ready to admit they might benefit from mental health efforts at all. We aim to change that. We identified the "Mental Health Curious" as those of us who feel overwhelmed by the idea of receiving care but want a low-barrier resource we can trust to learn about our feelings and get started. We propose launching Mindhouse, a self-awareness platform designed to help people make that first step, by being a supportive companion and advocate to take along on their journey. The digital experience is backed by evidence-based mindset change psychology. Users begin by selecting a companion character who travels with them through daily narratives and game-like environments that build upon self-awareness principles to complete. Like Duolingo, users will learn the "language" of personal growth over time, preparing them to track and reflect on feelings and themes that may be difficult to approach at first. Mindhouse hopes to gently guide users towards the concept of "saying is believing" and human mental health support if they might benefit from it. If users are able to say out loud what they think they can achieve and how they want to live their lives, making the first step on their mental health journey becomes possible.
---
fresholds by Shreya Shankar
fresholds is an archive and installation addressing creative place-making & critical place-keeping in Huichin, Oakland. Through a constellation of community partners bridging planners, developers, artists, architects and organizers, fresholds maps the hearts and hands shaping Oakland's built environment in the wake of the Pandemic and 2020 Uprisings. 
---
DemCare by Rishikesh Nighot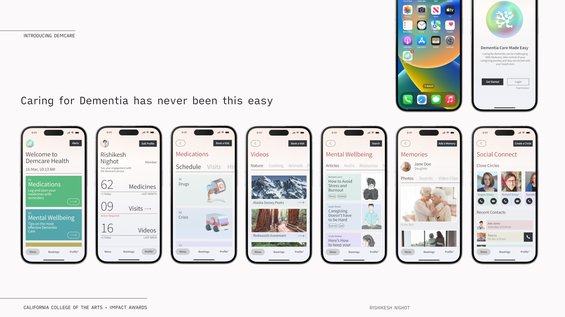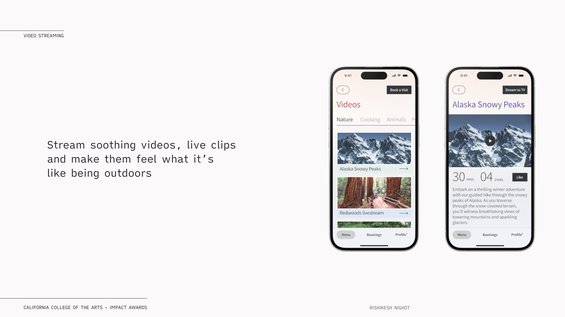 Dementia is a complex and debilitating disease that affects millions of people worldwide. The challenges of taking care of a loved one with Dementia can be overwhelming for families, causing them to feel helpless and isolated. It can be tough to keep up with medication schedules, stimulate the patient, and maintain social connections, leading to a decline in the quality of life for both the caregiver and the patient.
Demcare app is designed to address the crucial challenges that caregivers face when going through the caregiving experience. Demcare offers a variety of features, including medication logs and reminders, stimulating video experiences, social connections for communicating with loved ones, resources for mental well-being, and the ability to access memories through photos, audio, and video.
---
Knowledge Exchange Hub by Vicky Sindac and Luis Arturo Gomez-Escobedo
Knowledge Exchange Hubs Project is dedicated to Greenville, an unincorporated community in Plumas County, on the northwest side of
Indian Valley, nearly destroyed by the Dixie fire in August 2021. CCA's Architecture Advanced Studio: Property in Crisis, in collaboration with the Dixie Fire Collaborative, aims to come up with design-related solutions to help the Greenville community rebuild. 'Knowledge Exchange Hubs' suggests potential public easements surrounding Wolf Creek that lead to land reclamation. This project aims to create a path along the creek; to reactivate Greenville's local economy, promote a strong Maidu presence and governance, highlight Greenville's rich culture, and to allow a knowledge exchange between the community: Maidu, Greenville locals as well as non-locals. The public pathway is not for one community but for the entire community in Greenville to benefit from, including tourism. Our area of focus is Greenville Downtown. We are creating a series of resources, opportunities, and leisure spaces that are connected by a single path, allowing an exchange of ideas and knowledge to flow. Each site, with its own unique location, function, and program, shares the same purpose: to reactivate Wolf Creek. Each site program was assigned and created based on the site's unique relationship with the creek, such as the flooding zone. The "link" system allows the site to connect, as well as allowing it to remain independent and remain it's own.
The following areas highlight unique parcels that had been previously flooded and will continue to in the future. Repurposing the parcels allows the creek walk to create new public programs.
---
Reimagining the Mystery Box by Yuha Kim, Serena Sun, Jiao Shi, Kshitija Dhumal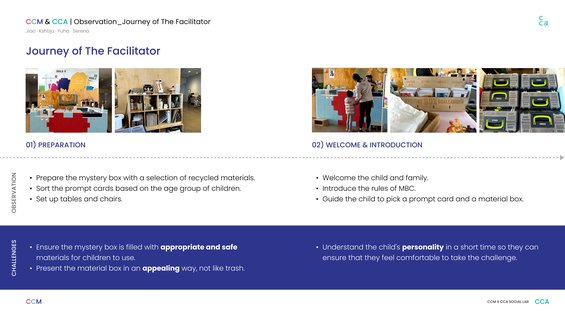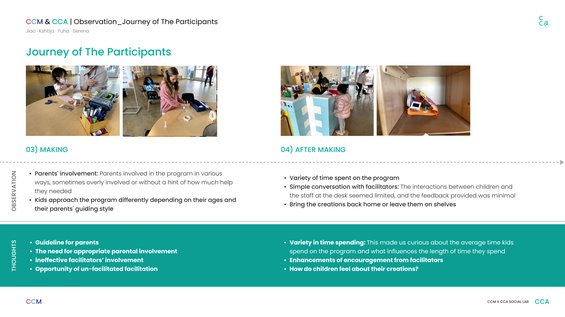 "We propose to allocate the prize towards supporting the implementation of our strategy for enhancing children's museum experiences. Specifically, we suggest donating the prize to the Children's Creativity Museum or utilizing the funds to provide necessary technology and support to help them execute our proposed approach. As the museum may have limited resources, we see this as an opportunity to contribute to their mission and support the future learning opportunities for children."
---
2022
Homefulness via Self-Determination, Niv Rajendra
Global Makers Project, Michelle Zamora
Healthcare Cost Transparency, Suruchi Tayshete
2021
2019
2018