Determine if you want to register at home or at school.
Choosing which address to use when you register to vote is a personal decision and the choice is legally yours. CCA students may register at their local Bay Area address or choose to register at their permanent or home state address. Whatever you decide, you cannot register to vote in two places during the same election cycle. You also can't vote in more than one location—it's considered voter fraud.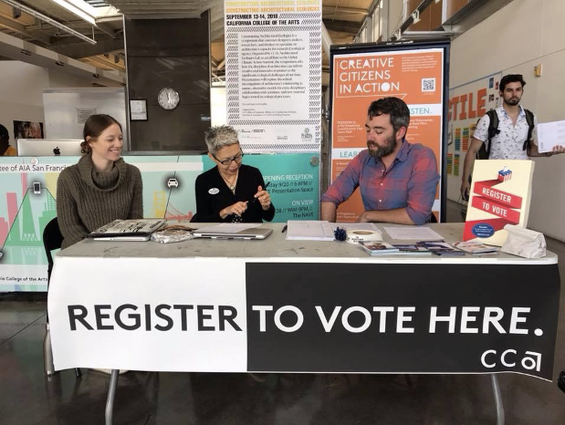 Register to vote.
If you plan to vote in California, register online here. You can also request and complete a paper voter registration form and mail or hand deliver it to your county elections office. You can look that up on the California Secretary of State's website.
If you are a student residing in Founders Hall, use this address on your registration form:
Student's first and last name
188 Hooper Street, [add your room number]
San Francisco, CA 94107
If you plan to vote in your home state, register online at Vote.org. You'll also need to remember to sign up for an absentee ballot so you can vote by mail. Students with scholarships or tuition that require California residency should check with the Financial Aid Office to confirm that registering to vote in a different state will not affect your financial aid status.
Convicted of a felony? Visit Restore Your Vote to learn if you are eligible to vote.
Overseas or military voters? Visit Overseas Vote Foundation to learn how to register to vote.
Check your registration.
If you think you're already registered but you're not sure, or if you haven't voted lately, It takes less than 30 seconds to check your registration status (all 50 states). If you have any doubt, go ahead and check now.
Keep your voter registration record up to date.
Your voter registration record should always reflect your current residence. If your move is permanent, you can update your residence address by re-registering online or by submitting a paper voter registration application.
Are you an international student at CCA?
Check out 5 Steps to Understanding U.S. Elections as an International Student. (This resource is also available as a downloadable PDF in the teal resource box at the top right or bottom of this page.)