Educational Loan Programs
---
Although California College of the Arts may have determined that you and, if applicable, your parent(s) are eligible to borrow a Perkins, Direct Loans, or PLUS loan, you are under no obligation to accept any loan.
Declining a loan will neither jeopardize other financial aid offered to you nor will it prevent you or your parent(s) from borrowing later in the term or in the future.
An educational loan is a serious financial obligation and must be repaid.
Defaulting on any loan will seriously damage your credit rating. Complete information on educational loan repayment is available within the Financial Aid Office.
---
Federal Loan Exit Counseling
If you received Federal Direct Loans as a CCA student, there are specific requirements you must complete when you
graduate from school;
drop below half-time enrollment status;
take a leave of absence;
withdraw from school
Borrowers of subsidized or unsubsidized loans under the Direct Loan Program must complete Exit Loan Counseling as required by The United States Department of Education. To meet the exit counseling requirement, complete the online Exit Counseling session.
You will need your FSA ID to complete the online exit counseling session and to document you have completed the session. If you have forgotten your FSA User ID or password, you may request the information be re-sent to you by visiting https://studentaid.gov/ and selecting "LOG IN" in the upper right corner. It will take approximately 30 minutes to complete this exit counseling. Loan Exit Counseling is required even if you plan on enrolling in graduate work upon completion of your degree.
Complete Loan Exit Counseling as soon as possible after receiving loan exit notification from CCA Financial Aid. The Financial Aid Office will receive an electronic confirmation once you have completed the Exit Counseling.
---
Loan Repayment Information
Grace Period & Loan Repayment Assistance

CCA partners with Inceptia, a nonprofit organization, to provide you with additional loan counseling after attending CCA and assist students in loan repayment.
Counselors from Inceptia might contact you via phone or email on behalf of CCA.
If you have any questions, please reach out to the Financial Aid Office.
Identifying Your Federal Student Loan Servicer
The following are loan servicers for loans that the U.S Department of Education (ED) owns. To find out who your loan servicer is,
| Loan Servicer | Website | Phone Number |
| --- | --- | --- |
| Great Lakes Educational Loan Services, Inc. | https://mygreatlakes.org/educate/ | 1-800-236-4300 |
| Edfinancial | https://edfinancial.com/home | 1-855-337-6884 |
| MOHELA | https://www.mohela.com/ | 1-888-866-4352 |
| Aidvantage | https://aidvantage.com/ | 1-800-722-1300 |
| Nelnet | https://nelnet.com/welcome | 1-888-486-4722 |
| OSLA Servicing | https://aidvantage.com/ | 1-866-264-9762 |
| ECSI | https://efpls.ed.gov/ | 1-866-313-3797 |
| Default Resolution Group | https://myeddebt.ed.gov/ | 1-800-621-3115 (TTY: 1-877-825-9923 for the deaf or hard of hearing) |
Please Note: With millions of borrowers transitioning into repayment at the same time, it is possible that loan servicers may be overwhelmed with a high volume of inquiries. It is possible you may not reach your servicer via phone the first time you call, and you may need to call a few times before getting connected. You may be able to find the information you're looking for on your own on your loan servicer's website, or by emailing or using live chat features.
---
References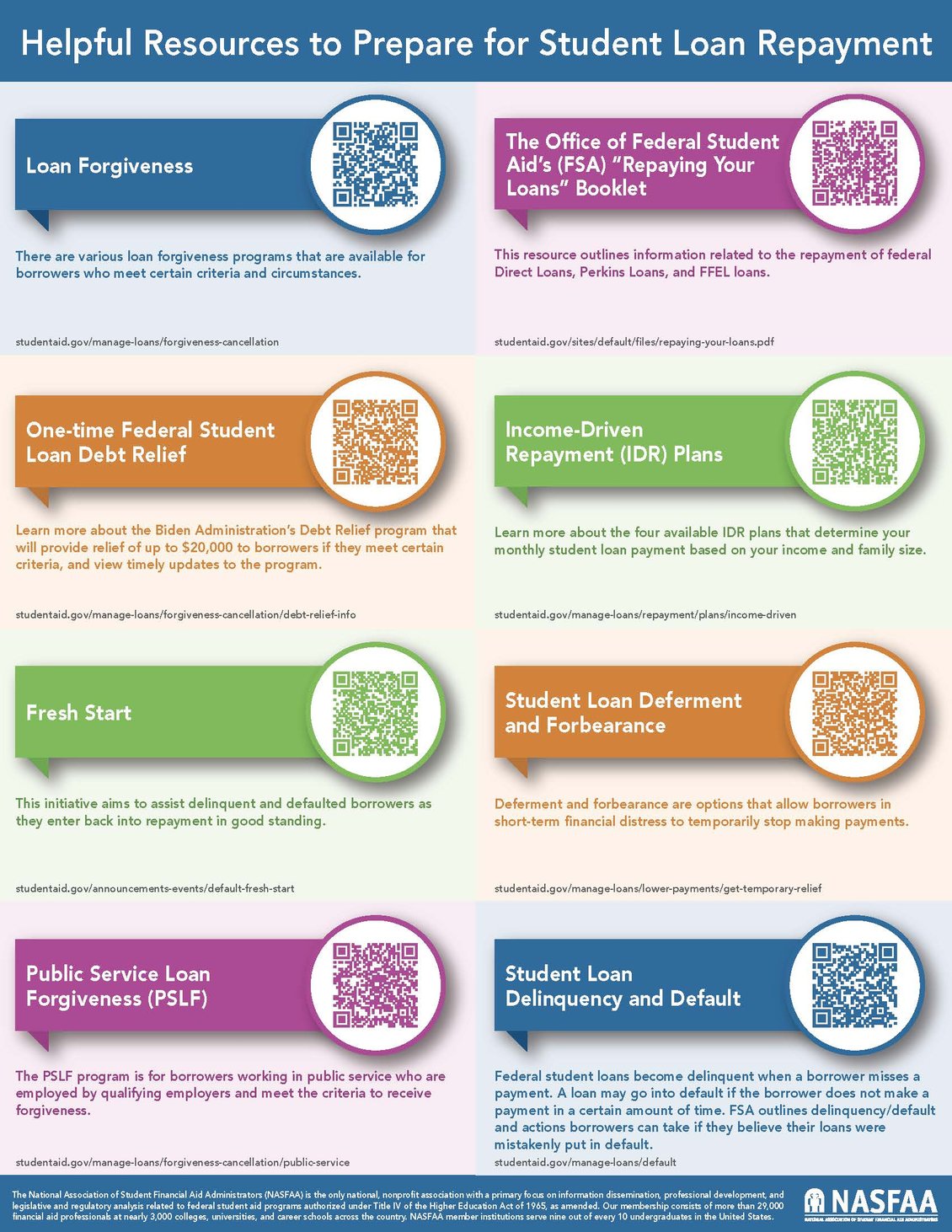 ---
Repayment: What to Expect
---
Student Loan Repayment Options