Register for Courses Step by Step Guide
Register for Courses Step by Step Guide
During your registration appointment window, register for classes directly from your academic plan.
NOTE: This function is limited to the registration appointment window, so it will not be available at all times.



Understand Your Academic Record: Also called Academic History, your Academic Record shows all of your completed coursework at CCA as well as any transfer credit you have received, including credit from exams and credit from coursework outside of CCA.

Assess Your Progress Towards Degree Completion: Your Academic Progress report shows how your coursework and transfer credit apply towards your degree, displaying which degree requirements you have satisfied and which requirements you have not satisfied. Reference this report throughout your academic planning and registration process.

Understand Your Academic Plan: Your Academic Plan is a multi-year course planning tool that allows you to choose courses for each semester based on your degree requirements. Using your Academic Plan makes it easier to draft schedules for registration. Refer to the course guide for your major and your matriculation date for help guidance in filling out your plan.

Draft a Saved Schedule: Create a potential schedule (known in Workday as a Saved Schedule) for an upcoming term, selecting specific course sections for each of the courses in your academic plan.



---
1. Log in to Workday at workday.cca.edu
2. Select "Academics" to view Academics dashboard

3. Check Your Registration Appointment Window and any Holds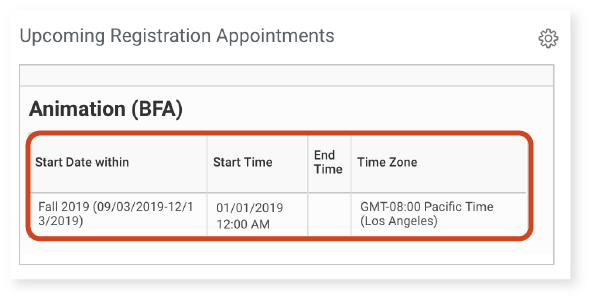 Review the My Holds worklet on your Academics dashboard to see any current holds. Scroll to the right of the table to view a description and resolution instructions. If you have a hold on your account, you may not have access to Workday's registration functions.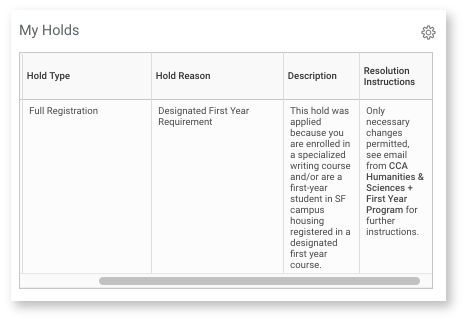 4. Select "View My Academic Plan" link on "Key Steps" bulletin

5. Select "Register from Plan"
You will only see the orange Start Registration or Register from Plan buttons:
during your registration appointment or open registration periods
when you have no registration holds
when you have courses in your plan in the term for which you are registering (contact your advisor or program manager if you need help updating your plan)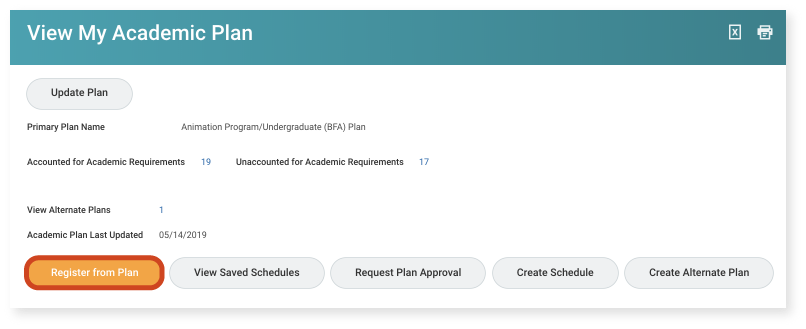 6. Select "Course Section" for each listed course
Select the course on the left-hand menu
Check Select box for one Course Section from table on the right
Repeat for each course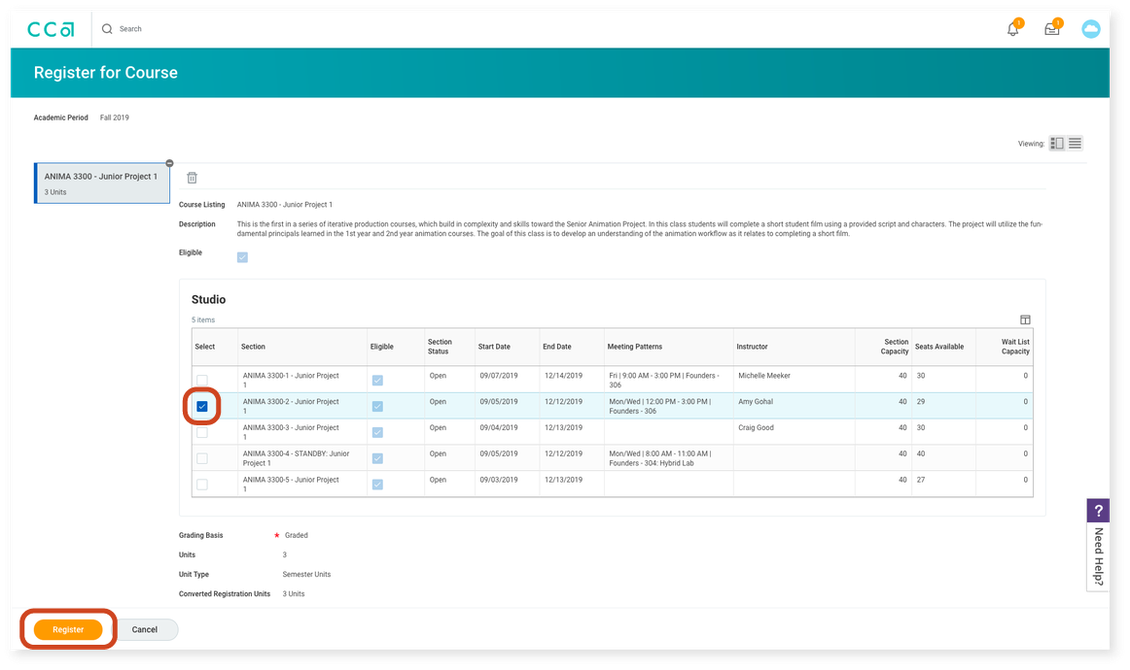 7. Make Adjustments as Necessary
You may want to add a course that was not listed on your academic plan or was listed as a requirement but did not show in the Register from Academic Plan view.
Select + Add Course from the top right
Search for course by name, number, title, etc.
Select the course to add it to the list of courses on the left-hand menu
See Step 6 for instructions on selecting a course section
You may also want to remove a course from your list of courses in the Register from Academic Plan view.
Select the course on the left-hand menu
Select - or the trash can icon to remove the course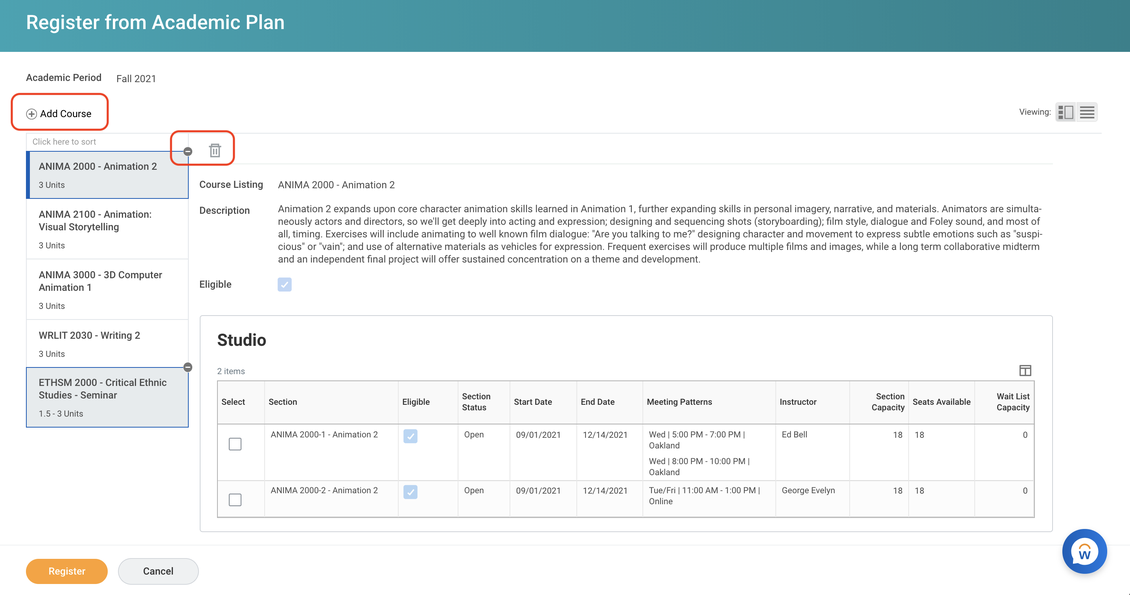 8. Select "Register" to complete

---
Additional Ways to Register
While registering via your Academic Plan is highly recommended and encouraged, please note that there are additional ways to register for courses on Workday.
Register from Saved Schedule
See Draft a Saved Schedule Step by Step Guide for tips on making a saved schedule
Select the View My Academic Plan link from the Key Steps bulletin
Select the View Saved Schedules button
Select Start Date (Academic Period) and then OK
Select Start Registration under schedule of choice

Confirm that your course section selections are correct

Select Register to complete
Register from CCA Course Sections or Course Schedule
---
Last updated for Spring 2022 registration
How to add yourself to a waitlisted course
You can add yourself to a waitlisted course by following the steps depicted in the video below.
How to confirm registration when a seat becomes available
You'll receive a notification if a seat becomes available for you in your waitlisted course. Follow the steps in the video below to respond to the notification and accept your seat in the course.
---
You can access the above registration functions from the Academics tab of your Workday student profile, but you cannot view your registration appointment window from your profile. Visit your Academics dashboard for more comprehensive information and guidance.

Review and Adjust Your Registered Courses: After registration, review your registered courses / class schedule. Then, during the add/drop period, you swap out of one course section and enroll in another or drop a course all together. Workday also provides a way to add individual courses to your schedule without altering your other registered courses.