35th Annual Barclay Simpson MFA Award Exhibition
35th Annual Barclay Simpson MFA Award Exhibition
+

Add to calendar
Wed, Feb 23 2022, 11AM - Fri, Apr 15 2022, 4PM
CCA Hubbell Street Galleries | 161 Hubbell Street, San Francisco, California, 94107 View map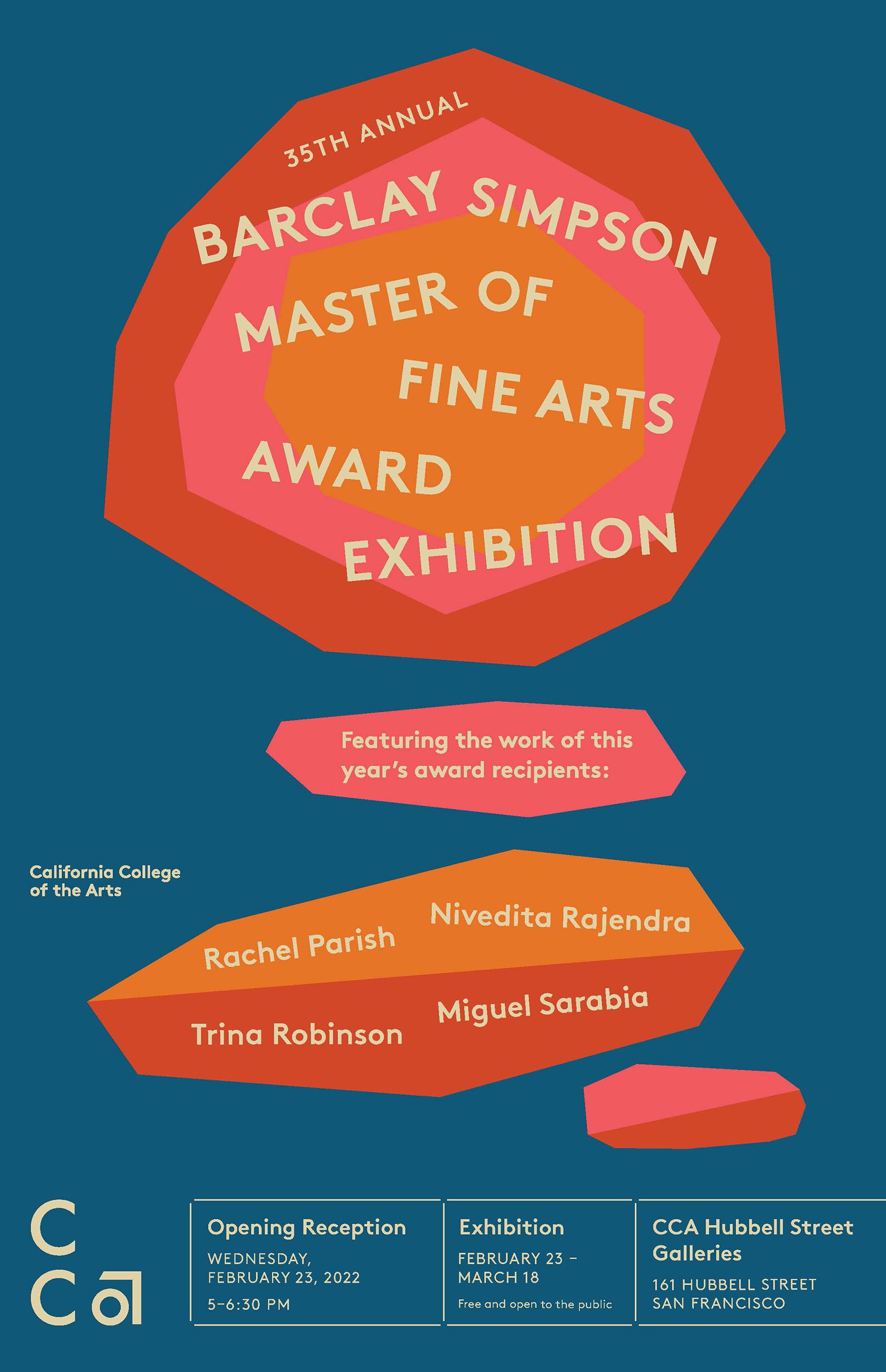 Organized by
CCA Graduate Fine Arts & CCA Exhibitions
Event description
35TH ANNUAL BARCLAY SIMPSON MFA AWARD EXHIBITION
A juried exhibition of artwork by students in CCA's Graduate Fine Arts Program.
Featuring the work of this year's award recipients:
Rachel Parish
Nivedita Rajendra
Trina Robinson
Miguel Sarabia
Barclay Simpson (1921-2014) was a trustee and generous supporter of CCA for over 28 years. The Barclay Simpson Awards began in 1987 with a generous donation from Barclay and his wife, Sharon. Since its inception, the Barclay Simpson Award has been granted to over 100 students in CCA's Graduate Program in Fine Arts, helping them finish their degree work and launch their careers.
Each year the award is juried by outside experts who assess the work of second year MFA students and select four winners. The exhibition of the student award winners, and its opening reception, are among the hallmark events of the spring semester. 
Special thanks to this year's jurors, Alison Gass, Krieger Family Director at ICA San Francisco, and Claudia Schmuckli, Curator in Charge of Contemporary Art and Programming at the Fine Arts Museums of San Francisco.
Entry details
Gallery hours: Wednesday–Friday 11am–4pm
Free and open to the public with proof of vaccination. Faculty may arrange class visits to the Galleries by emailing exhibitions@cca.edu. Upon arrival, please check in with the attendant in the gallery at 161 Hubbell Street.
Stay at home if you are feeling sick: Please do not visit the gallery if you have a fever or any COVID-19 symptoms, have tested positive for COVID-19 within the past 14 days, or have had close contact with anyone who is confirmed or is suspected of having COVID-19.
Face masks covering nose and mouth (without valves) are required at all times indoors (ages 2 & up). Hand sanitizer is available for all.
The CCA Hubbell Street Galleries are wheelchair accessible. Please email access questions to exhibitions@cca.edu.