Bret Recor and Merric French: Sharing how to Challenge the World to be Better
Bret Recor and Merric French: Sharing how to Challenge the World to be Better
+

Add to calendar
Thu, Nov 15 2018, 7:15PM - 8:30PM View map
Timken Lecture Hall | 1111 8th Street, San Francisco, CA 94107
Part of event series: Design Lecture Series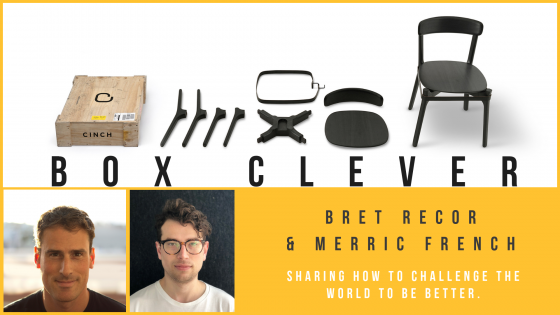 Organized by
CCA Design Division
Event description
Bret Recor and Merric French of Box Clever share the story about the creation of the Cinch and insights into the studio's unique design approach which led to the creation of their new chair. This will be a hands-on evening with some assembly encouraged and enjoyed.
Challenge the world to be better.
An expert in bringing designs from concept to market, Bret is committed to

executing a creative vision to its most brilliant realization within the
existing constraints. To do this, he balances the creative vision with
real-world experience of industrial design, fabrication, and integrated
branding. Bret has applied his expertise to the launches of several
high-profile products and initiatives, including the One Laptop Per Child,
Nebia, Away, and most recently HiLo for Knoll. Bret has also launched a
separate design led venture, Fadestudio, with a flagship product the Fade
task light. Prior to founding Box Clever and Fadestudio, Bret was a design
director at fuseproject. Bret has worked with clients ranging from consumer
goods giants to government agencies, among them, Tiffany & Co., Johnson &
Johnson, Herman Miller, and the New York City Department of Health. Bret's
work has earned several awards around the world including, Index, Spark,
IDEA, iF, Clio, D&AD, FX, Spark, Red Dot. His work is part of the permanent
collections of NY MoMA, SFMOMA, the Art Institute of Chicago, and the Centre
Pompidou.
Merric is drawn to the reward and satisfaction of producing objects that are

both functional and beautiful. Coming from a family of artists, designers and
makers, Merric has a background imbued in creativity and has extensive
experience with furniture design and production. Originally from Australia,
he holds a Bachelor of Industrial Design with Honors and his work has won
multiple ubterbatuibak designs awards including those from D&AD, IF and the
Good Design Awards.
Entry details
RSVP