Call for Submissions! Disability is Diversity Week
Call for Submissions! Disability is Diversity Week
+

Add to calendar
Fri, Jan 20 2023, 12PM - Wed, Feb 22 2023, 5PM
1111 8th Street | 1111 8th Street, San Francisco, CA, 94107 View map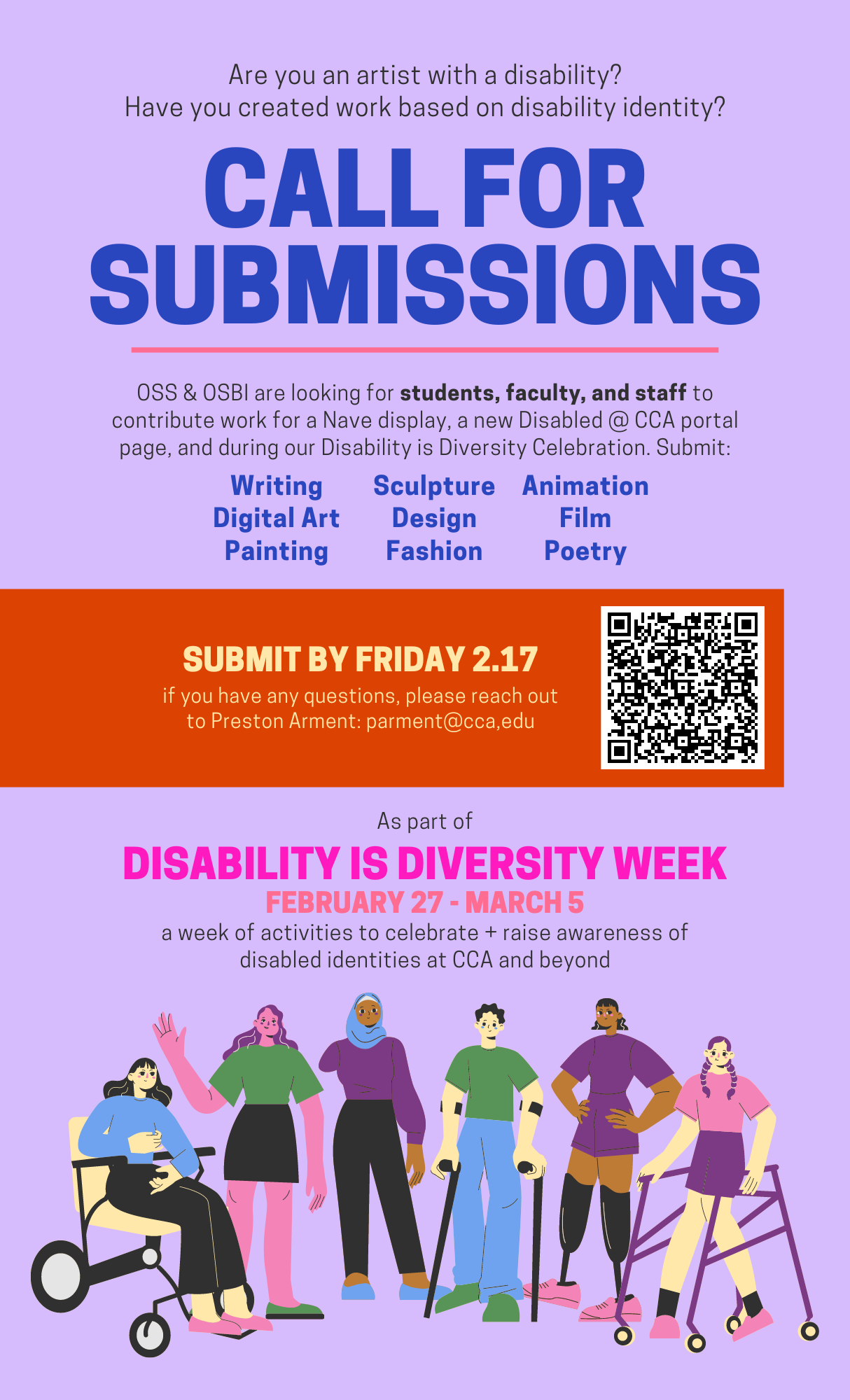 Organized by
Office of Student Success and Office of Student Belonging & Inclusion
Event description
DEADLINE EXTENDED! Submit your work through Wednesday 2/22 at 5 pm
Thank you for your interest in participating in Disability is Diversity Week! We are excited to engage with the entire CCA community to bring awareness, acknowledgement, and celebration of disabled identities during this 1st annual week of programming. 

As part of our week, we would like to offer space to celebrate work from students, faculty, + staff who are:
 Artists in our community who identify as having a disability
 Folks who may or may not be disabled who want to present work that has a focus on disability identity
We have a few ways you can share your work throughout the week:
1) Nave Wall Display (physical work only - paintings, sculpture, printed design projects, etc.) February 27 - March 4
This will be a display set up throughout the entire week to help bring awareness of disabled identities at CCA and to the week of programming. Art that is submitted will be showcased as part of a timeline of famous artists who had disabilities. Your work can be anonymous or displayed with your name, photo and a story about the meaning of the piece. 
2) Disability is Diversity Celebration (poetry, readings, films, animation, spoken word, performance, etc.)
On Tuesday, February 28 from 3-5 pm, we will be having a Disability is Diversity Week Celebration. During this event, we will have catered snacks, activities, and resources as well as specific time for folks to share their experiences related to disability through art in the form of a presentation/performance/spoken word (see as listed above). We are hoping this can be space to openly share through interactive art and creation and we are happy to accommodate whatever form that takes for our community members.
3) Disabled @ CCA Portal page (short stories/narratives, digital art, words of affirmation, etc.)
In order to commemorate our week of programming and extend the reach of acknowledgement and celebration of disabled identities at CCA, we are planning to put together a "Disabled @ CCA" Portal page that documents the work, experiences, affirmations, and highlights of CCA community members who identify as disabled. If you would like to have your experience included on this page you can submit a short story or narrative, digital art piece, or words of affirmation that will be displayed on Portal. If you would like to remain anonymous but still contribute, please indicate so later on in this form and add any instructions about posting your words/work that you would like us to follow.
Please feel free to sign up to participate in any one or all of these modes of engagement by filling out this Google Form, and thank you in advance for your interest and for everything that you contribute to CCA. We hope Disability is Diversity Week will bring you joy, understanding, validation, and support!
If you have any questions or concerns, please reach out to Preston Arment (she/her/hers) Assistant Director of Student Success parment@cca.edu for more information.
Entry details
Email Preston Arment with questions or interest in how you can get involved parment@cca.edu