CCA@CCA Election Week Activation
CCA@CCA Election Week Activation
+

Add to calendar
Tue, Nov 8 2022, 11AM - 4PM
Nave | 1111 Eighth Street, San Francisco, CA, 94107 View map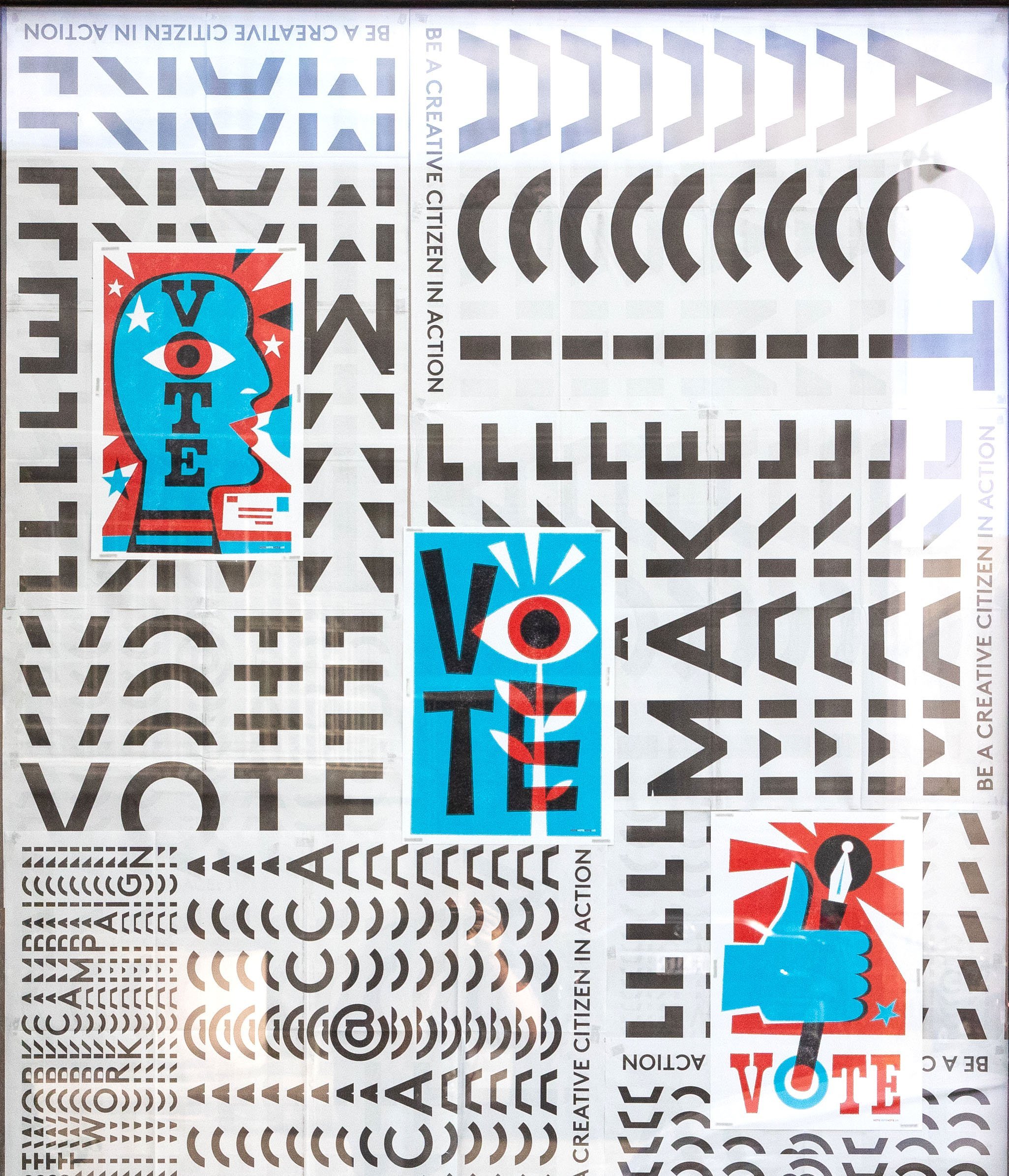 Organized by
Creative Citizens in Action initiative and CCA Exhibitions Department
Event description
The CCA@CCA Election Week Activation features faculty and student-led projects seeking to generate broader civic engagement related to the 2022 U.S. midterm elections.
Featuring work produced by students enrolled in the following courses: 
Anthea Black / PRINT-1000-1: Introduction to Printmaking

Nathan Lynch / CERAM-2700-2: Workshop: Clown Shoes

Acacia Woods Chan / WRLIT-1030-11: Writing 1: Writing Ancestors

Natasha Haugnes / WRLIT 0230-01 Seeing Citizenship

Aaron Gonzalez / GRAPH-3680-3: Adv Studio: Personal Publishing / ILLUS-2107-1: Tools: Personal Publication

Steve Jones / ETHST-2000-7: Agitprop: Issues and Causes

Plus WEB360, an interactive installation by CCA@CCA Fellows Layla Namak and Shreya Shankar that invites the CCA student community to map connection and care through reflection.
And Oh Shit! a project by faculty member Jasmine Zhang that enables non-citizens to get involved in American politics by drafting fake ballot propositions that will be screen printed on toilet paper. Live screen printing session in the Nave, November 8th from 11am-4pm. You can participate by suggesting your own proposition here.
Organized by the Creative Citizens in Action initiative, in collaboration with the CCA@CCA Voting Coalition, CCA faculty, students, and staff, the exhibition is part of the Deborah and Kenneth Novack Creative Citizens Series, a year-long conversation series that spans the disciplines of art, design, architecture, and writing.
Image credit: Posters by Michael Wertz (IG: @wertzateria), newsprint designed by Jon Sueda and chris hamamoto, photo by Jaime Austin
Entry details
Masks continue to be required indoors. Members of the public must sign-in at a public safety desk