CCA@CCA Hosts Virtual Brunch: A Conversation on Performance Art in Times of Social Distance
CCA@CCA Hosts Virtual Brunch: A Conversation on Performance Art in Times of Social Distance
+

Add to calendar
Wed, Oct 21 2020, 11AM - 12:30PM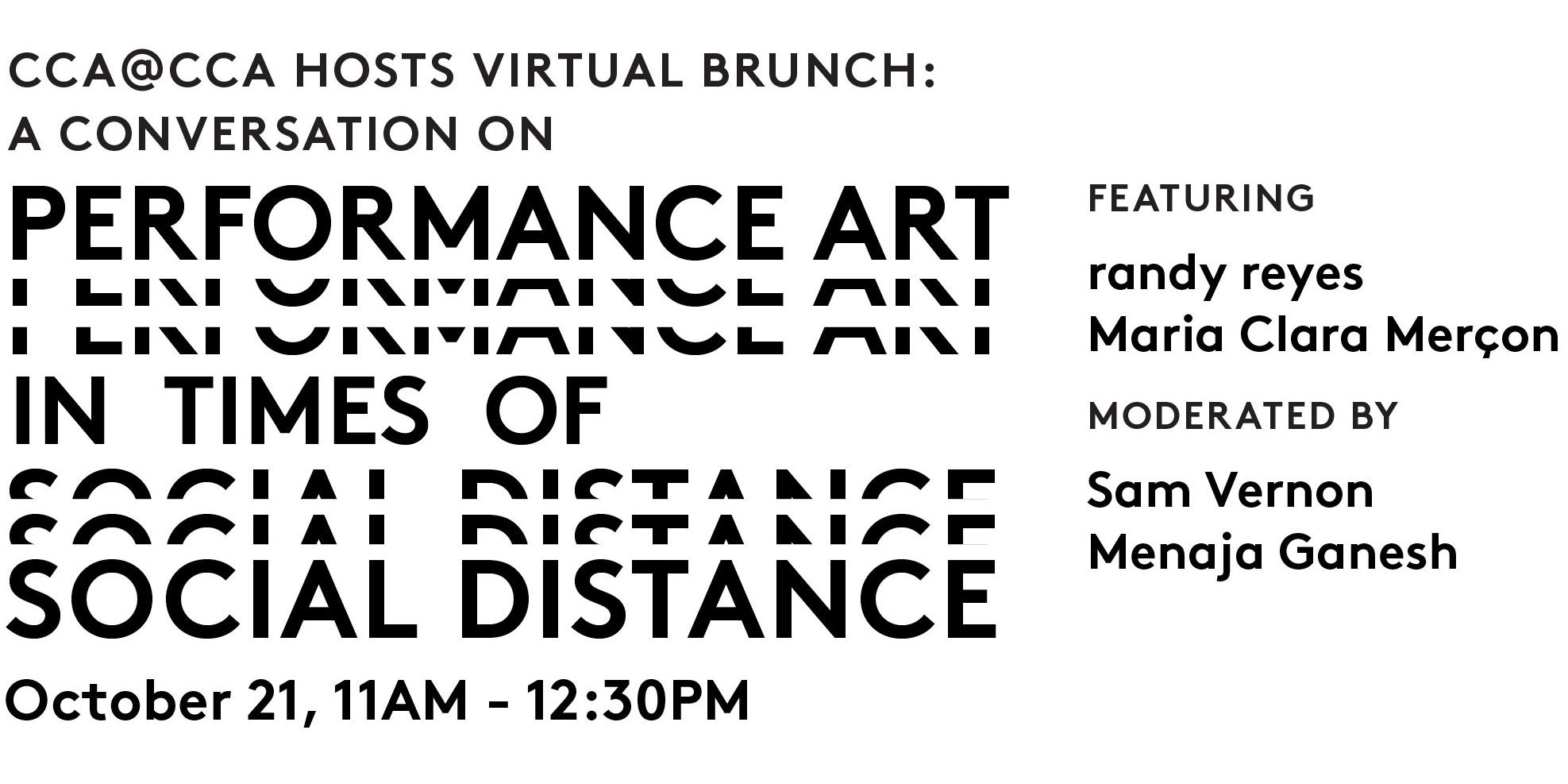 Organized by
CCA Exhibitions
Event description
For performance art in the age of social distancing, the show must go online. This live Zoom event will feature randy reyes and CCA alum Maria Clara Merçon, two performance artists who continue to engage with their interactive projects by making videos, sharing work virtually, and collaborating with others.
Co-moderated by Sam Vernon (Assistant Professor, Printmedia Program) and Menaja Ganesh (student outreach fellow for Creative Citizens in Action).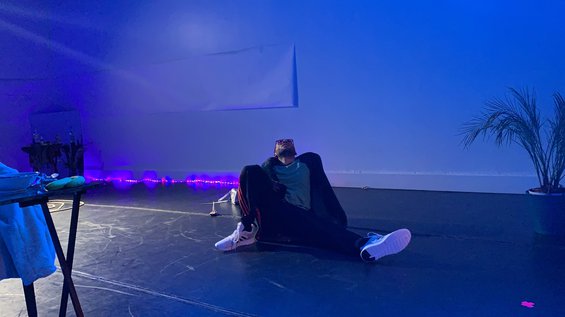 randy reyes (they/them) is a queer, AfroGuatemalan (with interrupted Mayan ancestry) choreographer, performance artist, and healer born and based in unceded Lenape territory.
reyes frames choreography as a process of excavation, as edging and incremental gesture, task as meditation; they activate their work using psychosomatic state werq, Qi energetics, contemporary dance, club dancing, and structures of improvisation. They love getting messy by conjuring choreographic rituals and casting spells within quotidian, natural, subliminal, and imaginary landscapes. Their performances open portals for reclaiming, re-membering, and communing with their ancestral lineage whilst interrogating and shifting patterns of intergenerational trauma. 
As a survivor, reyes deepens their relationship to their body through somatics, prayer, divination, meditation, writing, and resting. Their choreographic praxis is inseparable from their healing werq and is grounded through these aforementioned practices, through identifying paths of least resistance, and physical patterns of migration [alone, and together]; through persisting on pleasure, surrender, intuition, accountability, generosity, vulnerability, and joy. Their work engenders various temporalities and subjectivities of the erotic, reframing what may be possible when it comes to relearning what it means to be in relation to one another, again and again. 
reyes also explores club spaces as sites of generative dissonance and asks: "Are we celebrating or mourning or both? How do we prepare for that which has not yet arrived?"
Maria Clara Merçon is a multimedia artist and educator from Niterói, Brazil, and based in Oakland, CA. ​She explores the political, physical and emotional concept of immigration by the imagery of water, landscape and the body through the interplay of multiple media such as video projections, performance and ceramics. She is constantly trying to unpack the role of immigrants in the United States and ​address the tension between wanting to belong while feeling othered.
Her work has been shown at the BAMPFA Student Committee Film Festival, the California Conference for the Advancement of Ceramic Arts, the Headlands Center For the Arts Fall Open House and at @mostratuaarte on Instagram
This event is part of the Creative Citizens in Action initiative at CCA (CCA@CCA), and is funded by an endowment gift to support The Deborah and Kenneth Novack Creative Citizens Series, an annual series of public programs focused on creative activism.
Image 1: randy reyes, "death by disco, prelude," 2019. Photo documentation of performance by joseeabad.
Image 2: Maria Clara Merçon, "The Promise of Development Brought More Shipwrecks than Sailors," 2019. Documentation of a performance made at Lombard Hill in San Francisco, in partnership with Juan Huerta Coello. Recorded, edited, and mastered by Gabriel Lage.
Entry details
Free and open to the public.
CCA@CCA is committed to providing universal access to our events. Please contact exhibitions@cca.edu to request disability accommodations.