Communal Responsibility: Keynote Lecture with Celia Herrera Rodríguez
Communal Responsibility: Keynote Lecture with Celia Herrera Rodríguez
+

Add to calendar
Wed, Mar 2 2022, 8PM - 9PM
Nave Alcove | 1111 Eighth Street, San Francisco, California, 94107 View map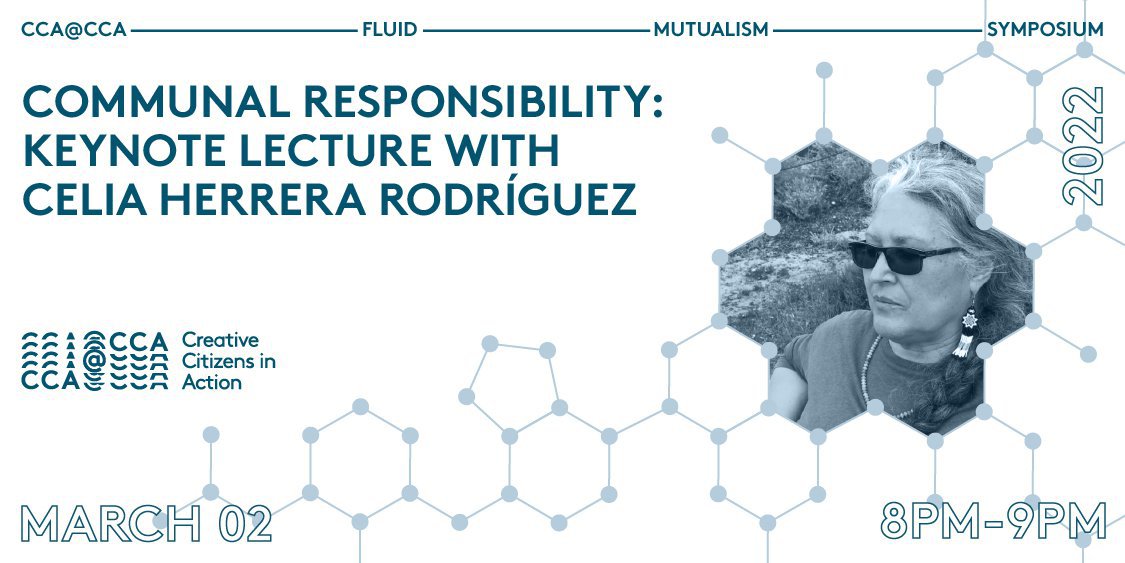 Organized by
Creative Citizens in Action (CCA@CCA)
Event description
Celia Herrera Rodríguez (Xicana/O'dami) is a painter, performance and installation artist whose work reflects a full generation of dialogue with Chicano, Native American, Pre-Columbian, and Mexican thought.  She is the co-founder and co-director of Las Maestras Center for Xicana[x] Indigenous Thought, Art and Social Practice at UCSB, where she also teaches Chicana[x] art history and studio practice in the Department of Chicano & Chicana Studies.

Originally from Sacramento, California, Herrera Rodríguez received her B.A in Art & Ethnic Studies from CSU-Sacramento and a M.F.A in painting from the University of Illinois, Urbana-Champaign. In 1987, she went on to study Art History, Theory and Criticism at the Art Institute of Chicago. In the mid-1990s she returned to California, where she made Oakland her home. Since 2005, she had been a Senior Adjunct Professor in Diversity Studies at California College of the Arts and for seventeen years also taught in the Chicano Studies Program at UC Berkeley. Her courses included: Chicana/o and Mexican Modernist Art, MeXicana/o and Indigenous Art History and Practice, as well as studio art classes. She has also held appointments at Stanford University, UC Santa Cruz, and the School of the Art Institute of Chicago.
Her paintings, drawings and installation work have been exhibited nationally and internationally including: The Triton Museum, Santa Clara, CA; Glass Curtain Gallery at Columbia College of Chicago; CN Gorman Museum, UC-Davis; The DeSaisset Museum at Santa Clara University; The Institute of American Indian Art Museum in Santa Fe; The Oakland Museum of California; Tufts University Gallery (Medford, MA); The Mexican Museum of San Francisco; C.A.G.E. Gallery (Cincinnati, OH); and, Name Gallery (Chicago), University of Cork (Ireland), The Centro Cultural Santo Domingo (Oaxaca, México), the Centro Colombo Americano (Medellin, Colombia) among others. Her work is permanently housed in a number of private and public collections, including the Mexican Fine Arts Center Museum in Chicago, and the Institute of American Indian Art Museum of Santa Fe.
In recent years, she has applied her vision as a conceptual artist to set and costume design, chiefly in collaboration with playwright, Cherríe Moraga. Herrera's design work includes: The Hungry Woman(Stanford University); La Semilla Caminante(Intersection for the Arts, San Francisco); Digging Up the Dirt(Breath of Fire Theater, Santa Ana); and New Fire — To Put Things Right Again(Brava Theater, San Francisco). In 2011, a series of her line drawings were published in Moraga's collection of essays: A Xicana Codex of Changing Consciousness, published by Duke University Press. In spring 2019, Herrera's paintings and installations were presented in an intergenerational exhibition entitled, Xicanx Futurity, at the Manetti-Shrem Museum of Art, UC Davis. Nearly 10, 000 people witnessed the work. Recent visual art projects include "Making Ohlone Visible" a 2018-19 collaborative project with the Chochenyo–Ohlone community in Oakland, CA; and the collaborative PerformaProtesta, "Un llanto Colectivo, a shared ceremonial political outcry, opposing ICE & its brutal border policies (San Diego, 2018).
Entry details
Free and open to the CCA community.
This event is part of the CCA@CCA Fluid Mutualism Symposium and is funded by an endowment gift to support The Deborah and Kenneth Novack Creative Citizens Series at CCA, an annual series of public programs focused on creative activism.