Designing a Just City: A Roundtable Discussion with Marquita Price and Gregory Jackson
Designing a Just City: A Roundtable Discussion with Marquita Price and Gregory Jackson
+

Add to calendar
Fri, May 7 2021, 5PM - 6:30PM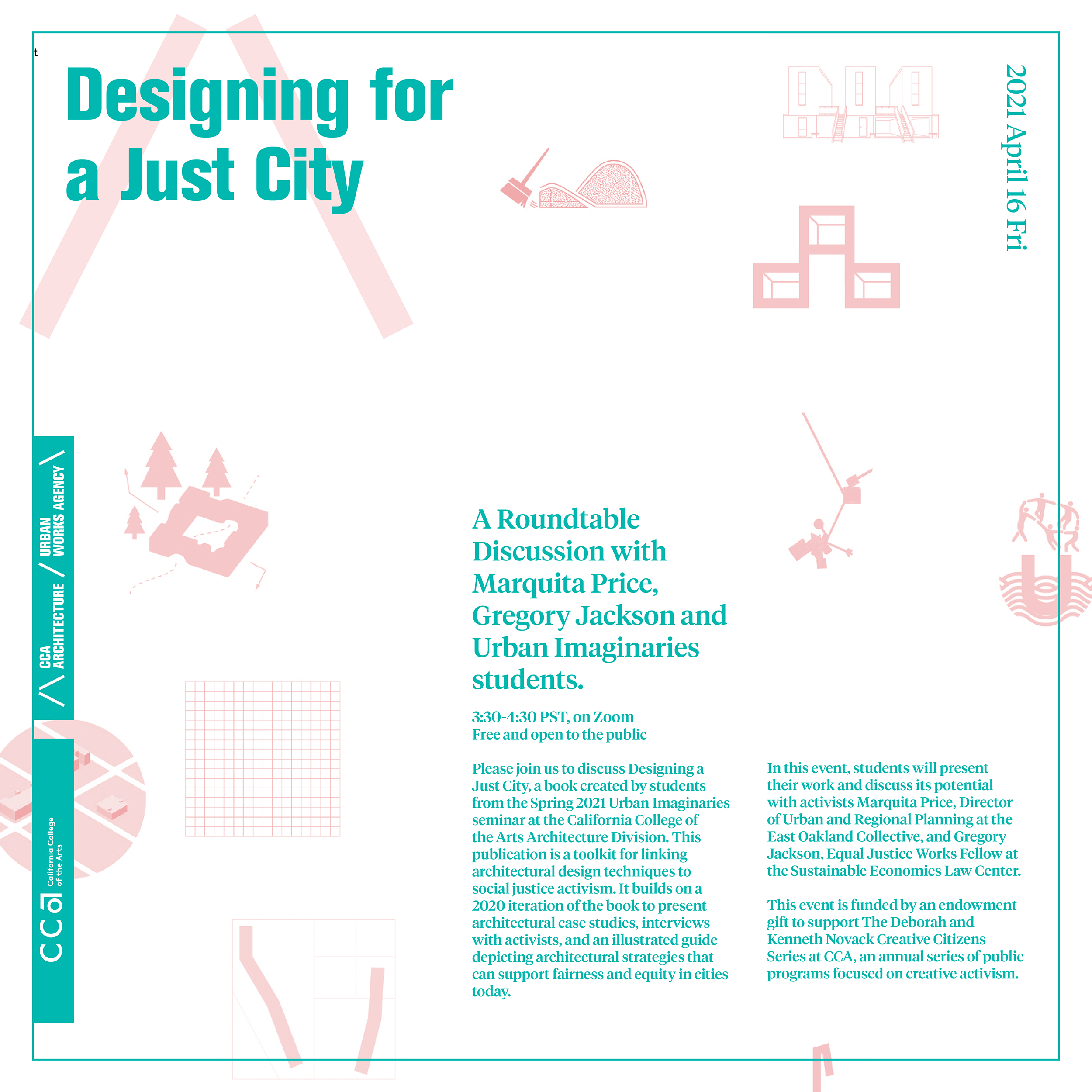 Organized by
Janette Kim, Assistant Professor, Architecture Program
Event description
Please join us to discuss Designing a Just City, a book created by students from the Spring 2021 Urban Imaginaries seminar at the California College of the Arts Architecture Division. This publication is a toolkit for linking architectural design techniques to social justice activism. It builds on a 2020 iteration of the book to present architectural case studies, interviews with activists, and an illustrated guide depicting architectural strategies that can support fairness and equity in cities today. In this event, students will present their work and discuss its potential with activists Marquita Price, Director of Urban and Regional Planning at the East Oakland Collective, and Gregory Jackson, Equal Justice Works Fellow at the Sustainable Economies Law Center. 
This conversation is part of a series of Urban Imaginaries events which also included an interview with Marquita Price of the East Oakland Collective and an interview with Gregory Jackson of the Sustainable Economies Law Center.
This event is co-hosted by CCA@CCA, E-School, and Urban Works Agency at California College of the Arts. This event is funded by an endowment gift to support The Deborah and Kenneth Novack Creative Citizens Series at CCA, an annual series of public programs focused on creative activism.
Entry details
Free and open to the public