Freestyle: Communal Power, Hip Hop, and Autonomous Labor
Freestyle: Communal Power, Hip Hop, and Autonomous Labor
+

Add to calendar
Thu, Mar 3 2022, 11AM - 12PM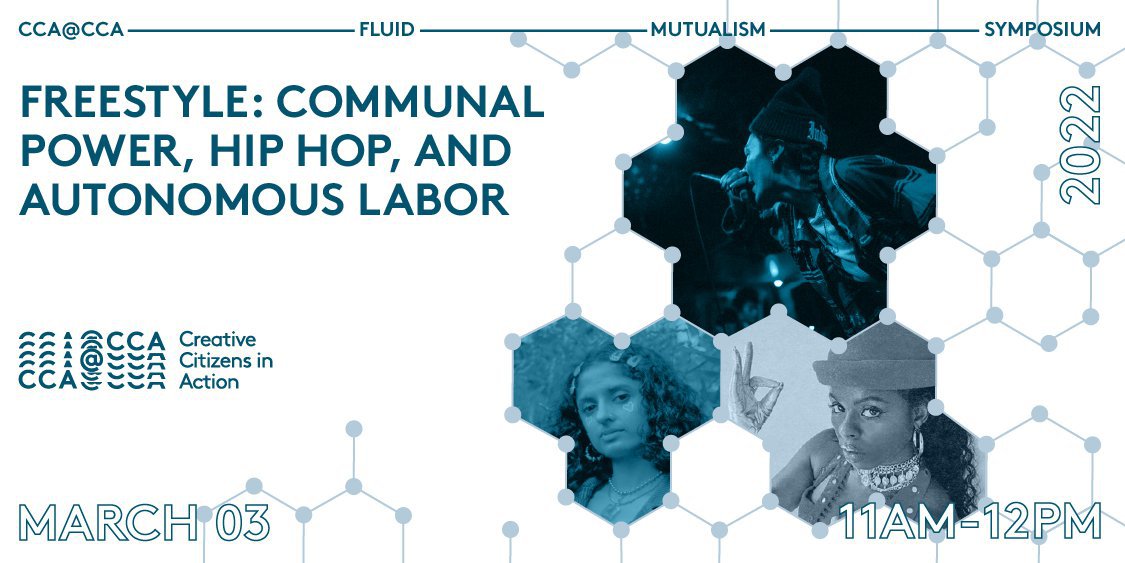 Organized by
Creative Citizens in Action (CCA@CCA)
Event description
Register to access the Zoom link ➞

Queens D.Light is a rap artist, performer, and filmmaker based out of Oakland, CA. Her unique sound is influenced by a mix of genres like dance, electronic, hip hop, and punk music. Her groundbreaking performances are both memorable and mind-bending. She has toured with Anderson Paak and shared stages with artists such as Georgia Anne Muldrow and Shabazz Palaces. QDL creates a multimedia experience by pairing her short films and installations with her musical performances. Her work has been seen at SFMOMA, Noise Pop Festival and Berkeley Art Museum & Pacific Film Archive. She has taught courses on film at San Francisco State University and lectured on Black Feminism In Music at UC Berkeley.

Diogañhdih Hall (Mohawk of Akwesasne) is a two-spirit multi-disciplinary artist, storyteller, community organizer, rapper, producer and agriculturist claiming space for native folks to re-indigenize and find movement and joy in the interconnected liberation of our bodies, spirit and land. In 2021, Diogañhdih produced and self released a 14 track concept album titled Rezbien, chronicling their time home between borders in Akwesasne. Since then, Diogañhdih has composed and self recorded a new concept album titled Chasing All My Demons,  including unique samples such as the return of the 17 year dormant locusts. Diogañhdih's goal and practice is to cultivate creative healing spaces for fellow two-spirit and queer Natives, QTBIPOC artists and organizers through the art they make and through the multimedia events they curate.
Anjali (they/them) is the singer, songwriter, electronic producer, organizer, and new media artist behind Diaspoura. Diaspoura's sound and speech has brought forth a fresh perspective to the media of a poor, Brown, and gay South. They've been featured in a variety of publications including NYLON Mag, Bitch Media, Color Bloq, Kajal Mag, Oxford American, and, comically, even Fortune Magazine. Their most recent EP Traumaporn (2018) is a sonic study of power and vulnerability, using rigid beats, bells, and dense harmonies. Since the release, Diaspoura has pledged via Patreon.com to stay independent and committed to sustaining organic art and media. With the support, they coded a web art toolkit Diaspoura.com/DirtyLaundry.htm (2019), which provides education on the cycles of trauma perpetuated by Big Tech platforms. 
Entry details
Free and open to the public
This event is part of the CCA@CCA Fluid Mutualism Symposium and is funded by an endowment gift to support The Deborah and Kenneth Novack Creative Citizens Series at CCA, an annual series of public programs focused on creative activism.