HOW WE HEAR NOW
+

Add to calendar
Fri, Jun 25 2021, 11AM - Sat, Jul 10 2021, 9PM
Space 37 | SF Ferry Building, San Francisco, California, 94105 View map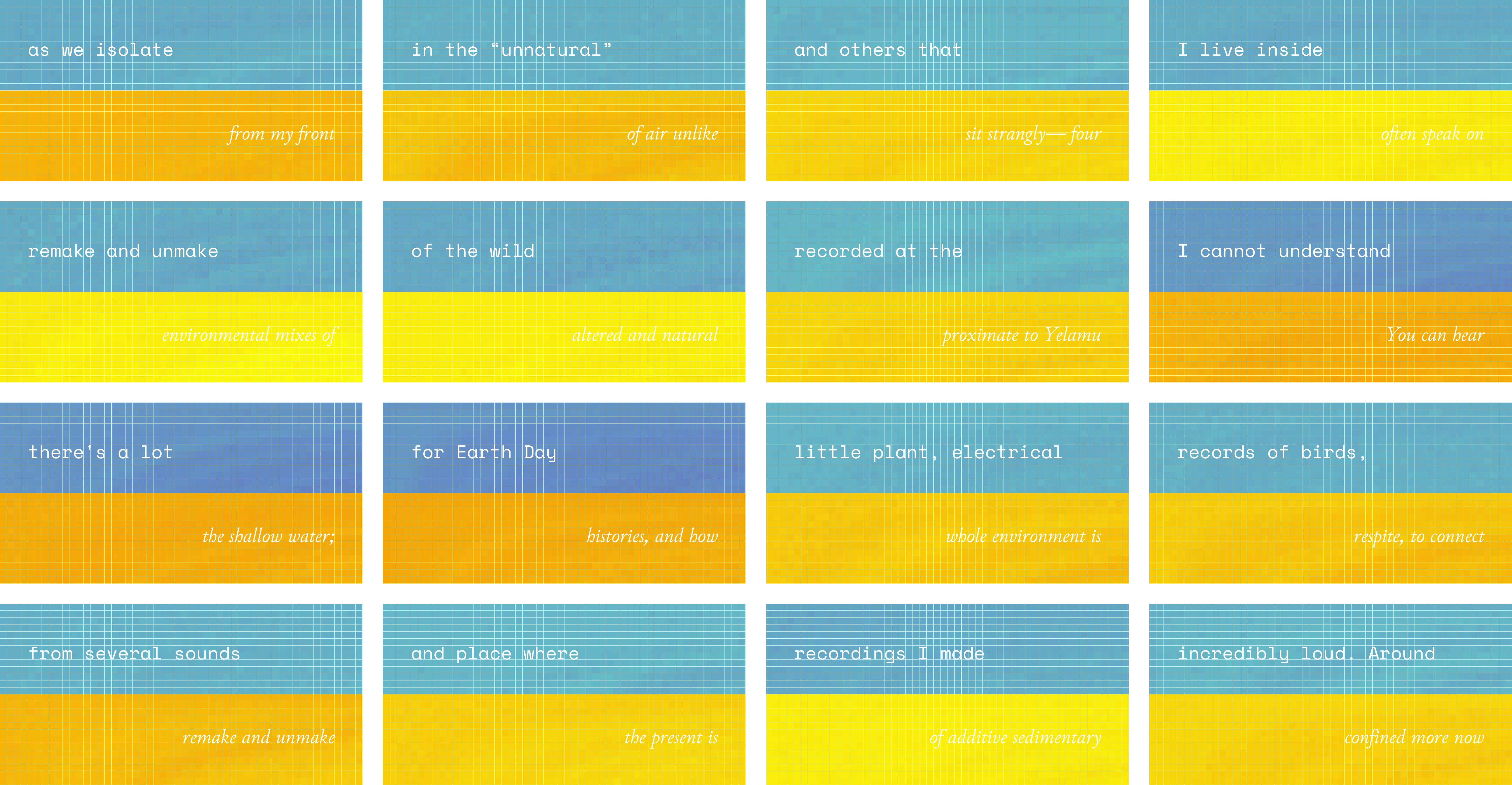 Organized by
CCA Architecture Division
Event description
How We Hear Now is a participatory, collective artwork created by The ECOPOESIS Project, a multi-year initiative led by the Architectural Ecologies Lab and MFA in Writing program at California College of the Arts. The project was initiated in the early weeks of the COVID-19 pandemic, a response by the Ecopoesis Project to continue their collaborative explorations of emotions and thought towards action around climate change.
How We Hear Now invites participants to engage in audible changes in their environments—to record and transmit how the sounds of both human and nonhuman ecologies may have changed during and after the COVID-19 pandemic's shelter-in-place orders. This installation of the project includes contributions from both 2020 and 2021; each participant constructed a sound recording of their environment on April 22 (Earth Day) and provided a description of ecological or cultural factors. 
The audio recordings and environmental descriptions are compiled into a layered stream of sound and text, a visual and aural landscape of ecological observations collected during this unique time. The individual contributions meld together with a visualization of seismic data collected on April 22, representing the concurrent geological sound occurring at a planetary scale. 
Each iteration of How We Hear Now is unique, so each time you engage with it the sequence varies. Overlap of individual contributions is a key aspect of the artwork, producing new patterns, rhythms, experiences, and unanticipated connections between the individual recordings and voices. This excerpt contains 60 minutes of How We Hear Now, providing a glimpse of the collective voice that emerges.
How We Hear Now is a collaborative exercise in ecological thought and emotional response. It offers an open-ended field of text, recording and visual patterns to create an immersion space of reading and listening.  With no beginning, end, or prescribed sequence, it simply asks us to consider, how do we hear the world now?  These different narratives of environmental experience from the same day offer viewers/listeners a prompt to consider their sense of environmental presence and its complex nature. On another level, the project is an open framework that can be transformed for future iterations, to different circumstances, and still open for additional participatory input. 
Project team: Leslie Carol Roberts, Adam Marcus, Chris Falliers, Patrick Monte, Vishnu Balunsat, Margot Becker
Creative Direction, Coding, and Design: Patrick Monte
Featured Contributors: Erik Adigard, Rob Bailey, Amy Balkin, Vishnu Balunsat, Michelle Boyd, Rita Bullwinkel, Civyiu Kkliu / Robert Machado, Kevin Claiborne, William Cook, Ellora Daley, Alicia Escott, Christopher Falliers, Isha Fathmath, Garth Fry, Guillermo Galindo (aka gal*in_dog), Edith Garcia, David Gross, Lindsay Haddix, Shy Pacheco Hamilton, Gregory W. Hurcomb, Evan Jones, Wioleta Kaminska, Adam Marcus, Christie McGee, Sarah Meftah, Marc Northstar, Denise Newman, Helen-Maria Nugent, Catie Newell, Colin Priest, Kaus Raghukumar, Leslie Carol Roberts, Sharan Saboji, Alex Schofield, Shobha Shivakumar, Ross Simonini, Allison Smith, Ignacio Valero, Michael Wertz
Presented by The Ecopoesis Project
CCA Architectural Ecologies Lab + MFA in Writing Program
Entry details
Free and Open to the Public | Hours of Operation: Mon-Sun 6-9pm