Latipa and Louise J. Miranda Ramirez - Un/settled Contractions: Archives, Ancestral Futurisms, and Shared Intimacies
Latipa and Louise J. Miranda Ramirez - Un/settled Contractions: Archives, Ancestral Futurisms, and Shared Intimacies
+

Add to calendar
Thu, Sep 14 2023, 6PM - 7:30PM
Blattner Multipurpose Room | 75 Arkansas Street, San Francisco, California, 94107 View map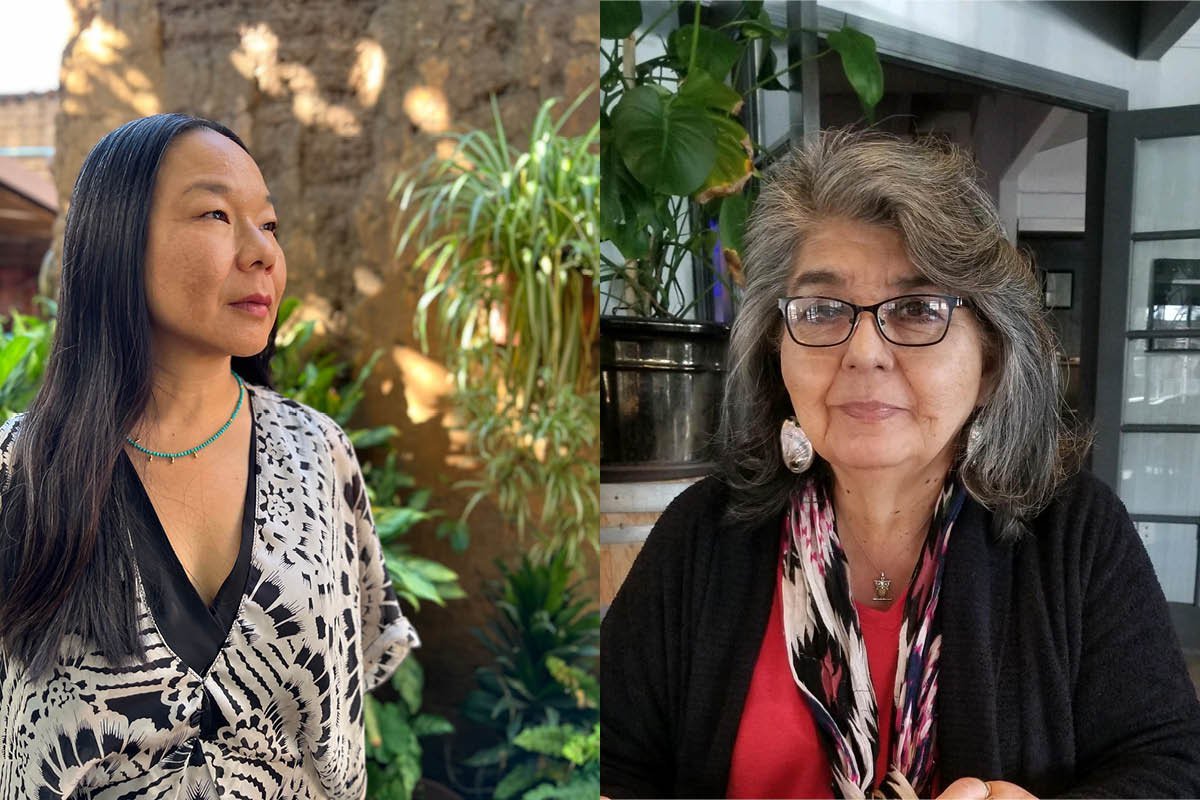 Organized by
CCA Graduate Visual & Critical Studies
Event description
Nineteenth century settler expansion across the "American West" did not end at the California coastline.  Rather, this genocidal process extended across the Pacific Ocean culminating with the colonial occupation of the Philippines at the turn of the twentieth century. In this lecture, Un/settled Contractions: Archives, Ancestral Futurisms, and Intimacies, artist, filmmaker, and writer, Latipa, and Chairwoman Louise J. Miranda Ramirez of the Ohlone/Costanoan-Esselen Nation reflect on this shared legacy of "westward expansion" across present-day Pilipinx and California Indian communities.  Latipa and Chairwoman Ramirez will contract this history to make space for ancestral futurism: for all that remains un/settled in how settler colonial logics have structured the landscapes we occupy, how practices through media and policy might initiate relations to and care for ancestors, and how such ancestral care is integral to all of our collective futures.  How can ancestral futurism offer a practice of solidarities across diasporic and indigenous communities and a shared demand for indigenous land back?

About the speakers: Latipa and Chairwoman Louise J. Miranda Ramirez of the Ohlone/Costanoan-Esselen Nation
Latipa is a Pilipinx (Maguindanao/Pangasinan) artist, filmmaker, writer, and Associate Professor of Media and Cultural Studies at the University of California, Riverside.  Her interdisciplinary praxis works toward community healing and empowerment through radical media forms and memory work.  For the past twenty-five years she has developed large-scale media installations, experimental documentary films, artist's books, expanded cinema performances, boundary-crossing writing, and intergenerational popular education initiatives.  Latipa's ongoing political education grows out of a deep commitment to seeking relation and living across difference so that vibrant languages of memory and transformation may be seeded and nurtured for the past, present, and future.  Because of this commitment, she has found it necessary to create structures for artistic practice outside of normative models that can hold the ethical imperatives that drive her work.  She is the founder of the Memory and Resistance Laboratory, a collective initiative to evolve accountable, nurturing, and politically uncompromising media practice across all stages of development, production, postproduction, and distribution. She is also the co-founder of the Communities of Memory publishing imprint which offers a platform for community organizers and engaged artists to share their work in book form.  
Latipa's recent projects include Gaza Before the Law, a film about failure of the US legal system in matters of justice for Palestine, The Archive's Fold, a multi-image slide installation that posits the possibility of ancestral healing by reading the violence of the US colonial archive through past and future ancestors, and White Gaze (with Việt Lê), an artist's book and photographic installation that poses a decolonial counterpoint to National Geographic and its legacy of imperialist visuality.  She is currently working on three large-scale cinematic installations: The Absence (in collaboration with GYOPO) which creates space to reckon with the wide-ranging legacy of the artist, Theresa Hak Kyung Cha; Root to Cloud (working title, in collaboration with Mark Minch-de Leon and the Ohlone/Costanoan-Esselen Nation) which explores ancestral care and the practice of memory work in the wake of settler colonial development; and The Sea, a Mirror (working title, in collaboration with Camilo Ontiveros and the Torres Martinez Desert Cahuilla Indians) which explores the layered landscapes of the Salton Sea where indigenous life worlds are layered with the ecological crisis wrought by industrial agriculture and lithium extraction.  
Latipa has lectured and exhibited across the Americas, Europe, and Asia in significant cultural and educational institutions such as the Center for Feminist Studies in Zagreb, Croatia, School of Oriental and African Studies, London, UK, SalaSab, Bogota, Colombia, Caixaforum, Barcelona, Spain, Jeu de Paume, Paris, France, The Cooper Union, NYC, NY, Vargas Museum, Manila, Philippines, Para/Site Art Space, Hong Kong, and the Gothenburg International Biennial for Contemporary Art, Gothenburg, Sweden. Latipa gave the keynote address for the 2019 Singapore Biennale on the legacy of Filipina revolutionary Salud Algabre.  Latipa has received grants from the University of California Humanities Research, the Human Rights Center, Art Matters, the Fulbright Foundation.  She was award a 2017-18 Master Artist Fellowship from the City of Los Angeles and she was a Mellon Arts Fellow at Stanford's Center for Comparative in Studies Race and Ethnicity. Latipa earned an MFA in Art with a specialization in Interdisciplinary Studio from the University of California, Los Angeles, and a Ph.D. in Rhetoric with designated emphases in Film and Women, Gender, and Sexuality from the University of California, Berkeley.
*
I am Louise J. Miranda Ramirez, Esselen, Chumash and Yaqui. I am an enrolled member of Ohlone/Costanoan-Esselen Nation, from the Greater Monterey Bay, and have been the Tribal Chairwoman, since October 2006. I serve as the Most Likely Descendant for OCEN with the Native American Heritage Commission to protect our ancestral remains and educate the community that we are still here. I attend consultation with State and City governments to establish procedures to protect our homeland and sacred sites. Working with the Dept. of the Army, Presidio of Monterey, Santa Ynez Chumash, Tule River, Table Mountain, Santa Rosa Tachi, and Chukchansi Tribes, OCEN for the first time in history was able to rebury our Ancestors in an Army Cemetery, with the approval of the Pentagon, but it was always the Ancestors homeland and within the area they were originally disturbed. My work is as a volunteer, my job is to protect our Ancestors and teach our young people so they can carry on for the next 7 generations.
I retired from the State of California after 21 years of employment as staff at  San Jose State University.
In 1970 - 1973 I worked with Trabajadores Adelante, a Federal Farmworkers  Educational program.
In 1971-1973 I participated with the United Farm Worker Union.
In 1988 my daughter, Tiara, was diagnosed with Leukemia.  After researching the odds of an American Indian and minority child finding a donor, my family recruited marrow donors with the American Red Cross.  We formed a registered community group with the National Marrow Donor Program called the Friends and Family of Tiara Ramirez.  Our weekends were spent at community events, parades, blood drives and Pow Wow's. We spoke to families and individuals explaining the process and the great need for all Minority Marrow Donors.  I did presentations at schools, colleges, and businesses.  We raised thousands of dollars to pay for Non-minority marrow testing.  We were notified in December 1991 of a near-perfect match, but testing could not be completed in time and Tiara, died January 5, 1992. We were informed that in one year eight donors were found for other patients that tried to save Tiara. 
For 10 years after Tiara's death our family volunteered and continued recruiting marrow donors. We were twice nominated by the Hispanic Chamber of Commerce for "La Familia Award" for exemplary commitment toward Family Unity and the betterment of the Hispanic Community.
For two years I served on the Patients Services Committee for the National Marrow Donor Program.  I traveled to Minnesota, Florida, Washington, D.C., and Louisiana educating of the need for Minority Marrow Donors.  In memory of Tiara, I was honored with the Grant Hartley Diversity Award, for increasing the diversity of the NMDP.
I served on the Board of Directors, for the American Red Cross Blood Services, Santa Clara County Chapter. In memory of Tiara, I was honored by the National Chapter of the American Red Cross, with the President's Fund for Cultural Diversity Ambassadors Award, presented at the National Convention in Cleveland, Ohio. Tiara, Ernest, and I were each honored separately as Volunteer of the Year.  We were also honored with a lifetime page on the Red Cross Volunteer Museum website. 
I served as a Parent Advocate for our support group, Touchstone.
I served as President of the American Indian Alliance, San Jose, CA. 
For two years I volunteered with Make A Wish, Santa Clara County Chapter.  
I participated with the "Light the Night Committee" for the Leukemia Society. 
In 1996, I served on the Tribal Council of Esselen Nation.
In 1997, I participated in the "March to Conquer Cancer" held in Washington, D.C.
I organized the March to Conquer Cancer in San Jose. 
I was the coordinator of Many Nations, One People, a community group, 1999-2009. We hosted a campout for our community and worked to return our culture to all  our families. 
I participated in the University of Berkley's, Breath of Life Program, California Indians without speakers beginning in 2006. I created a dictionary, translated stories and prayers that I use for speeches and special events back into Esselen. I work to return our language that has been sleeping for over 100 years. At our annual Tribal Gathering we participate in games, stories, naming ceremonies and more to return Esselen and isolate language.
I have volunteered with the American Indian Heritage Celebration in San Jose beginning in 2008 to 2022. It is important that the community know that we are not extinct, "WE ARE HERE, LET KA LAI."
Since 2014, I have worked with writer/direct Luis "xago" Juarez, on "IYA, The Ex'celen Remember." A play based on my experiences as the OCEN Tribal Chairwoman, we have presented the play at California State University, Monterey Bay, National Steinbeck Center in Salinas, Monterey Presidio, MACLA in San Jose, University of California, San Diego, and American Indian Heritage Celebration in San Jose, November 2022. Xago is always updating "IYA' to include additional experiences effecting my work and the treatment my people.
On behalf of OCEN, I am working on a documentary with the University of Riverside, and we will present "IYA, The Esselen Remember to the community in Riverside, CA in the future.
— — —
500 Capp Street's Shifting Possessions salon series is made possible with support from California Humanities, a non-profit partner of the National Endowment for the Humanities, with additional support from Teiger Foundation.
Entry details
Free and open to the public.