PEACHES and HONEY: The Past, Present, and Future of SF Drag
PEACHES and HONEY: The Past, Present, and Future of SF Drag
+

Add to calendar
Thu, Mar 25 2021, 7PM - 9PM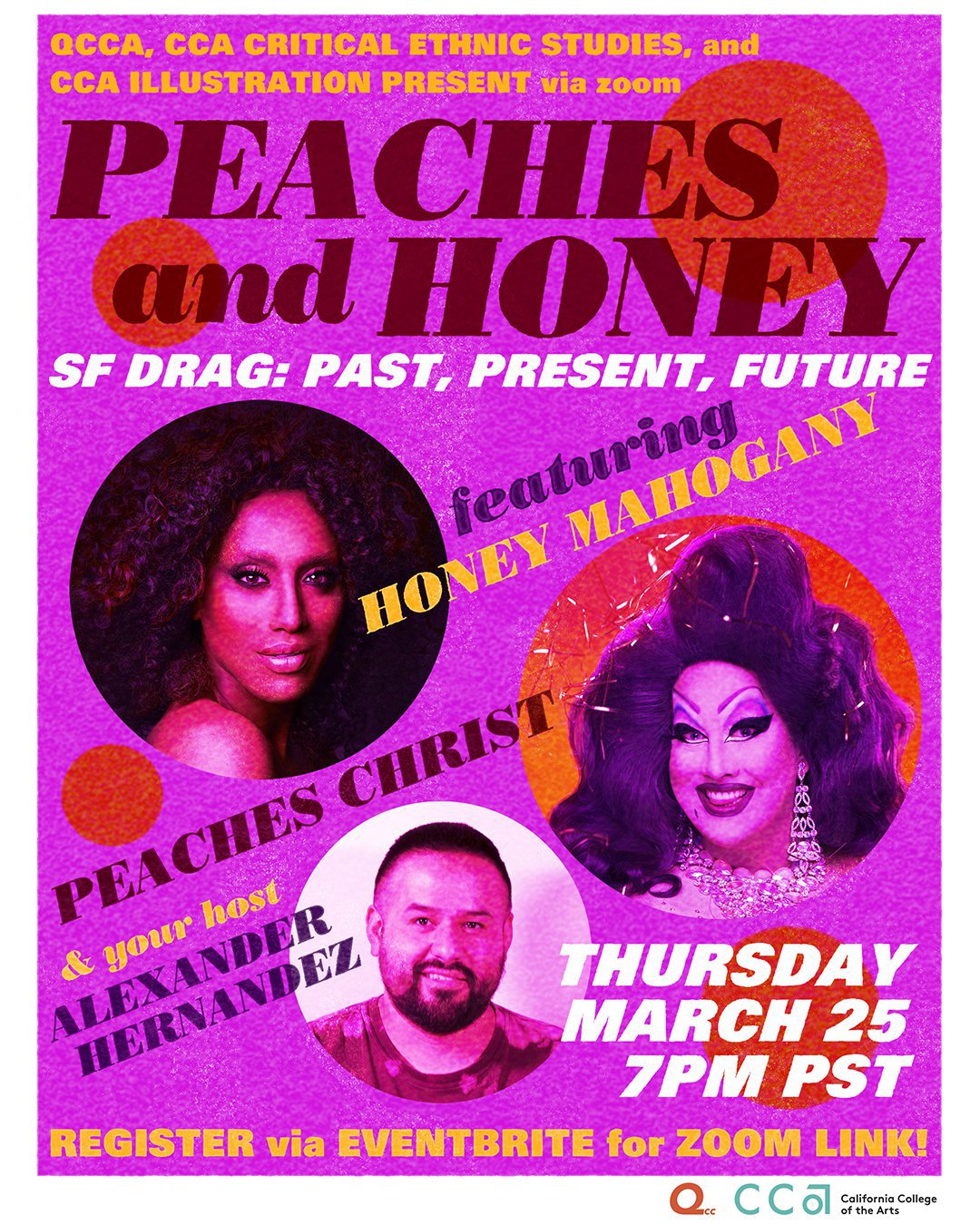 Organized by
QCCA, Critical Ethnic Studies, and CCA Illustration
Event description
San Francisco has a decades-long history of mashing fashion and politics. At a time when drag is enjoying a sort of mainstream popularity, local queens continue to create a regional culture and a style unique to the left coast. Join Honey Mahogany, Peaches Christ, and your host Alex Hernandez (CCA MFA 2012) as they highlight local luminaries, past and present bars and clubs, and post-pandemic performance possibilities. 
Activist, politico, and drag queen Honey Mahogany is a San Francisco native and a social worker by training who received her Masters in Social Welfare from UC Berkeley. Honey serves as the Vice Chair of the San Francisco Democratic County Central Committee, Honey is also co-founder of the Compton's Transgender Cultural District, a co-owner of the Stud Bar, and currently works as a legislative aide in San Francisco. Honey's work has earned her commendations from the Board of Supervisors; Sainthood from the Sisters of Perpetual Indulgence; and awards from the Milk Club, SFYD, SFWPC, and the Women's Foundation of California. In 2019, Mx. Mahogany was featured in both the Stonewall 50, Queerty's list of advocates continuing the legacy of Stonewall, and in Out Magazine's Out100, a yearly list of the 100 most impactful and influential LGBTQ people in the world.
Peaches Christ is a filmmaker and cult leader living in San Francisco.  Her infamous movie events are self-produced at the Castro Theatre and regularly draw over 1,000 attendees to each new production before they tour.  Events have featured special guest stars John Waters, Cloris Leachman, Bruce Campbell, Barry Bostwick, Pam Grier, and more.  Peaches is the alter- ego of Joshua Grannell,  the writer and director of the feature film All About Evil.  The award-winning dark comedy gore film stars Natasha Lyonne, Thomas Dekker, Cassandra Peterson, Mink Stole, and Peaches Christ herself. Peaches Christ has been featured in the films Milk, I Am Divine, Diary Of A Teenage Girl, Mansfield 66/67, Scream Queen: My Nightmare On Elm Street, You Don't Nomi and more. Peaches is also the co-owner of the Into The Dark production company which produces immersive theater, including the hugely popular Terror Vault show at the historic San Francisco Mint building.
Alexander Hernandez is a mixed media artist, with an emphasis in textiles. He was born in Huajuapan de Leon, Oaxaca- Mexico, raised in Grand Junction, CO and is currently living in the Sunset district of San Francisco, CA.  He received his BFA (2007) in Painting and Drawing from Rocky Mountain College of Art & Design in Denver, CO and his MFA in Studio Art (2012) from California College of the Arts in San Francisco, CA. His work explores multiple identities rooted in immigrant experiences, gender expectations, HIV+ survival, and queer sensibilities. He braids traditional quilting techniques with digitized prints; using colors and patterns that both clash and complement each other. His work embraces layers, unraveling threads, and raw edges- revealing truths about gender defiance and acculturation anxieties. He has been part of many art residencies including Mass Moca in North Adams, MA;  SJ Museum of Quilts and Textiles, San Jose, CA; Root Division in San Francisco, CA; Elsewhere Museum in Greensboro, NC;  Mark Rothko Art Center in Latvia; and the Vermont Studio Center in Johnson, VT. 
About California College of the Arts
Located at the center of innovation and technology in the San Francisco Bay Area, California College of the Arts is home to a world-renowned faculty of practicing artists and entrepreneurs, and a diverse community of makers that are boldly reimagining the world. Offering 22 undergraduate and 11 graduate programs in fine arts, architecture, design, and writing, CCA's creative culture is built around the ideals of interdisciplinary collaboration, sustainability, and community engagement.

Access Statement: Closed captioning will be available by AI live transcription. The lecture uses a slide presentation. All content from the slides will be read aloud or described. Please email access questions to  James Yu at jamesyu@cca.edu.

California College of the Arts campuses are located in Huichin and Yelamu, also known as Oakland and San Francisco, respectively, on the unceded territories of Chochenyo and Ramaytush Ohlone peoples, who have continuously lived upon this land since time immemorial. We recognize the historic discrimination and violence inflicted upon Indigenous peoples in California and the Americas, including their forced removal from ancestral lands, and the deliberate and systematic destruction of their communities and culture. CCA honors Indigenous peoples—past, present, and future—here and around the world, and we wish to pay respect to local elders, including those of the lands from which you are joining us virtually today. If you are unsure of who's land you are currently residing upon, we encourage you to visit native-land.ca.