Rashaad Newsome: Engineers
Rashaad Newsome: Engineers
+

Add to calendar
Wed, Oct 18 2023, 7PM - 8:30PM
Nave Presentation Space | 1111 Eighth Street, San Francisco, CA, 94107 View map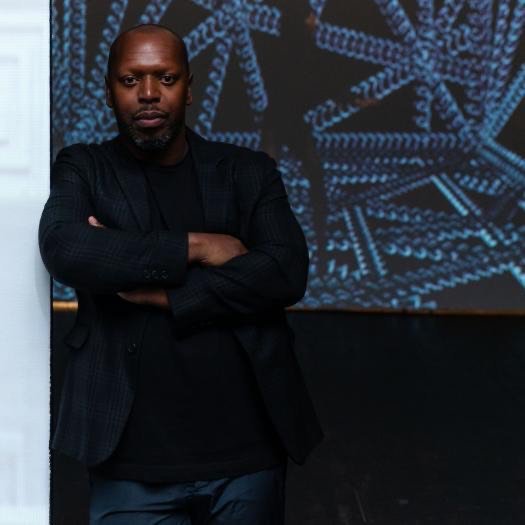 Organized by
Co-hosted by MFA Design + Animation and CCA@CCA
Event description
Newsome will discuss ideas around their new and recent work in 3D animation, collage, sculpture, and Artificial Intelligence.

ASL interpretation will not be offered at the event. The lecture uses a slide presentation. All content from the slides will be read aloud or described. 

Speaker Bio:
Rashaad Newsome's work blends several practices, including collage, sculpture, film & video, animation, photography, music, writing, computer programming, software engineering, community organizing, and performance, to create a divergent field that mirrors the intersectionality of his lived experience. Using the diasporic traditions of improvisation, he pulls from the world of advertising, the internet, Art History, Black and Queer culture to produce counter-hegemonic work that walks the tightrope between social practice and abstraction. Collage acts as a conceptual and technical method to construct a new visual, performance, and literary language that highlight the immaterial and material expressivity related to Black American Life. Rashaad holds a 2023 honorary Doctorate Degree in Fine Arts from the University of Connecticut and a 2001 BFA in Art History from Tulane University. Newsome's work is in numerous public and private collections and has been exhibited and performed in galleries, museums, institutions, and festivals worldwide, including The Studio Museum in Harlem (NYC), The National Museum of African American History and Culture (DC), The Park Avenue Armory Drill Hall (NYC), The Whitney Museum (NYC), Brooklyn Museum (NYC), MoMAPS1 (NYC), Museum of the African Diaspora (SF, CA), SFMOMA (CA), New Orleans Museum of Art (LA), Centre Georges Pompidou (Paris), Hayward Gallery (London), CA2M Centro de Arte dos de Mayo (Spain), The Garage Center for Contemporary Culture (Moscow), and MUSA (Vienna). Recent awards include The 2022 Prix Ars Electronica Golden Nica Award For Computer Animation; The 2022 NEWFEST Emerging Black LGBTQ+ Filmmaker Award; The 2022 Bessie Award for Outstanding Choreographer/Creator and Outstanding Visual Design; The 2022 Berkeley FILM Foundation grant; The 2021 Knight Arts + Tech Fellowship; The 2020/2022 Stanford Institute for Human-Centered Artificial Intelligence artist residency; The 2020 Eyebeam Rapid Response Fellowship; The 2019, LACMA Art + Technology Lab Grant; The 2018, William Penn Foundation Grant; The 2017 Pollock-Krasner Foundation Inc.; and The 2011, Louis Comfort Tiffany Foundation Award.



About California College of the Arts
Located at the center of innovation and technology in the San Francisco Bay Area, California College of the Arts is home to a world-renowned faculty of practicing artists and entrepreneurs, and a diverse community of makers that are boldly reimagining the world. Offering 22 undergraduate and 11 graduate programs in fine arts, architecture, design, and writing, CCA's creative culture is built around the ideals of interdisciplinary collaboration, sustainability, and community engagement.
California College of the Arts campuses are located in Huichin and Yelamu, also known as Oakland and San Francisco, respectively, on the unceded territories of Chochenyo and Ramaytush Ohlone peoples, who have continuously lived upon this land since time immemorial. We recognize the historic discrimination and violence inflicted upon Indigenous peoples in California and the Americas, including their forced removal from ancestral lands, and the deliberate and systematic destruction of their communities and culture. CCA honors Indigenous peoples—past, present, and future—here and around the world, and we wish to pay respect to local elders, including those of the lands from which you are joining us virtually today. If you are unsure of who's land you are currently residing upon, we encourage you to visit native-land.ca.
ENTRY DETAILS
This lecture was organized in collaboration with the Creative Citizens in Action initiative and is supported by the Deborah and Kenneth Novack Creative Citizens Series, a year-long conversation series that spans the disciplines of art, design, architecture, and writing.