Reclaiming Land: From Dispossession to Reciprocity
Reclaiming Land: From Dispossession to Reciprocity
+

Add to calendar
Thu, Oct 6 2022, 6PM - 7:30PM
Nave Alcove- Watch Party for the CCA Community | 1111 8th Street, SAN FRANCISCO, California, 94107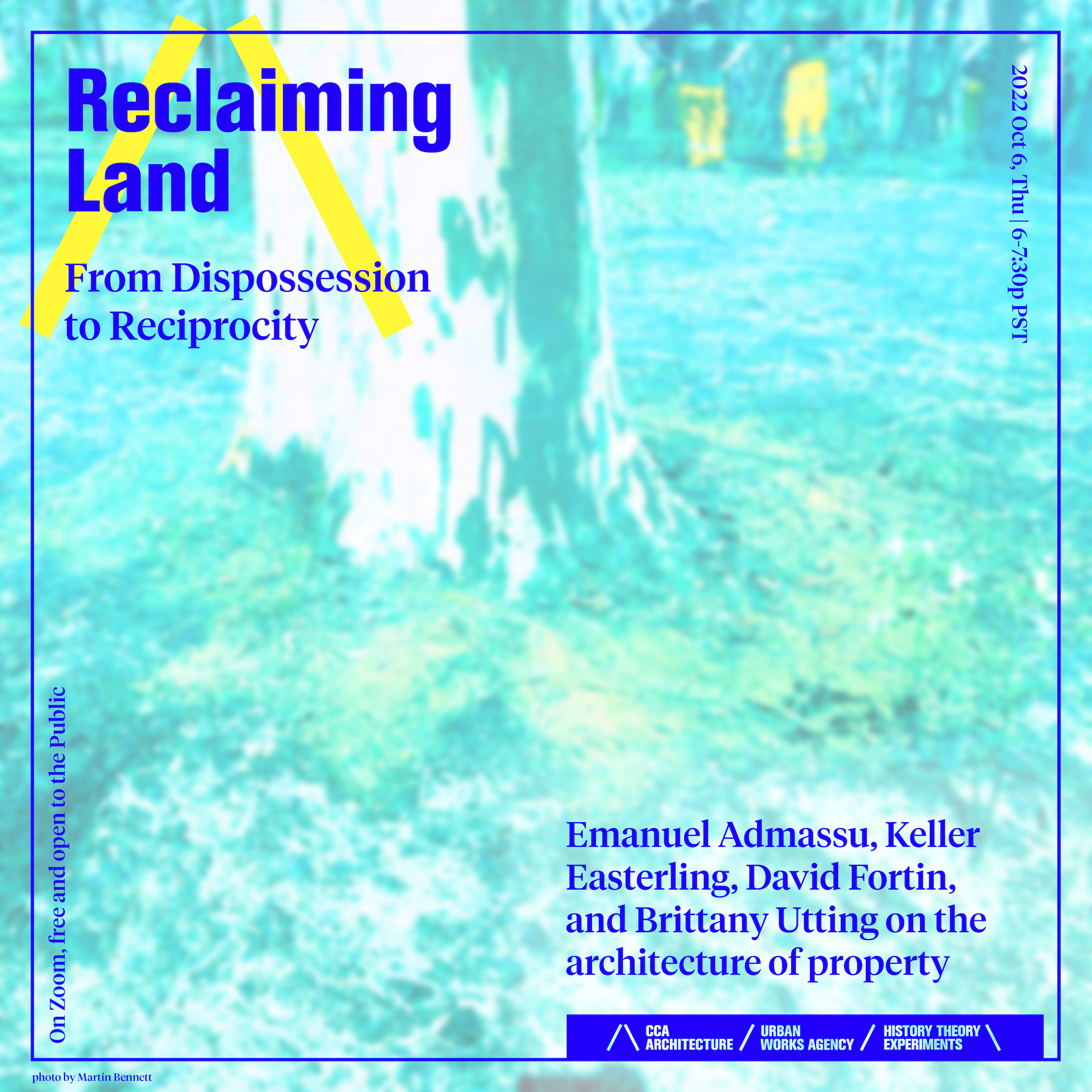 Organized by
CCA Architecture Division, Urban Works Agency @ CCA, and CCA History Theory Experiments
Event description
The notion of "property" inscribes land within systems of value—values based largely in racialized visions of use, "improvement," and available resources for exploitation. But what other characterizations and relationships to the land are foreclosed by these settler narratives? How might these systems be challenged and transformed in ways that bring forward long-suppressed forms of responsibility and reciprocity with land and its more manifold values (ecological, spiritual), particularly in the face of climate change? In the context of climate justice—the theme of the fall lecture series—this panel asks how narratives of property can be recast in relation to justice and liberation for BIPOC people, and to grapple with the entanglements, responsibilities, and risks brought forward by climate change. 
Speakers: Emanuel Admassu, Keller Easterling, David Fortin, and Brittany Utting. Hosted by James Graham and Janette Kim.
Architect Emanuel Admassu Is founding principal of AD—WO and Assistant Professor at Columbia University GSAPP, where he teaches design studios and theory seminars in urban design and architecture. He has previously taught at RISD Architecture and Harvard GSD. Admassu's teaching, research, and design practices examine the international constellation of Afrodiasporic spaces. Admassu completed his Bachelor of Architecture at Southern Polytechnic State University, followed by a Master of Advanced Architectural Design and Advanced Architectural Research at Columbia University.
Keller Easterling is an designer, writer and the Enid Storm Dwyer Professor of Architecture at Yale. Her books include, Medium Design (Verso 2021), Extrastatecraft: The Power of Infrastructure Space (Verso, 2014), Subtraction (Sternberg, 2014), Enduring Innocence: Global Architecture and its Political Masquerades (MIT, 2005) and Organization Space: Landscapes, Highways and Houses in America (MIT, 1999). Easterling is also the co-author (with Richard Prelinger) of Call it Home a laserdisc/DVD history of US suburbia from 1934-1960.Easterling lectures and exhibits internationally. Her research and writing was included in the 2014 and 2018 Venice Biennales. Easterling is a 2019 United States Artist in Architecture and Design.
Dr. David Fortin is a registered architect in Ontario Canada. He is also a professor at the the University of Waterloo School of Architecture. He was previously the Director of the McEwen School of Architecture and the inaugural Associate Director of the Maamwizing Indigenous Research Institute at Laurentian University. He has taught architectural history, theory, and design in the UK, US, and Canada and has published on topics related to Indigenous design, Métis architecture, and speculative architectural thinking, including the relationship between science-fiction and design. He is a citizen of the Métis Nation of Ontario and in 2018 became the first Indigenous person to direct a school of architecture in Canada.

Brittany Utting is an Assistant Professor of Architecture at Rice University and co-founder of the research and design collaborative HOME-OFFICE. Her work examines the relationship between architecture, collective life, and environmental care. She previously taught at the University of Michigan as the 2017-2018 Willard A. Oberdick Fellow. Brittany received her Master of Architecture from Yale University and a B.S. in Architecture from the Georgia Institute of Technology. Brittany is a registered architect in New York and previously practiced at Thomas Phifer and Partners as project designer for the Museum of Modern Art in Warsaw. She also has editorial experience at Log, Journal for Architecture and served on the board of CARTHA Magazine. Currently, she is editing the volume Architectures of Care: From the Intimate to the Common (Routledge, 2023).

Image: Photo by Martin Bennett

Entry details
Streaming on Zoom. Free and open to the public with registration.
Members of the CCA community are invited to attend a live watch party with refreshments in the Nave Alcove.
Registration is Required