Recognitions / 认 • 知: a solo exhibition by Christine Wong Yap
Recognitions / 认 • 知: a solo exhibition by Christine Wong Yap
+

Add to calendar
Wed, Jan 25 2023, 11AM - Fri, Mar 17 2023, 5PM
1480 17th Street, San Francisco, CA, 94107 View map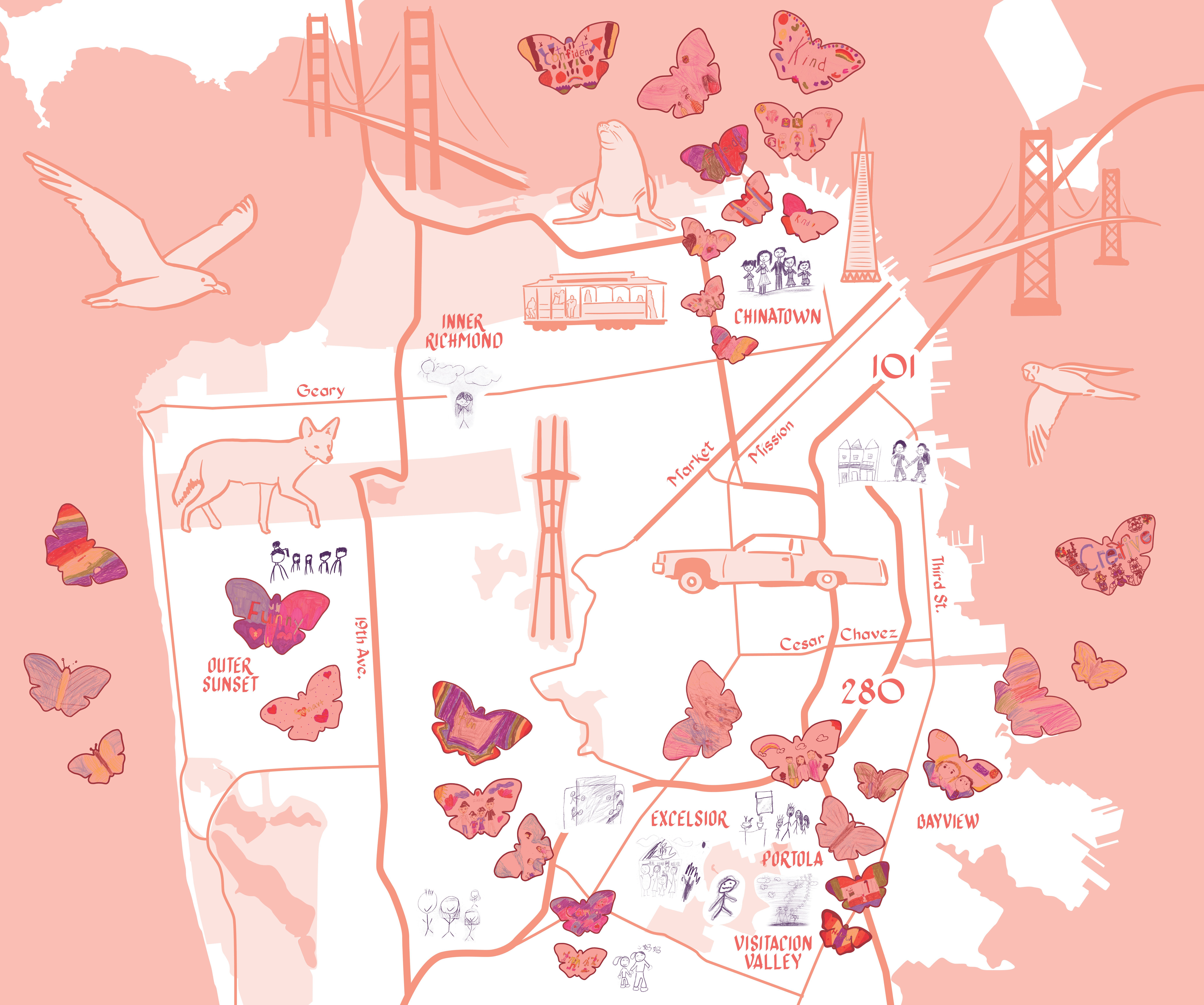 Organized by
Exhibitions and Public Programming
Event description
Opening reception: Wednesday, January 25th, 5:30–7:30pm
Recognitions / 认 • 知 is an exhibition of new work that marks the culmination of a collaborative social practice project between 2022 Creative Citizenship Fellow and CCA alumna Christine Wong Yap and Edwin and Anita Lee Newcomer School—a public, one-year, language immersion elementary school in San Francisco's Chinatown, serving Chinese-speaking recent immigrants. 
Building upon Christine's participatory research projects exploring belonging, the exhibition features three new projects that integrate artworks by elementary school students with maps, drawing, calligraphy, and sewing—characteristics of Christine's hybrid practice as a social practitioner and visual artist. 
This exhibition is generously supported by the National Endowment for the Arts, San Francisco Grants for the Arts, and the Deborah and Kenneth Novack Creative Citizens Program Series. 
Collaborators
Edwin and Anita Lee Newcomer School (EALNS)
Grades K-5 after school students at EALNS, 2021–2022 school year
Victor Tam, EALNS Principal
Christine Yan Louie Paz, EALNS Teacher 
Yunsi Cecilia Li, EALNS Family Liaison
Jaime Austin, CCA
Production Assistants
Curriculum Assistance: Erina Davidson
Production: Cole Chang, Erina Davidson, Alix Deane, Danna Kim, Lee Oscar Gomez, Jes Young
Administration: Lindsey Tavares-Sabido
Translation: Lauren Huang
Image: Christine Wong Yap with contributors, Map of Young Newcomers' Feelings of Home and Positive Qualities, 2022, digital design with artworks by students at Edwin and Anita Lee Newcomer School
Entry details
Free and open to the public
Gallery hours: Wednesday 11am–7pm, Thursday–Friday 11am–4pm
The CCA Campus Gallery is wheelchair accessible. Please email accessibility questions to exhibitions@cca.edu.