A Roundtable on Art & Mutual Aid
A Roundtable on Art & Mutual Aid
+

Add to calendar
Tue, Mar 23 2021, 10:15AM - 11:45AM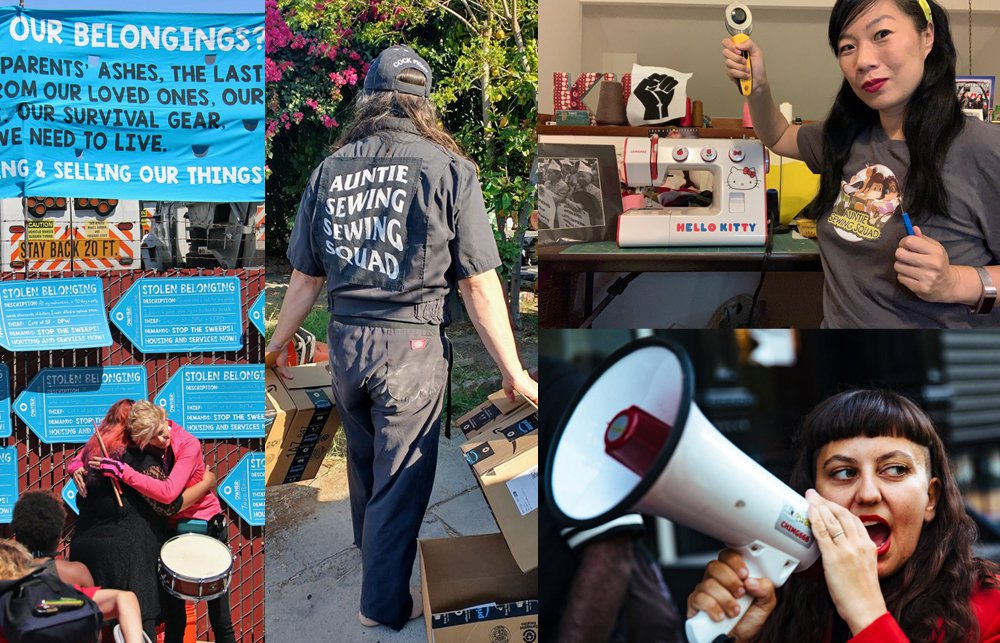 Organized by
Aaron Gach, Senior Adjunct Professor, Critical Ethnic Studies Program and SICA
Event description
How can we respond to community crises when the government response is seen to be insufficient, absent, or even adversarial? A Roundtable on Art & Mutual Aid is a forum that brings the audience into dialog with four artists whose creative, socially-engaged practices actively support a range of community-driven mutual-aid efforts such as food banks, housing rights, pandemic response, and supply runs to indigenous communities. The event will feature short presentations by Kristina Wong and Badly Licked Bear of the Auntie Sewing Squad (A.S.S.), tactical art organizer and housing rights advocate Leslie Dreyer, and radical artist, activist and pedagogue, Amy Koshbin. An open public discussion will be moderated by Aaron Gach of CCA's Critical Ethnic Studies program and the Sculpture, Individualized, and Community Arts (SICA) program.  It is free for all and all are welcome.
Amy Khoshbin is an Iranian-American Brooklyn-based artist, activist, and educator. Her practice, as an artist and pedagogue, builds bridges between disparate communities to counteract fear with a collective sense of empowered radical acceptance. She pushes the formal and conceptual boundaries of artmaking to foster progressive social change through performance, social practice, video, rap music, installation, tattooing, teaching and writing. She has shown at venues such as The Whitney Museum of American Art, The Solomon R. Guggenheim Museum, Times Square Arts, Artpace, and others. https://tinyscissors.com/
Leslie Dreyer is an artist, organizer and educator who creates tactical art, media spectacles and unsanctioned installations from within movements fighting for a right to the city and an equitable future. She works as an arts organizer with Housing Rights Committee of SF and Coalition on Homelessness (COH) designing public art actions and messaging strategies that amplify the narratives and demands of folks without housing security. Stolen Belonging is the current project she's working on with COH and unhoused San Franciscans against ongoing state violence; visibilizing possessions and lives stolen by city workers in the sweeps and exposing how such thefts impact a person's ability to belong where they live. https://www.lesliedreyer.com/
Kristina Wong is a performance artist, comedian, writer and elected representative in Koreatown Los Angeles.  "Kristina Wong for Public Office" is a simultaneous real life stint as the elected representative of Wilshire Center Koreatown Sub-district 5 Neighborhood Council and rally campaign show.  That show's national tour was sidelined by the pandemic and has pivoted to streaming performances, including a concert film recorded by Center Theater Group.  Kristina's current pandemic project is the Auntie Sewing Squad, a national network of volunteers sewing masks for vulnerable communities.  The experience of erecting this remote factory in ten days at the start of the pandemic is the subject of Kristina's current performance "Kristina Wong, Sweatshop Overlord" which she is developing as a New York Theater Workshop Artistic Instigator.  www.kristinawong.com
Badly Licked Bear has been an arts administrator, community leader, writer, curator, student, artist, and educator. As an artist, their work exists within two circles – a performance practice with roots in a disciplined body, BDSM, and Looney Tunes, and an exhibition practice concerned with our survival in an age of perpetual crisis. Their artistic work has been exhibited or performed at MOCA, Hammer Museum, REDCAT, Human Resources Los Angeles, Machine Project and elsewhere. During the COVID-19 pandemic, they have committed themself to the mutual aid efforts of the Auntie Sewing Squad, a thousand member national network of mask-makers. In their role in this network, they lead initiatives to supply Navajo Nation, Hopi Nation and the Standing Rock Reservation with PPE and other critical supplies.
This event is part of the Creative Citizens in Action initiative at CCA (CCA@CCA), and is funded by an endowment gift to support The Deborah and Kenneth Novack Creative Citizens Series, an annual series of public programs focused on creative activism.
Image credit: Courtesy Amy Koshbin, Badly Licked Bear, Kristina Wong, and Leslie Dreyer⁠
Entry details
Free and open to the public.
CCA@CCA is committed to providing universal access to our events. Please contact exhibitions@cca.edu to request disability accommodations.