Second Helping: CCA@CCA Post-Election Town Hall
Second Helping: CCA@CCA Post-Election Town Hall
+

Add to calendar
Mon, Nov 16 2020, 4PM - 6PM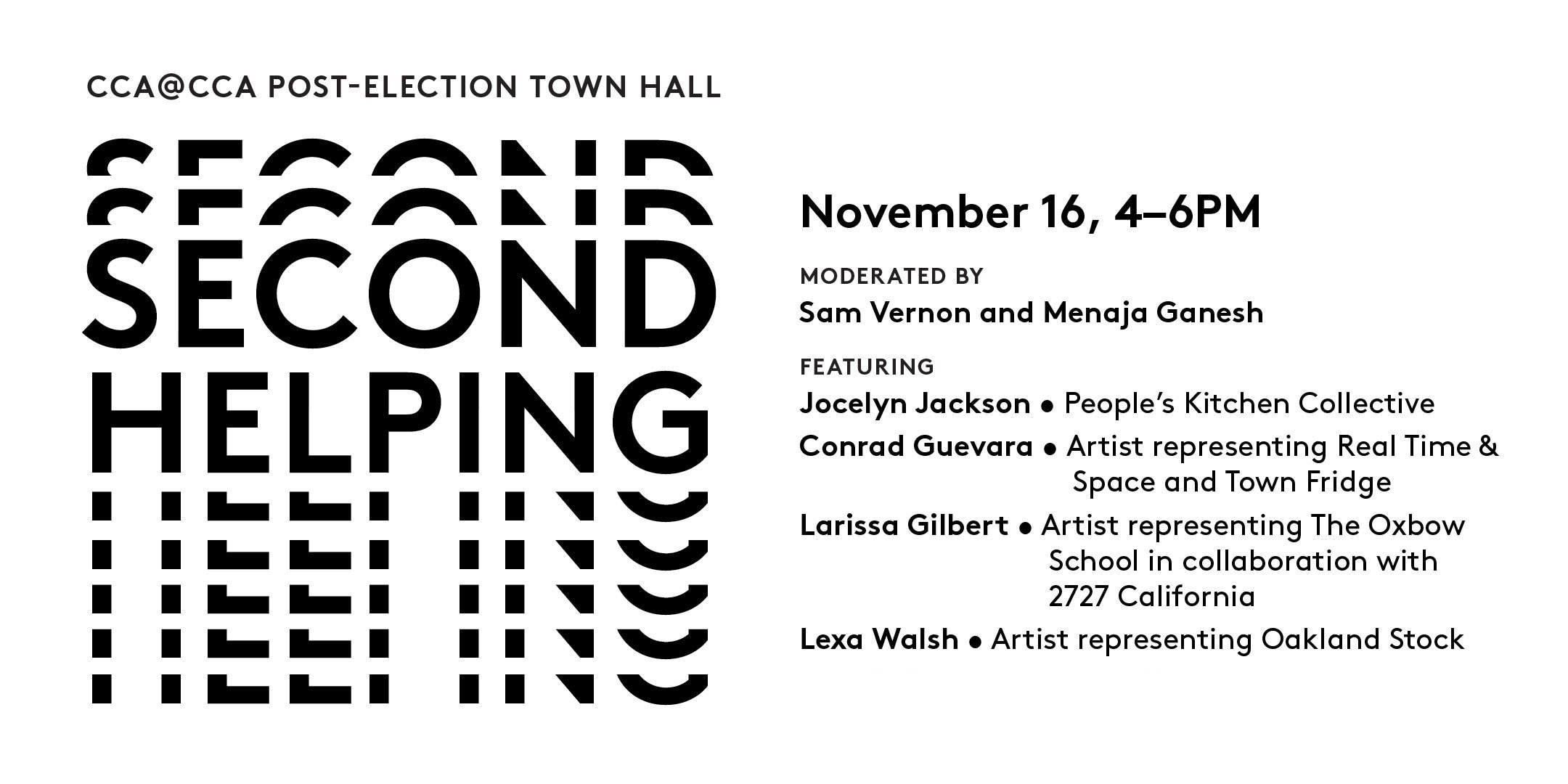 Organized by
CCA Exhibitions
Event description
"If feeding is a form of love, eating is a kind of submission. Meals are conversations and what we don't say is left over in the food." — Avni Doshi

Featuring Jocelyn Jackson, People's Kitchen Collective; Conrad Guevara, artist representing Real Time & Space and Town Fridge; Larissa Gilbert, artist representing The Oxbow School in collaboration with 2727 California; and Lexa Walsh, artist representing Oakland Stock.

During the protests of summer 2020, the amount of direct-action work, community-centered work, and mutual aid skyrocketed as a direct response to create lasting change in our society. The negative impacts of capitalism, western imperialism and borderlines that divide people are arbitrary, xenophobic, and racist; this town hall attempts to uplift community work in the aftermath of the election, and celebrate people regardless of their background or status.
Food is a powerful way to bring people together, and our hope is that sharing and centering will be the theme for this town hall, amidst troubling uncertainty about the future post-election. Food is a way to invest in our communities, and invest in ourselves. It is an act of nourishment, an act of resistance. Focusing on the knowledge that food holds, and by extension, the knowledge and wisdom the land and plants hold, the knowledge people tirelessly tending to the land hold, is key. Highlighting the people growing food we eat, rather than viewing food as simply a commodity is essential to collective awareness. Food has history, the people producing the food have history and their stories and are deeply integral to shared survival in our school community and beyond. 
Growing, cooking, and eating as an act of ceremony, an act of making offerings, an act of comforting, a means to center and ground ourselves within our communities, is a way of returning. Simultaneously, thinking of food as a privilege that not everyone has access to, food in conversation with mutual aid, food in conversation with land ownership and sovereignty is critical.
This event is part of the Creative Citizens in Action initiative at CCA (CCA@CCA), and is funded by an endowment gift to support The Deborah and Kenneth Novack Creative Citizens Series, an annual series of public programs focused on creative activism.

Entry details
Free and open to the public.
CCA@CCA is committed to providing universal access to our events. Please contact exhibitions@cca.edu to request disability accommodations.