Take Action / A For Freedoms Exhibition
Take Action / A For Freedoms Exhibition
+

Add to calendar
Tue, Oct 16 2018, 12PM - Fri, Nov 16 2018 5PM View map
161-131 Hubbell Street, San Francisco, CA 94107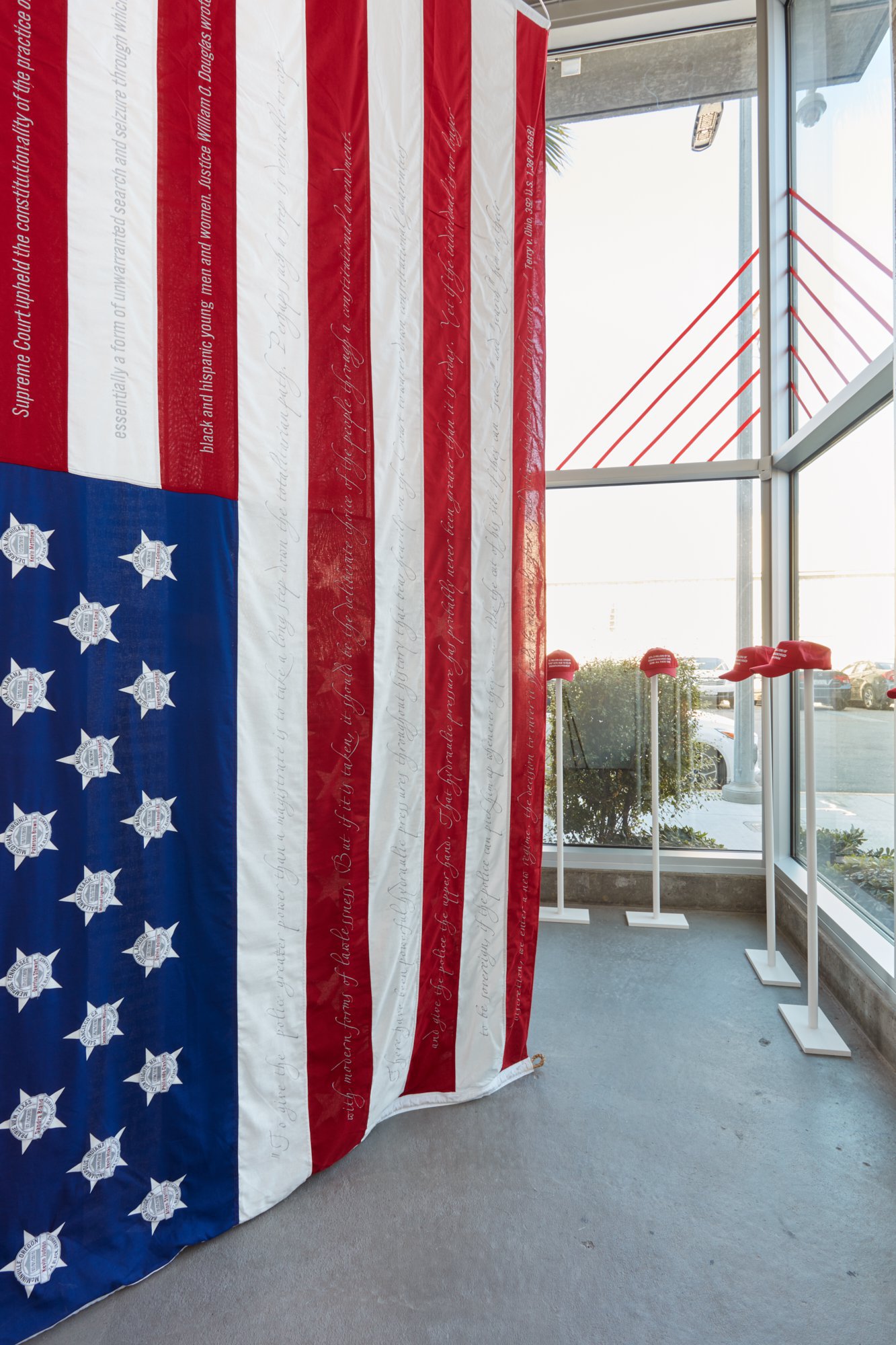 Organized by
CCA Exhibitions
Event description
Take Action is a group exhibition highlighting work by Bay Area artists working as creative citizens in their communities. The exhibition is urgently contemporary, featuring recent video, sound, prints, photography, and installations by Bay Area artists that prompt visitors to take action and participate in civic discourse.
Featuring work by 100 Days Action, Center for Tactical Magic, Sharon Daniel, Rodney Ewing, chris hamamoto & Jon Sueda, Taraneh Hemami, Packard Jennings, Dignidad Rebelde, Stephanie Syjuco, Kaitlin Trataris, Leila Weefur, and Christine Wong Yap.
Related For Freedoms Town Hall events will take place at CCA's Oakland campus on Monday, September 17 at 7:00 pm, and at CCA's San Francisco campus on Thursday, October 25 at 7:00 pm.
In conjunction with Take Action, 100 Days Action will host a maker event on Tuesday, October 23 at 5:30 pm, and an election result watching party on Tuesday, November 6 at 6:00 pm. 
This exhibition is part of CCA's Creative Citizens in Action series and is generously supported by Wayee Chu and Ethan Beard.
About For Freedoms
Founded in 2016 by alumni Hank Willis Thomas (MFA Fine Arts/Visual and Critical Studies, 2004) and artist Eric Gottesman, For Freedoms is a platform for civic engagement, discourse, and direct action for artists in the United States. Inspired by Norman Rockwell's 1943 paintings of the four universal freedoms articulated by Franklin Delano Roosevelt in 1941—freedom of speech, freedom of worship, freedom from want, and freedom from fear—For Freedoms seeks to use art to deepen public discussions of civic issues and core values, and to clarify that citizenship in American society is deepened by participation, not by ideology. For Freedoms is part of a rich history of artists employing means of mass communication to provoke political discourse. For Freedoms believes art, and artists, play an important role in galvanizing our society towards a more representative and transparent government.
About the 50 State Initiative
This year, For Freedoms launched its 50 State Initiative, a new phase of programming to encourage broad participation and inspire conversation around November's midterm elections. Building off of the existing artistic infrastructure in the United States, For Freedoms has developed a network of over 300 artists and 200 institutional partners who will produce nationwide public art installations, exhibitions and local community dialogues in order to inject nuanced, artistic thinking into public discourse. Centered around the vital work of artists, For Freedoms hopes that these exhibitions and related projects will model how arts institutions can become civic forums for action and discussion of values, place, and patriotism. For more information, please click here.
About the For Freedoms Creative Citizenship Fellowship
Throughout 2018, CCA is collaborating with For Freedoms and Hank Willis Thomas to develop a Bay Area organizing hub to advance the shared goals of increasing voter registration, voter access, and engagement in the broader practices of democracy on our campuses, in our communities, and across the nation. The fellowship was jointly created with Maryland Institute College of Art (MICA) to highlight initiatives from both colleges focused on using the arts and arts-based organizing to increase engagement in the system of democratic electoral politics and advocacy.
Image: Sharon Daniel, Amends | Civil Death, installation view. 

Entry details
CCA Hubbell Street Galleries
Free and open to the public

Opening reception: Tues., October 23, 5:30-7:30 p.m.
Gallery hours: Mon.-Fri., 12:00-5:00 p.m.; Thurs., 12:00-7:30 p.m.; Closed Saturday & Sunday