THIEN PHAM
+

Add to calendar
Fri, Jul 14 2023, 7PM - 10PM
Timken Hall | 1111 8th St., San Francisco, CA, 94107 View map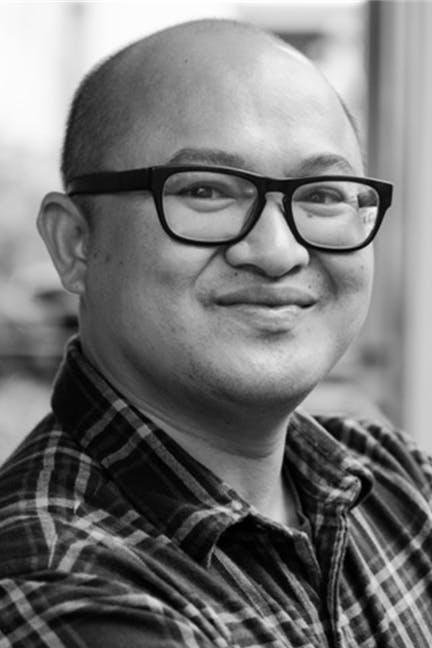 Organized by
CCA MFA in Comics program
Event description
Thien Pham is a Bay Area comics icon.
Thien Pham is a graphic novelist, comic artist, educator, and all-around Bay Area comics icon!  
Pham's new book Family Style: Memories of an American from Vietnam is a moving young-adult graphic memoir about an immigrant boy's search for belonging in America. Beginning adrift at sea as his family fled Vietnam, then moving to a refugee camp in Thailand, and finally to resettlement in California, the story uses food to create meaning, from salty fish to strawberries to potato chips. Gene Luen Yang says, "An astounding work – Family Style is tragic, funny, and uplifting." 
Pham is the author and illustrator of the graphic novel Sumo as well as numerous mini-comics. He did the art for the middle-grade graphic novel Level Up, written by Yang, and is an ongoing comic contributor to Eater SF. 
Pham will read from his work and be interviewed by MFA Comics faculty member and fellow cartoonist Thi Bui, followed by a short reception.
7-8:30pm – a reading and a conversation with Thi Bui
Timken Auditorium, 1111 8th Street [View map]
8:30-10pm – a reception and signing (in conjunction with the Emanata Show opening)
111 Hubbell Street [View map]
Entry details
Please join us at Timken Auditorium at the Main Campus of California College of the Arts at 1111 8th Street. The reception will be at the Hubbell Gallery in conjunction with the Emanata Show [insert link to other Portal page] reception, at 111 Hubbell Street. This event is free and open to the public. For more information, please contact Justin Hall (jhall@cca.edu) and/or Jason Morris (jmorris@cca.edu).