TRACE: CCA Furniture Junior Year Exhibition
TRACE: CCA Furniture Junior Year Exhibition
+

Add to calendar
Wed, Feb 2 2022, 11AM - Fri, Feb 11 2022, 4PM
CCA Hubbell Street Galleries | 151 Hubbell Street, San Francisco, CA, 94107 View map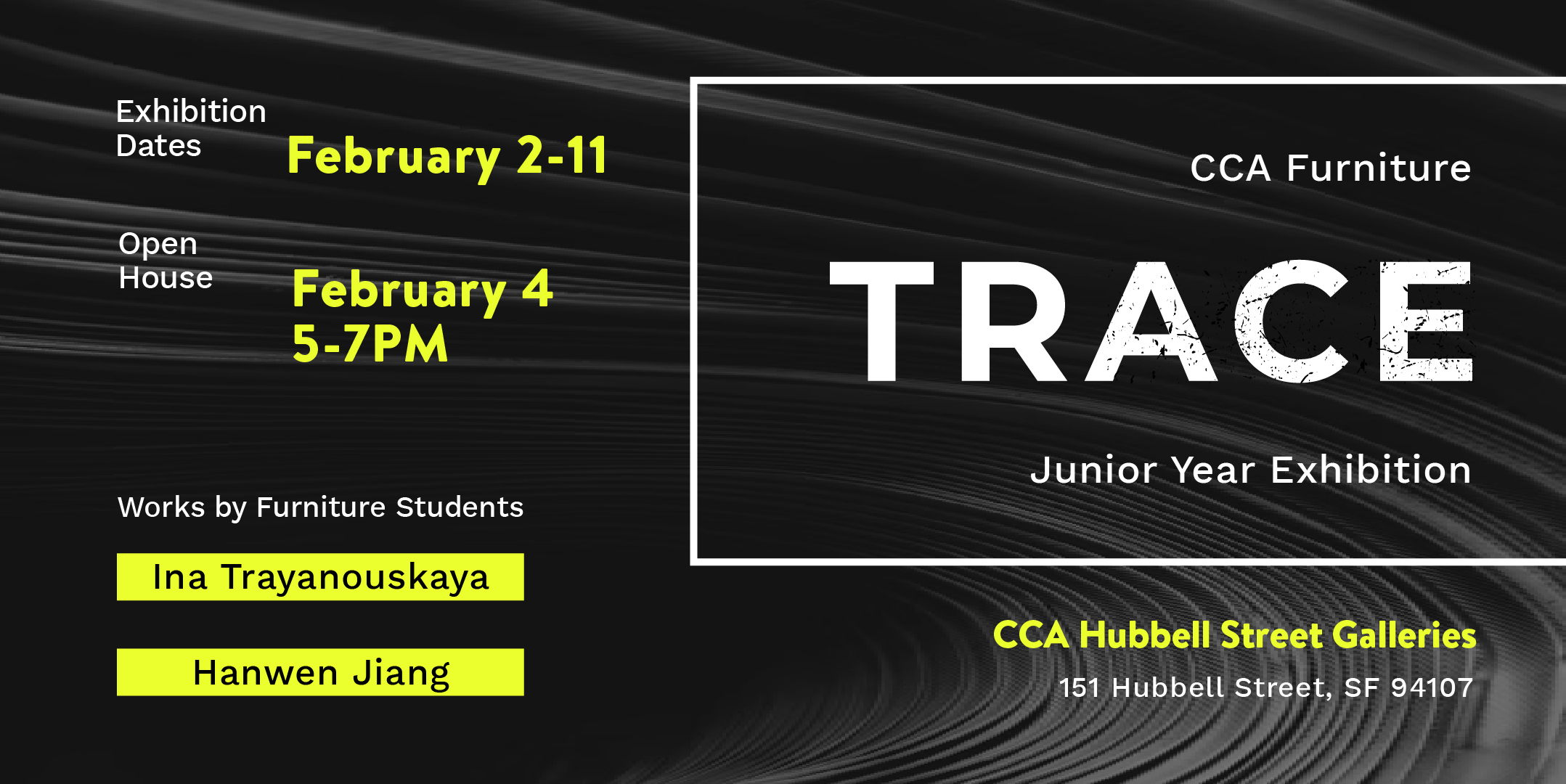 Organized by
Furniture Program
Event description
CCA Furniture presents a Junior Review Exhibition of recent works by third year students. Sculptural objects and functional designs, ranging from cabinets to lighting and installation,  map a path of analog and digital making through the pandemic era and beyond. Works by our global student population offer reflections on cultural histories, potential futures, and the persistence of Craft in a digital world. Please join us in celebrating the work of Furniture students Ina Trayanouskaya and Hanwen Jiang as they begin their final year at CCA.

Entry details
Gallery hours: Wednesday–Friday 11am–4pm
Free and open to the public with proof of vaccination. Faculty may arrange class visits to the Galleries by emailing exhibitions@cca.edu. Upon arrival, please check in with the attendant in the gallery at 161 Hubbell Street.
Stay at home if you are feeling sick: Please do not visit the gallery if you have a fever or any COVID-19 symptoms, have tested positive for COVID-19 within the past 14 days, or have had close contact with anyone who is confirmed or is suspected of having COVID-19.
Face masks covering nose and mouth (without valves) are required at all times indoors (ages 2 & up). Hand sanitizer is available for all.
The CCA Hubbell Street Galleries are wheelchair accessible. Please email access questions to exhibitions@cca.edu.