Connecting to the CCA WiFi
Connecting to the CCA WiFi
---
In order to log in to the CCA wireless network, you'll need an active CCA account.
Guest users, on the other hand, will be able to connect to the CCA Guest network available throughout campus, though this network is slower and limits one's access to campus systems.
---
Please note, to register as a guest, you will need access to a valid email account.
Connect to the 'CCA' WiFi Network
1

Open the WiFi settings on your computer

On a Mac, you can open the WiFi menu by clicking the network icon in the menu bar at the top of the screen.

On a PC, click the network icon in the taskbar at the bottom of the screen (a "disconnected" icon may appear instead if you're not connected to any network). If you don't see either icon, it may be accessible by clicking the up arrow in the task bar.
2

Select 'CCA' from the list of available networks
3

Wait for the CCA login page to appear

Open a new browser tab if the login page does not appear. If the issue persists, try the following:
Open a new private or incognito browsing window
Close and restart your browser
Go to a site that you haven't been to recently
4

Select 'Username/password login' from the login page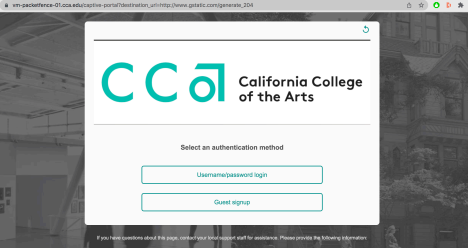 5

Enter your CCA username and password

Make sure that you only include your username and not your full email (omit the @cca.edu part).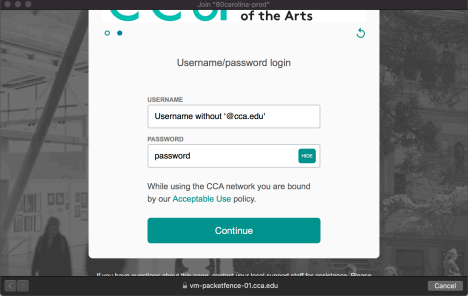 6

Select 'Continue' to proceed

Then wait to be connected to the network.
Connect to the 'CCA Guest' WiFi Network
1

Repeat steps 1-3 listed above

Once done, you should see the CCA WiFi login page.
2

Select 'Guest signup' from the login page
3

Read and accept the acceptable terms of use

These terms include some detail on prohibited activities while using the network.

Select the 'I accept the terms' button to proceed.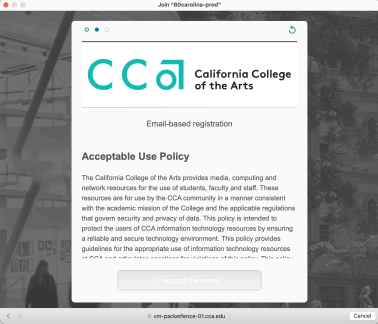 4

Enter your email

Then select 'Continue' to proceed.

This will automatically kick off an activation email to the address provided.
5

Check your email for an activation prompt

Look for a message from a cca.edu email address in your inbox (it should appear in the email you provided previously).

Within that email, select 'Activate Access,' then wait to be connected to the network.

Note that you must complete this action within 10 minutes of receiving the email or you'll have to start the connection process over again.
I'm getting an error message when I try to connect
If you encounter an error message upon attempting to connect to the network, please try toggling your WiFi on and off (from within the WiFi/networks menu on your computer).
A security warning may trigger when your browser encounters a redirect to the network registration page that it interprets as un-secure. Browser security is generally a very good thing but may cause connection issues from time to time.
You can typically resolve this issue by repeating the registration steps outlined above.
I got removed from the network after connecting previously
After seven days of inactivity, you'll automatically be removed from the network, even if your account is active and you have connected to the CCA WiFi previously. To reconnect, follow the steps outlined above.

If you have further trouble connecting to the CCA network, please contact helpdesk@cca.edu for assistance.
---
Are you scanning my computer while I'm connected to the CCA network?
No. The way this system is currently configured does not give us any visibility into your private systems.
Why is there a waiting period when connecting to the network?
Before you are able to use the network, your device has to recognize that it has been placed on a new network and must request new network settings.
When will my device registration expire?
Authenticated device registration on the CCA network will remain active until the device has been inactive (not on the network) for a period of 7 days or longer.
Registration on the CCA guest network will remain active for eight hours.
Can anyone use the CCA guest network?
Yes, but if you have a CCA login, using the CCA network will result in faster connection speeds and a longer authentication period.