Salma AlGamal: The California Experiment
Salma AlGamal: The California Experiment
The California College of the Arts has always been an international sanctuary for those who are looking to push their work in radically different directions. This semester CCA Illustration was thrilled to work alongside Salma AlGamal, a Fulbright scholar from Alexandria, Egypt.
Salma has an undergraduate degree in Interior Architecture and has worked extensively as an Animator, but she chose to study with CCA to develop her concepts and portfolio as an Illustrator. The body of work she created this semester is impressive both in scale and in craft; the depth of her drawings, paintings and Risograph prints mirror the complex stories she chose to tell in building a bridge between her country and ours.
The Fulbright U.S. Student Program expands perspectives through academic and professional advancement and cross-cultural dialogue. Salma was awarded the Fulbright Applied, Fine and Performing Arts grant for Egyptian Scholars. The program provides fully funded grants for professional artists who wish to attend master classes and/or conduct field research for 6 to 9 months in the U.S.
"I started researching schools, and it was meant to be CCA. Professor Wertz was more than willing to offer all means necessary to bring the California experiment to life upon reaching out to him."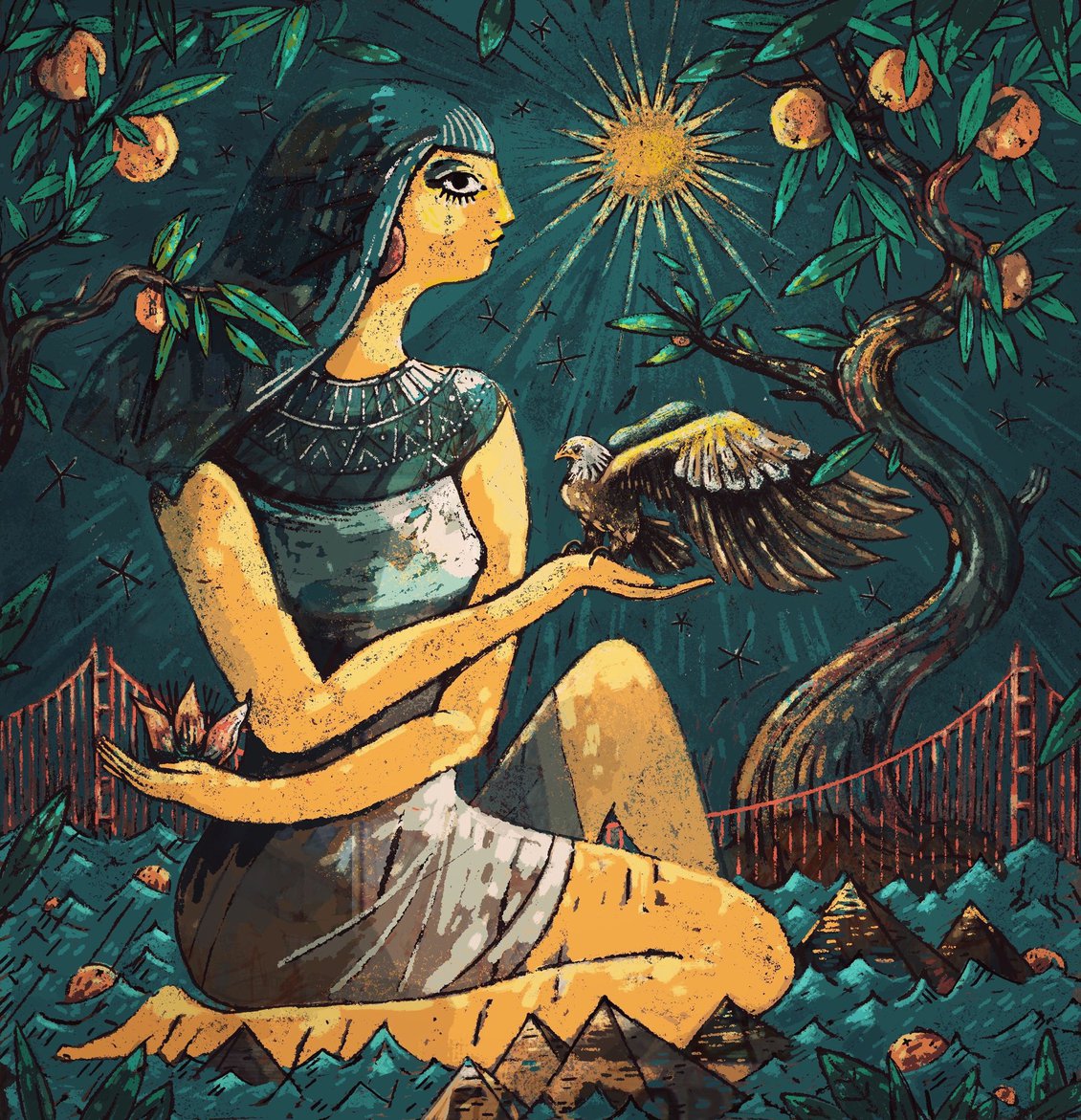 Salma describes "The California Experiment" thusly:
"[This project is] an invitation to build a bridge between Egypt and the USA and investigate the connection between the two countries through illustration. The Egyptian Society is in a growing need of functioning well-educated artists, and through CCA, I choose to undertake an intensive training in illustration to be fluent in terms of visual vocabulary, to research, imagine and articulate visual ideas with on-campus courses and to eventually fulfill an artist's active role in society. I like to believe that I can bring a new perspective to CCA based on my experience as a practicing artist from the Middle East, and bring back valuable knowledge to my society through it upon returning to Egypt."
"I am so grateful to be equally and completely in two opposites; I think my mind functions equally in Arabic and English, and that gives you two different perspectives in any situation."
"The California Experiment has been a life changing experience for me. I can say that I am better equipped as an artist and a human being now. I think my art and I are one. And this experience has definitely added to both sides of the equation.
This experiment, as much artistic practicality it carries, has changed me profoundly as a human being. I have learnt the power of generosity and creative community at CCA. Living in San Francisco, I learnt the importance of keeping both my eyes and heart open. The city and its school are equally diverse, humane, astonishing and most importantly inspiring. I am and will be forever grateful for the CA experiment, because it taught me so much about art as a concept, and in result, about myself and the collectiveness of the universe as a whole"
We feel so lucky to work alongside such amazing international talent such as Salma, and look forward to continuing our creative collaboration. We will see you soon in Egypt, Salma!