ARC Document Solutions can print onto various types of materials that extend beyond paper, such as vinyl, and canvas (see ARC CCA Student Price List for more details).
---
CCA students, staff, and faculty can place online print orders through ARC Document Solution's Online Ordering Portal. In addition to print services you can request a quote and select the best pick-up/delivery option for completed prints. To receive the CCA discounted pricing you must use account number 20442 when placing your order.
---
To enter the account number:
Step 1. Go to ARC Document Solution's Online Ordering Portal
Step 2. Select "Place Order"
Step 3. Click "Next"
Step 4. Select ARC service center in your area from menu
Step 5. Enter 20442 in ARC Account No field. Complete your order and the discount will be applied when submitted.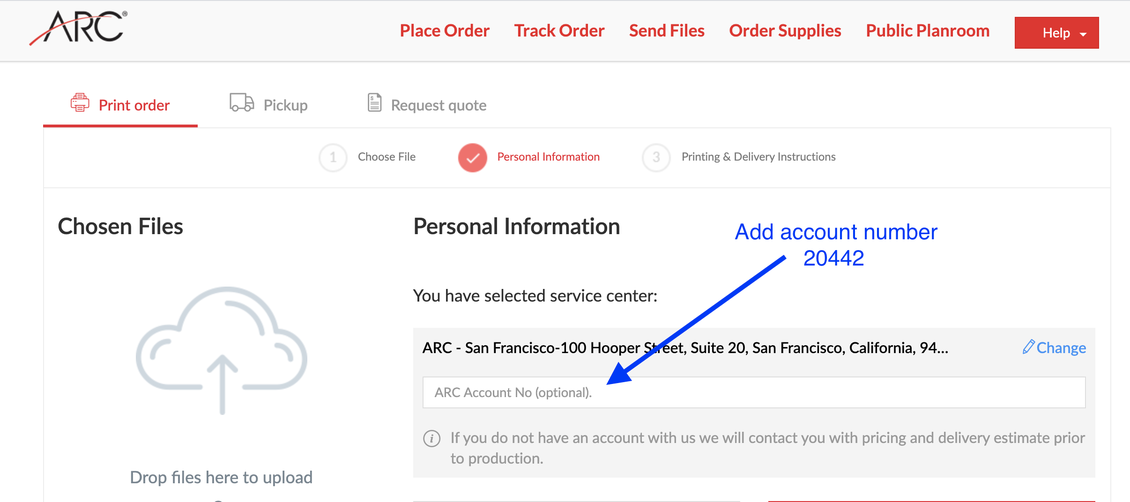 Note: CCA discount operates globally (at all ARC Document Solutions) using account number 20442.
---
The ARC Customer Service Team is available to assist you at:
415-495-8700
100 Hooper St, San Francisco, CA 94107
---