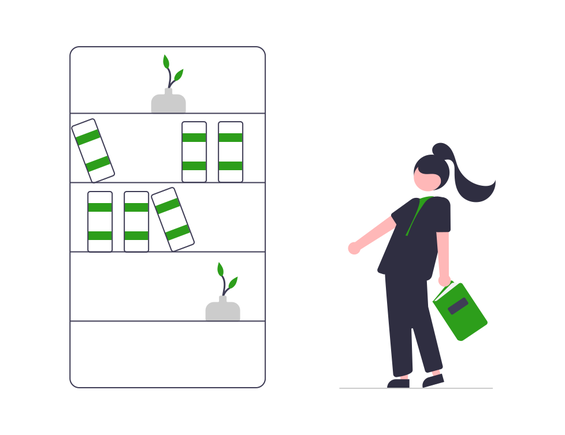 Organizing your research for optimal use and recall can be incredibly daunting, because if you're doing your job right, there should be a lot of it! Everyone will have an organization style or system that works best for them, but these are some general tips to help you get started if you're feeling overwhelmed.
If you can't easily search, forget where you saved things, or have too many notes that are more confusing than helpful, you might want to reevaluate how you save things. Consider your system and how well it's working for you. Do you have a system? Is it easy to access your notes on a particular article? Or does it take you forever to find that one fact or quote?
---
Remember that research is also a process and has multiple stages of searching, evaluating, and organizing. Figure out what works for you! Try to create systems, and then stick to them. We recommend an organizational system for the following categories.
Finding, tracking, and saving initial and new research.

Evaluating, tagging, and reviewing what you think will be useful.

Reading and annotating (note taking) sources you know you will use and need to read carefully.
Schedule time to work on each phase each week (Finding, Evaluating, Reading & Annotating). Don't get bogged down only saving things and then forget to evaluate and read them.


Don't get absorbed in reading one text and forget to look for new resources. Your research and ideas should be evolving as you read and get into your subject.


Set reasonable, manageable goals. If you save 100 articles, evaluating them will be daunting. A goal of ten promising articles, where you then decide you really need only to read six, will give you your reading schedule for the next week or two.


See Challenging and Scholarly Texts for more on how to read academic scholarship.
Try to keep your note taking system or saved files to as few platforms as possible. The more you spread out across different tools (Google Docs/Drive, Microsoft Word, notes apps, Notion, etc.) the harder it's going to be to find what you're looking for and make connections between relevant information.

If you're saving to your computer, make sure to back everything up via a cloud-based service or a hard drive.
Google Docs is great because it integrates seamlessly with Google Calendar and embed links to other Google Drive files.
Be careful about only saving links when searching databases (JSTOR, EBSCO, ProQuest). The links you see in the top of your browser window are not stable links. What does that mean? They are specific to your current search session and won't work when you try to go back to them. Make sure you save either a stable link, or you use folders in the database (you will need to login), or a web-clipper extension of some kind so you can go back and revisit what you found if you need to.
Don't be afraid to use folders (and folders within folders).



Simple is sometimes fine! If you have something that works for you, don't change it. There are a lot of fancy platforms, but if you don't like the interface or find them hard to use, you probably won't use them. Figure out what you like, what works with how you think, and how you can quickly find things again. (The last thing might be the most important because of the volume of research that you will be doing.) What is intuitive for you might not be intuitive for someone else and vice versa.


Check out this guide to organizing your research: https://lib.guides.umd.edu/organizeresearch
Keep a running annotated bibliography so that you can quickly find and recall what each source focuses on
Check out the video bellow for some useful strategies of how to take notes and organize research and class readings as you go.