Applying for Optional Practical Training (OPT)
Applying for Optional Practical Training (OPT)
We have changed our name. Effective immediately, International Student Affairs and Programs (ISAP) is now the International Student Services (ISS) office. Questions? Email us at iss@cca.edu
---
Optional Practical Training (OPT) is an immigration benefit for F-1 students to apply for employment authorization in the US to gain practical experience in their field of study.
Who is Eligible to Apply?
In order to be eligible for post-completion OPT, you must:
Be in your final semester of study
Have completed at least two consecutive semesters in F-1 status (one academic year) immediately prior to finishing your degree.
Have not previously had OPT authorized at the same degree level (bachelors, masters).
Have not previously been authorized for 365 or more days of full-time CPT cumulatively at the same degree level.
The earliest you can apply for OPT is 90 days before your program end date (the last day of classes in your final semester)
The latest USCIS can receive your application is the 60 days after your program completion date
USCIS needs time to process OPT application. Please apply as early as possible!
---
Please Note: You MUST have a new I-20 from ISS with an OPT recommendation in order to apply for OPT. DO NOT submit your USCIS I-765 online OPT application without a new OPT I-20 from ISS.
Documents needed to apply for OPT
---
Items needed to apply in order to receive your new OPT I-20 from ISS:
Completed ISS OPT I-20 Request Form signed by program advisor (bachelors) or program chair (masters)
Completed PDF Form I-765 "Worksheet" (Recommended for ISS review - if you do not provide this to ISS, we will not be able to check for errors. If you submit your online application with errors, you may be responsible for paying USCIS to correct them and be issued a new EAD)
Additional items that must be included in your OPT application to USCIS
Credit card to pay the $410 USCIS application fee - you will pay online as the final step of the application
Recent US passport-sized photo - digital copy as .jpeg or .png
Scan of passport ID page
Scan of previous I-20s with CPT or OPT authorizations only
Scan of any previous EAD cards (if you have been previously authorized for OPT or economic hardship)
When you send these documents to an ISS staff member for OPT processing, please include in the body of the email:
-Name
-CCA ID number
-Whether or not you would like a travel signature on page 2 of the new I-20 with the OPT recommendation
Please allow 2 to 3 business days for processing OPT request when sent by email. If you wish to receive your OPT in one day, please schedule an appointment for same day processing.
Please Note: You MUST have a new I-20 from ISS with an OPT recommendation in order to apply for OPT. DO NOT submit your USCIS I-765 online OPT application without a new OPT I-20 from ISS.
---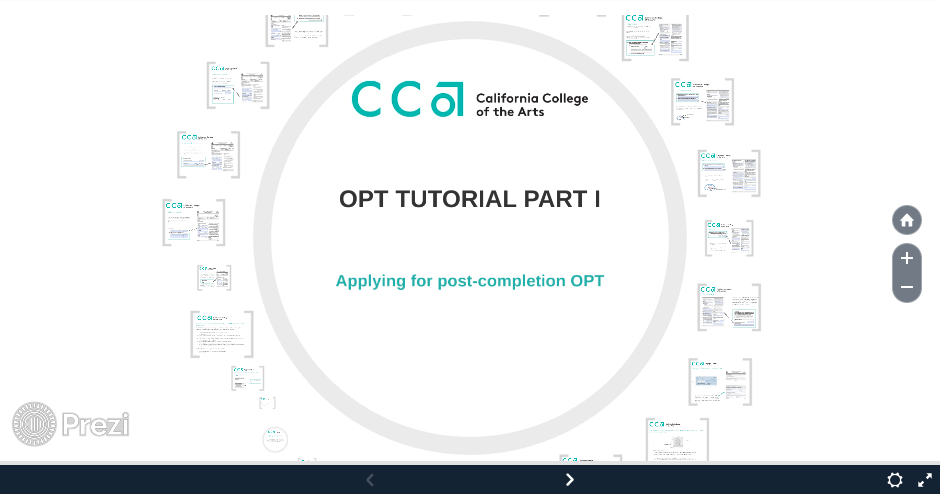 Step 1: Complete OPT Tutorials
Please review the application process by watching the OPT Tutorial.
When watching part 1, please have the following items with you:
Form I-765 PDF. This is the government form that you can use as a "worksheet" for ISS review to help you prepare for the online Form I-765 application that you will submit online through your USCIS account.

Passport and I-94. See the instructions in step 3 for printing your electronic I-94.

Step 2: Complete the OPT Request Form
The ISS OPT I-20 Request Form is an ISS form that is submitted along with your OPT application materials.
Step 3: Gather all required documents for your OPT application
Review the Applying for OPT tutorial for answers to questions about the application documents listed below, including how to properly complete the I-765.
Note: All US government forms, including the online I-765, are available on ISS portal and the official website of the U.S. Citizenship and Immigration Services (USCIS).
Step 4: Obtain a new I-20 with OPT recommendation
Once you have gathered all application materials, you can either Make an Appointment to review your application materials and have OPT recommended or you can email us forms for ISS to review (I-765, I-94, ISS OPT I-20 Request Form)
If your OPT application is complete, ISS will provide you with a new I-20 with OPT recommended on page 2. Please scan or photocopy pages 1 and 2 of this new I-20 to include in your OPT application.
Step 5: Apply online through a USCIS Online Account within 30 days
Go to USCIS.gov and select "create account"
Once you have created your account, you will select "MyUSCIS"
Select "File a Form Online"
In the drop down menu under "type of form" you will select I-765
Be sure to enter post-completion OPT (c) (3) (B) as the eligibility category
From this point forward the questions will reflect those that you have already completed on the I-765 pdf form and there will be spaces for you to upload the additional documents that you have prepared as evidence.
Step 6: Save your entire application packet for your records
We strongly suggest saving all of the documents that you have submitted for your OPT application as well as the full completed I-765.
Important Notes
USCIS must receive your application within 30 days of the OPT recommendation date.
Once you submit your application to USCIS, you will not be able to make changes to your OPT start date.
If you choose not to apply for OPT, you will have a 60 day grace period from the last day of classes to either leave the country, transfer to another program, or submit a change of status.
---
What Happens After I Apply?
Once your application has been received, USCIS will send you several notices. You will also receive electronic updates. Pay close attention to your mail and save everything sent from USCIS.
You will receive the following notifications from USCIS:
Receipt Notice: This is your receipt from USCIS confirming receipt of your application and payment of the application fee. If you apply online, you will receive your receipt number immediately after submitting your application.
You can use this number to check the status of your application online.
Approval Notice: This confirms your OPT has been approved. This approval notice is not considered proof of work authorization. You must wait until you have your EAD card and your OPT start date has arrived to begin working.
Employment Authorization Document (EAD) Card: This is your official permission to work in the United States. If you receive your EAD card before your OPT start date, you must still wait for your OPT start date to arrive before beginning work.
Please note that while your EAD card indicates "Not valid for reentry to the United States," it is still possible to travel internationally while on OPT. It only means your EAD card alone is not a reentry document.
Your F-1 visa is your re-entry document, and during your OPT period, you must still have a valid F-1 visa to reenter the United States.