Travel in F-1 Student Status
Travel in F-1 Student Status
We have changed our name. Effective immediately, International Student Affairs and Programs (ISAP) is now the International Student Services (ISS) office. Questions? Email us at iss@cca.edu
Required Documents for Travel as a Current Student
Always keep the items listed below in your carry-on luggage; do not pack them in your suitcase! When re-entering the United States after an international trip, be prepared to present the following documents at the US Port of Entry:
Valid Passport (must be valid 6 months into the future at all times)
Valid F-1 Visa
I-20 with valid Travel Endorsement Signature (printed paper I-20 required for US entry)
It is also recommended to carry the following items:
Print-out of current CCA class registration (or next semester's class registration if traveling during a break)
Financial documents reflecting funding resources listed on your I-20
---
Travel Signatures for Current Students
Travel in F-1 status as an alum on OPT has different requirements. For information about traveling while you are on Post-Completion OPT or STEM OPT Extension, please review the Travel on OPT information.
If traveling outside the US in the next few months, check page 2 of your most recent I-20 to see if you need a new travel signature. Signatures are valid for 12 months from the most recent date in the "Travel Endorsement" box on page 2 of your I-20.
Need an updated travel signature? You have these two options:
1) Schedule an on campus / in person appointment here and an ISS staff member can sign your paper I-20.
or
2) US Customs and Boarder Protection (CBP) will allow ISS staff to digitally sign on page 2 of the I-20 form for travel endorsement purposes. Complete the ISS Travel Signature Request form. Upload a PDF of your most recent I-20 to the online request form, enter all required information, and submit. ISS will digitally sign page 2 and email your I-20 document to your CCA email address within 5 business days.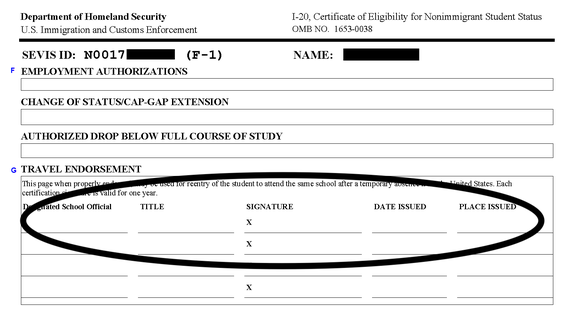 ---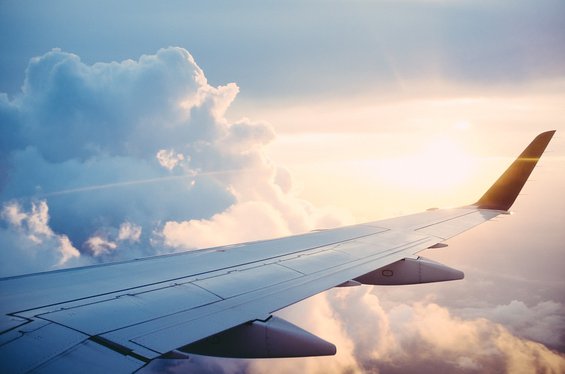 ---
Do You Have a Valid Travel Signature?
Travel signatures (on page 2 of your most recent I-20) are valid for one year while you are a currently enrolled student.
To see if you have a valid travel signature, look at the 'Travel Endorsement' section on page 2 of your I-20. Check for a signature from an ISS staff member and date it was signed.
If you need a new signature, please make an appointment with an ISS advisor or complete the ISS Travel Signature Request Form
---
Check Your Visa Expiration Date
Your F-1 visa must be valid on the day you re-enter the United States. If your visa will expire while you're outside the United States, you will need to obtain a new F-1 visa before returning.
Allow for processing time at the US embassy/consulate when planning your travel. The US Department of State provides a list of estimated visa wait times for an appointment and visa processing time.
If you have an F-1 visa that is still valid in an expired passport, you do not need to get a new F-1 visa in your new passport. You can carry both passports when entering the US.
Canadian citizens do not need an F-1 visa stamp in their passports to enter the US. Canadian-landed immigrants, however, are required to obtain a visa stamp in their passports to document entry into the US in F-1 status.
Check Your Passport Expiration Date
You will not be allow to enter the United States if your passport has expired. Students are required to have a passport that is valid for at least 6 months at all times and beyond the date you plan to enter the United States.
Exception: The US may allow entry into the United States up until the date of expiration for specific countries. Check the "FAQ for F-1 Nonimmigrants" information on the ICE website for more information.