Through this program, students have the opportunity to meet at least 3 times one-on-one with a skilled CCA alumni mentor over the course of three months. This is a great opportunity to conduct studio visits, get specialized critiques, learn about possible career paths, and gain insight into life after CCA! Questions? Email our Alumni Engagement Manager at yesenia.aguilar@cca.edu
---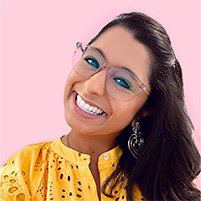 Kryshana Ananthan
(BFA Graphic Design 2014)
Pronouns: She / Her
Bio: Kryshana Ananthan (BFA, Graphic Design 2014) has worked in marketing, communications and design at both agencies and in-house at a number of companies since graduating from CCA. She currently spends her days as an Executive Communications Manager at Okta, and moonlights as the co-founder, COO and Chief Creative officer at Dhruva Communications, a storytelling and creative agency based in New Hampshire. She has worked with entrepreneurs, leaders and executives across various industries to tell their stories in creative ways. Some of the clients and companies she's worked with include Lyft, Coca-Cola, The United States Olympic COmmittee, BlackRock, Okta and Thorn among others. Her work spans from presentation to print, digital interfaces and experiences, and communications (PR & Brand) strategy. Kryshana believes in combining research, experimentation and a sense of play to create beautiful experiences. 
Best piece of advice I've received from a professor / mentor
If you're true to yourself, the work you create will reflect it. 
---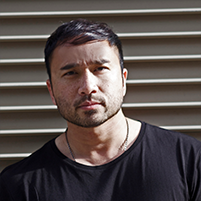 Phil Balagtas
(MFA 2011)
Pronouns: He / Him
Bio: Phil has been a Visual & UX Designer since 2001 and has experience designing across a variety of devices and platforms within non-profit, retail, advertising, and enterprise software organizations. He is currently an Experience Design Director at McKinsey & Co. in San Francisco,CA. He is also the founder of The Design Futures Initiative (DFI), a nonprofit that organizes the international Speculative Futures meetups and PRIMER conferences in the US and Europe. An educator and futurist, his events bring together designers, futurists, and strategists from all over the world to teach and speak about designing for the future and the ethical challenges around emerging technologies.
Phil is also an avid public speaker—he has presented and taught workshops around the world on various topics including Design Facilitation, Digital Transformation, and Speculative Design. Delivering powerful statements around the importance of design and strategy to shape the future of society and businesses, he shares an amalgamation of experience from working across sectors and focuses on how to empower designers for social impact.
What's one thing you wish you'd known as a CCA student? 
How to think more strategically about my portfolio and my work. How to position it in the market and use my student work as more effective marketing pieces for myself. While I did a lot of creative and critical thinking work, I didn't always know how to position it to get a job as a designer in Silicon Valley. 

---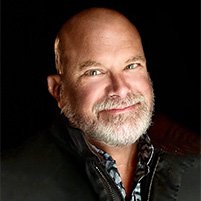 Daniel Dallabrida
(MFA 2011)

Pronouns: He/Him
Bio: "In 1987, I was told I had 18 months to live. Now, after 34 years of not being dead, I want to know why."
Like many of his generation, Dallabrida abandoned an imagined life path to confront the AIDS epidemic, fighting to ensure survival. Initially, he struggled to save his community and himself. Over time, his focus became international. By 2001, Dallabrida was building HIV medical infrastructure in Rwanda and South Africa. Then, approaching fifty and severely burnt out, he needed to understand this experience and share his excavations. In 2003, Dallabrida initiated an art practice with a move to Italy, pursuing his heritage's art, culture, and language. There, he apprenticed at a Venetian family foundry and initiated his academic study of art in Florence. In 2011, Dallabrida received an MFA from California College of the Arts. Over the years, he has been a resident artist at Anderson Ranch Arts Center, Singapore's LaSalle College of the Arts, Fondazione Pistoletto, and Kala Art Institute. Dallabrida's art has been presented in Milan, Rome, Florence, Oakland, New York, Singapore, Kansas City, Aspen, and San Francisco. He lives with his partner in San Francisco and Tuscany.
"I am a survivor. And, I am a story-teller, un bel bugiardo. My research into the survivor's journey takes me back through layers of history to the era of epics and to the materials, techniques, and tales of those times. I create ceramic tablets and artifacts, where the sheer panels between past and present, myth and history, life and death form one universal language. My art offers an opportunity for the viewer to consider their own lives. Starting with seductive and mysterious surfaces, I introduce a place where interior and exterior worlds commingle — where cycles of violation, grief, and communion can find resolution. The complexity and depth of ceramic present a medium where a story can be told in literal and abstract ways. With the materials adding their own vocabulary, my art tells stories for the viewer to uncover."
One reality I wish I'd known sooner.
The unspoken secret of art school is that only ten percent of art school graduates make a living from their artwork. The rest of us make a good living amortizing the skills and talents we developed studying at art school. Ask every artist and professor you can: "What does your income stream look like? How has it changed over the years." You don't have to ask them for dollar amounts. Just ask percentages. You will develop a much more practical picture of the paths and choices artists make to continue their practice. And, then you can plan accordingly.
---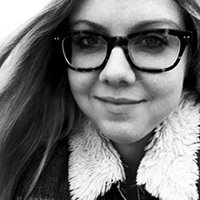 Larissa Erin Greer
(MFA 2012)

Pronouns: She/her

Bio: Larissa Erin Greer (MFA 2012) is an artist, writer and creative director. She works on creative development and innovation projects with companies like IDEO, Facebook, Williams-Sonoma and Levi's, in addition to helping dozens of startups and small businesses. Larissa's work focuses on the everyday, and her practice is centered around creating stories, systems, products, experiences and processes designed to delight, inform, connect and strengthen the communities they serve. Her time spent studying studio art and design at CCA has greatly informed her process, where she seeks to investigate the unknown and build a better future. http://www.hologramstudio.co

Best piece of advice you received from a professor/mentor? 
Make a bad first version. Put all of your worst, messiest, most cliche ideas into that first version... get them all out of your system. If it's bad, throw it out—but if it holds a kernel of truth, make another version. Keep making new versions until it's polished up just the way you want it. (Thank you forever, Steven Leiber)
How have you adapted your practice during shelter-in-place?
My practice has always been primarily based in my home studio, so I have been teaching my collaborators and clients how to work remotely without totally losing it. I have enjoyed watching everyone relax into sharing more of themselves throughout this process, and it's exciting to be able to experiment and build new ways of working together.
---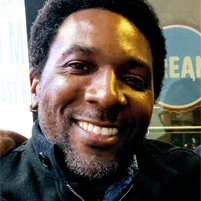 Steve Jones
(BFA Graphic Design 1992)

Pronouns: He/Him

Bio: Steve Jones is an award-winning graphic designer/artist. He is the Principal of Oakland-based plantain studio hybrid, multi-disciplinary design studio. plantain attempts to merge design processes, disciplines, fundamentals and theory to produce a strong, dynamic, thoughtful and cohesive design solution. Every element must relate to the next in order to produce a design that is memorable and makes your heart thump. We feel that the work should be original, or at least an engaging spin on the familiar.

Working primarily with nonprofits and community based organization, plantain studio's philosophy and approach to graphic design combines the personal with the formal—a place where function and form meet metaphor and allegory. We seek a balance between design and life, the individual and the collective.

My West Indian background also influences my outlook on the world. plantain's work is a fusion of culture, politics and ideas—intended to help fill the cultural void within the current design landscape.
Best piece of advice you received from a professor/mentor?
Doing work for close friends or family should be free, or not at all.
---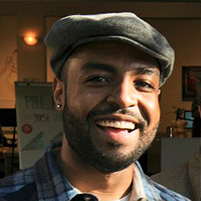 Vernon Keeve III (Trey)
(MFA Writing 2015)

Pronouns: He / They
Bio: Trey (also known as Vernon Keeve III) is a Virginia born, queer writer. They currently live and teach in Oakland. They hold a MFA from CCA, and a MA in Teaching Literature from Bard College. Trey's full-length collection of poetry, Southern Migrant Mixtape, was published by Nomadic Press in 2018 and is the recipient of the PEN Oakland Josephine Miles Award. Trey is currently working on his first novel and a collection of horror stories steeped in the Black experience. But know, for them, the writing of poetry never stops. 
Best piece of advice you received from a professor/mentor?
The best advice I received from someone I looked up to was "Artists should teach what they love." This advice has pretty much opened every door that has advanced my writing and teaching career. 
---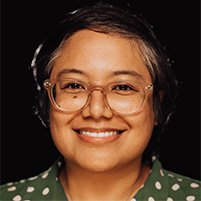 Dorothy Santos
(MA Visual & Critical Studies 2014)
Pronouns: She / They
Bio: Dorothy R. Santos is a Filipino American storyteller, poet, artist, and scholar whose academic and research interests include feminist media histories, critical medical anthropology, computational media, technology, race, and ethics. She is a Ph.D. candidate in Film and Digital Media at the University of California, Santa Cruz as a Eugene V. Cota-Robles fellow. She received her Master's degree in Visual and Critical Studies at the California College of the Arts and holds Bachelor's degrees in Philosophy and Psychology from the University of San Francisco. Her work has been exhibited at Ars Electronica, Rewire Festival, Fort Mason Center for Arts & Culture, Yerba Buena Center for the Arts, and the GLBT Historical Society.
Her writing appears in art21, Art in America, Ars Technica, Hyperallergic, Rhizome, Vice Motherboard, and SF MOMA's Open Space. Her essay "Materiality to Machines: Manufacturing the Organic and Hypotheses for Future Imaginings," was published in The Routledge Companion to Biology in Art and Architecture. She is a co-founder of REFRESH, a politically-engaged art and curatorial collective and serves as the Executive Director for the Processing Foundation. She is also an advisory board member for POWRPLNT, slash arts, and House of Alegria.
Best piece of advice you received from a professor/mentor? 
When working on your writing, write a little every day and write what you see, experience, and feel. Get your thoughts down and write without judgement. Leave the editing to later and experiment (print your text, cut it up, reshape and rearrange, have fun with it) and workshop your writing with trusted collaborators who will challenge you!
---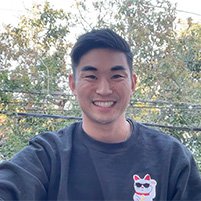 Chase Kumasaka
(BFA Animation 2016)
Pronouns: He / Him
Bio: Chase Kumasaka is a character designer who has worked at studios such as Netflix, Bentobox and Disney TV. Chase went to CCA from 2012 - 2016 and majored in Animation. Chase finds so much purpose in using character design as a vehicle to provide others with entertainment and laughter!
Best piece of advice you received from a professor/mentor?
The best piece of advice I received from a professor was to pursue the things I care about! That path may be difficult but if you enjoy it, the hard work won't bother you!
---