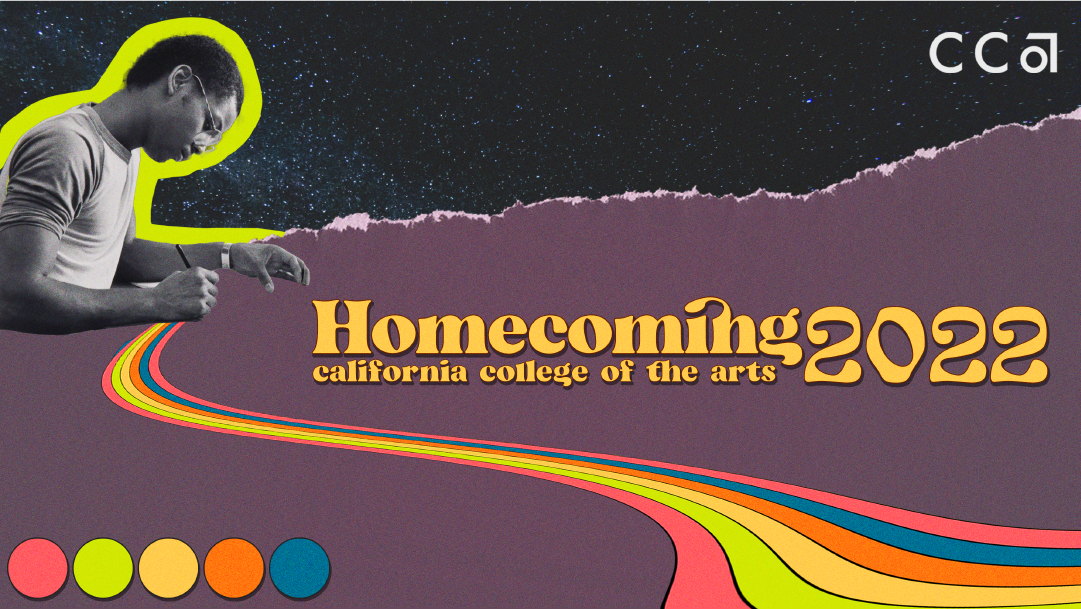 Homecoming & Holiday Arts & Crafts Fair 2022
Saturday, November 19, 11am-6pm
San Francisco campus
RSVP on Eventbrite
CCA's Homecoming and Holiday Fair event returns for the first time on the San Francisco campus. Join us as we celebrate our legacy, creative spirit, and community with a day of festivities and open our doors to friends and neighbors. This year we're throwing a street party on Hooper with food trucks, music, and a petting and drawing zoo in addition to the annual Holiday Fair featuring handmade goods for sale from alumni, students, faculty, and staff. CCA's main building in SF will welcome guests inside for open studios, demos, and the chance to get a peek at our newly unified campus. Homecoming and the Holiday Fair are free and open to the public and entire CCA community.
11AM - 4PM Holiday Fair + Homecoming Festivities
Street Fair on Hooper Street with music, food trucks, and more
Holiday Fair on Hooper Street
Petting & Drawing Zoo on Hooper Street
Open Studios throughout campus
4 - 6PM Homecoming After Party + Celebrating David Meckel
Be sure to stay for the After Party! End the day with drinks and bites as we celebrate David Meckel's 37 years of service to the college. David launched CCA's architecture program, served as dean for many years, and has taught studios across first year, design, fine arts, and architecture programs. He has been instrumental in mentoring and launching the careers of countless alumni and has been a leader throughout the college's unification efforts. David is known for his professionalism, optimism, and collaboration across all disciplines. All are welcome to join us in toasting David!
For everyone's safety and comfort, kindly note that all event attendees will be required to present proof of COVID-19 vaccination to enter CCA campus buildings and to wear masks indoors unless eating or drinking. We ask that guests register for free tickets prior to arriving for this event.
Design by Henry Rivera (BFA Graphic Design 2020)
---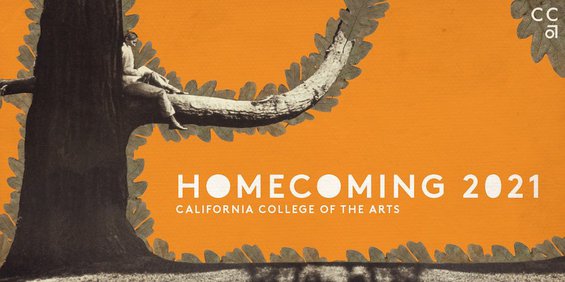 Homecoming 2021
Celebrating 100 years on the Oakland campus, CCA's 2021 Homecoming brought the community together again for the first in person event after the pandemic lockdown. Festivities included a return to the Holiday Fair, music by alum Ernie Pinata and the Delta Wires, food, open studios, and the launch of the Oakland Campus Legacy Print Project.
---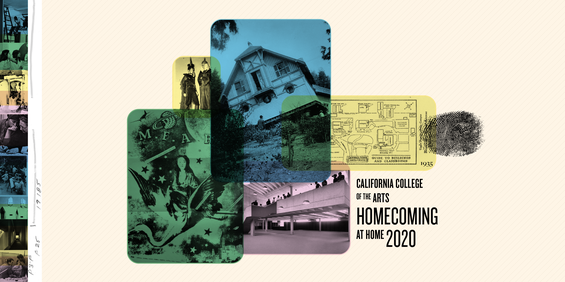 Homecoming at Home 2020
Curated from the college's archive of images, ephemera, and oral histories, and featuring new conversations with leaders in our community, CCA's 2020 Homecoming at Home was a series of virtual exhibitions and podcasts celebrating and exploring CCA's unique history and culture. Meet us in the archives!