Panopto FAQ
We've made some small improvements to Panopto for Spring 2021. We hope these make it not only easier to use but more failproof. Our documentation has been updated to reflect the changes.
---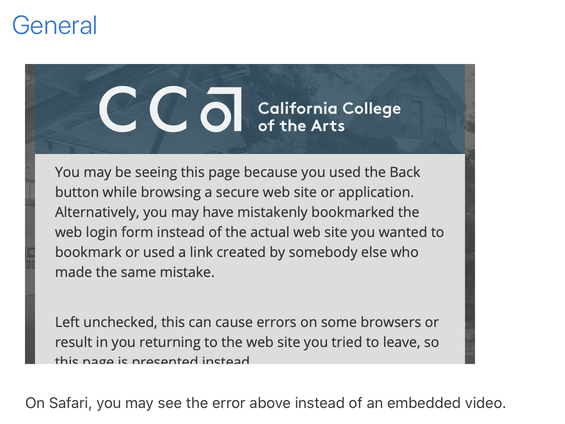 Why do I have problems playing embedded Panopto videos?
Panopto requires that your web browser allow third-party cookies. If you don't, you may see the CCA login page embedded in the frame and, even if you fill in your credentials, an error page and not the video. Fix this by changing your browser's settings:
Using Safari
Go to Safari > Preferences... (⌘ + ,)
Select the Privacy tab
Ensure that "Prevent cross-site tracking" is unchecked
You can read more about this in Panopto's support documentation.
In Mozilla Firefox
We have had inconsistent reports of the same problem in Firefox. Try altering the Privacy & Security settings:
Go to Firefox > Preferences... (⌘ + ,)
Privacy & Security section
Try using Standard settings
You can also go to the Moodle website in Firefox and select the multicolor shield icon next to the URL, then turn the "enhanced tracking protection" to "OFF" for the site.
---
Why do I keep receiving access request emails for my video?
This occurs when you have a video you have posted somewhere without giving it the proper sharing permissions. Here are examples of mistakes that lead to this:
An instructor posts a video to their Moodle site without adding the Panopto block
An instructor or student copies a link or embed code directly from Panopto instead of using the button in the Moodle text editor
In the second scenario, the video can be moved or copied to the Course Folder and it will be visible to students. A student can move their video to the course Assignments folder and it will be visible to the instructor.
In general, when we see this problem for a video posted to Moodle, one of two things has happened: 1) the instructor did not add the Panopto block to the course, or 2) the video was not added in the recommended way, using the Panopto button. Locate the video in Panopto to confirm its location; if it is not in the Course Folder, use the Move button to put it there. If the video is in another Course Folder, then Copy it and link to the copy to avoid causing the original course to lose access.
If we are experiencing this problem with a video not related to a Moodle course, then check the video's Sharing settings. If we receive an access request email, it means the video must have been shared with someone who isn't allowed to view it. One way this might occur is posting a video shared only with specific people to a public or CCA-only website. The choices "anyone with the link" or "anyone at your organization with the link" are the most suitable ones for widely distributed videos.
---
Why do I see certain videos under "What's New" or "Shared with Me"?
All videos are not shared with everyone at CCA. Their creator must choose to share them that way.
We only see the videos we are explicitly given access to. These could be works from courses we are a part of, or works in folders shared with us (e.g. faculty see the sessions in the Faculty Workshop Recordings area). It is entirely possible that someone has accidentally shared a private video, thus why it appears under What's New.
If we are fairly confident that we should not be able to see a particular video, we can report that to the Help Desk with a link to the video.
---
Can I link to a specific time in a video?
Yes! Edit the URL of a Panopto link and add "&start=time" onto the end where "time" is the number of seconds you want skipped at the beginning of the video. You could also edit the "src" attribute of an embed code to apply this "start" parameter, like so:
<iframe src="https://ccarts.hosted.panopto.com/Panopto/Pages/Embed.aspx?id=1234567-7914-4100-b875-abcdefgh&autoplay=false&offerviewer=true&showtitle=true&showbrand=false&start=0&interactivity=all&start=100" height="405" width="720" style="border: 1px solid #464646;" allowfullscreen allow="autoplay"></iframe>