CCA@CCA Archive | Spring 2023
CCA@CCA Archive | Spring 2023

Contents:
Belonging | Spring 2023 Creative Citizens in Action programming explored the various dimensions of Belonging, unpacking its manyfold perspectives, premises and tensions. Event organizers sought to set in motion a reciprocal and generative dialogue among the members of CCA community about the conditions for belonging as a space of safety, care and virtuous mutualism.
CCA@CCA Faculty Micro Grants Program | CCA@CCA Faculty Micro Grants are designed to support the implementation of small-scale, immediate public-facing events, projects, or activations that aim to improve the learning experience of students and offer critical resources for civic involvement. These grants are administered by the CCA Exhibitions Department.

Recognitions / 认 • 知: a solo exhibition by Christine Wong Yap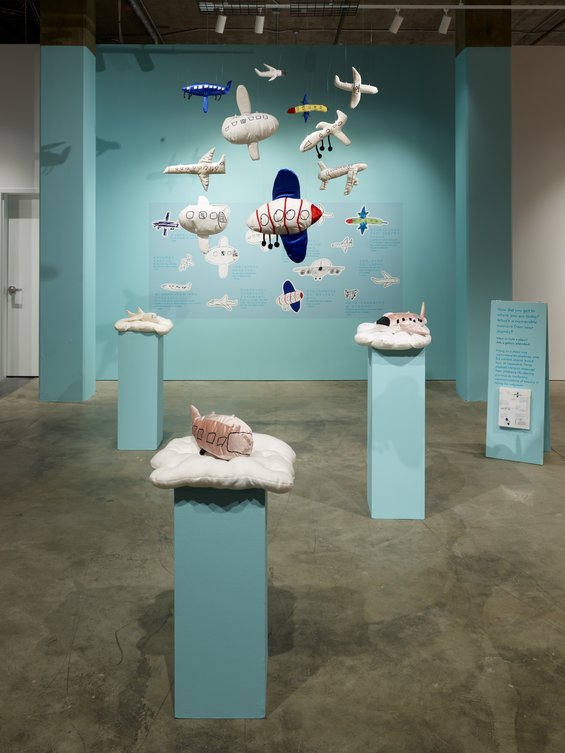 Organized by Jaime Austin, Director, Exhibitions and Public Programming
Recognitions / 认 • 知 , on view January 25–March 17, 2023, marked the culmination of a collaborative social practice project between 2022 Creative Citizenship Fellow and CCA alumna Christine Wong Yap and Edwin and Anita Lee Newcomer School—a public, one-year, language immersion elementary school in San Francisco's Chinatown, serving Chinese-speaking recent immigrants. 
The work in the exhibition reflected Christine's multidisciplinary practice, in which she translates student ideas and creativity into something new. For many students, traveling on an airplane was the defining moment of their migration. They noted flying was exciting, scary, boring, and sometimes nauseating or painful. Christine reinterpreted the students' drawings of airplanes as three-dimensional stuffed plushies. While the students typically had little control over their parents' and guardians' decisions to migrate, they could commemorate the transpacific journey that shaped who they are now in comforting, tactile toys.
Visitors could also view—and interact with—an oversized, hand-painted puzzle depicting a map of San Francisco, populated with artworks by EALNS students.
On the map, family portraits and butterfly drawings appear in the neighborhoods where the students live. This map conveys the breadth of this particular diaspora of Chinese residents in this profoundly expensive metropolis: While some students live in Chinatown, the Inner Richmond, or the Outer Sunset, many live in Southeast San Francisco, in the Portola or Visitacion Valley neighborhoods. The puzzle was an interactive centerpiece to the exhibition, encouraging a sense of welcome and play among gallery visitors. Participants were invited to sit on pillows or a carpet and assemble the puzzle.
Finally, Christine added calligraphy to students' self-portraits, which were also on display. Referencing the historical tradition of illuminating manuscripts by adding hand painted illustrations and flourishes, these illuminations convey the students' perspectives on what they miss about life in China and what they love about life in California. Collectively, these drawings form a community snapshot of young newcomers' longings and joys.
This exhibition was generously supported by the National Endowment for the Arts, San Francisco Grants for the Arts, and the Deborah and Kenneth Novack Creative Citizens Program Series. 
📸 View photos of the exhibition ➞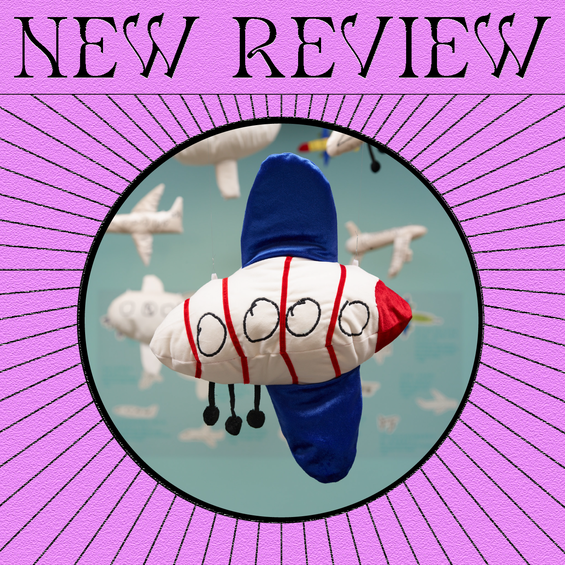 "As one entered the gallery, the exhibition design created a welcoming feeling and invited interaction. Divided into three projects based in drawing, sewing, and calligraphy, the exhibition brought out the child inside all of us and fostered a sense of belonging; the latter a recurring trope in Wong Yap's practice. To achieve this, each section of the exhibition introduced visitors to the projects through open-ended questions located on accompanying signage designed by Wong Yap, such as: How did you get where you are today? What do you miss about a place from your past? or What makes a place feel like home?"
📖 Read Paulina Félix Cunillé's full review of this exhibition on Rewind Review Respond ➞
---
CCA@CCA Belonging Symposium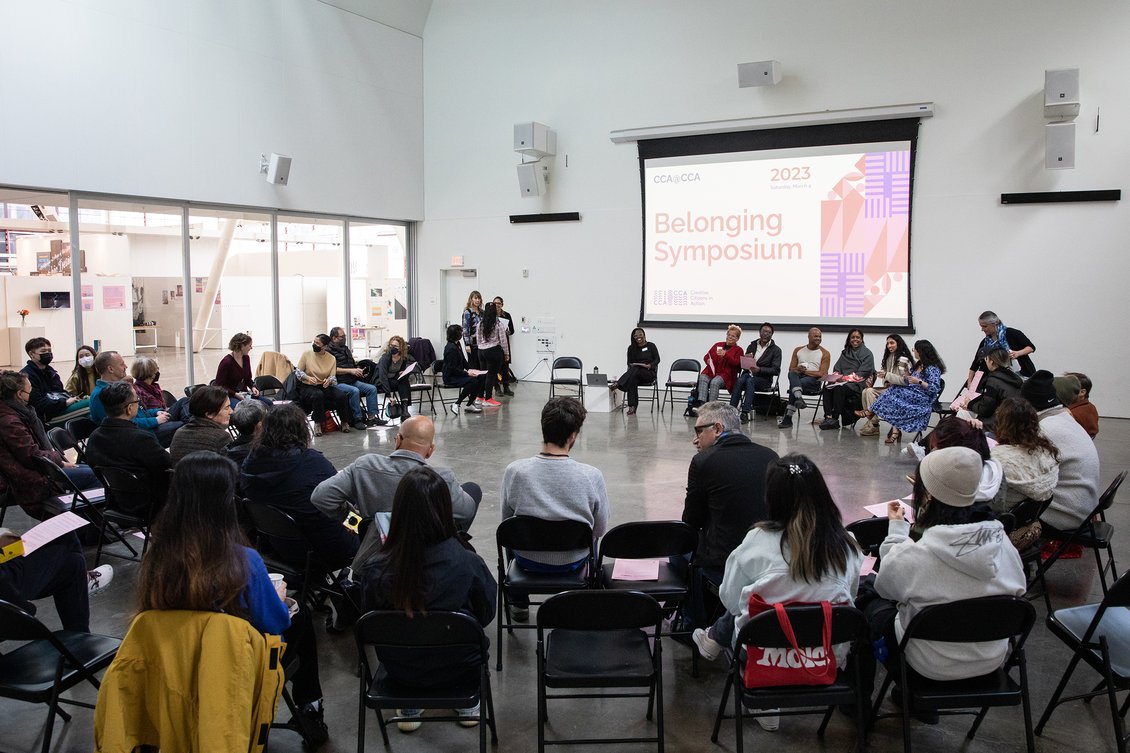 Organized by 2023 CCA@CCA Faculty Coordinator Julia Grinkrug (Adjunct II, Architecture) in partnership with Shalini Agrawal (Associate Professor, Critical Ethnic Studies)
The CCA@CCA Belonging Symposium on March 4, 2023, was an afternoon of participatory workshops, conversations and activations that explored the various dimensions of Belonging, unpacking its manyfold perspectives, premises and tensions. The goal of this symposium was to set in motion a reciprocal and generative dialogue among the members of CCA community about the conditions for belonging as a space of safety, care and virtuous mutualism.
The symposium was a compendium of faculty and student-led activities that reflected a diversity of creative practices and critical pedagogies, highlighting those who are already doing deep work on Belonging among the CCA faculty, students and staff. Seeing Belonging as a foundational pillar for the community's wellbeing, this symposium sought to build common ground for Belonging as an inherently embodied experience moving between comfort and discomfort. Belonging is not about consensus but about holding space and embracing the spectrum of perspectives. 
The Symposium kicked off with a Conversation About Belonging featuring Vice President of DEIB Tricia Brand and 2022 Creative Citizenship Fellow Christine Wong Yap.
🎥 Watch a recording of the conversation below and on YouTube ➞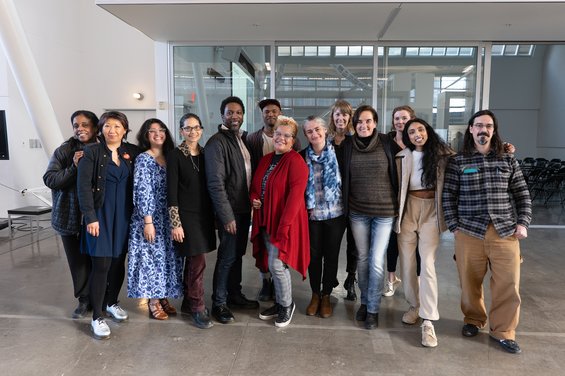 The conversation was followed by A Faculty Panel on Belonging featuring Faith Adiele, Genevieve Hyacinthe, Steve Jones, Ana Llorente, and Michael Washington, and then parallel workshops led by faculty Faith Adiele, Genevieve Hyacinthe, Steve Jones, and Michael Washington. After the symposium, guests were encouraged to attend an interactive tabling session from 4 to 4:30pm, featuring work by faculty Ana Llorente, Stephanie Sherman, and guest artist Maureen Burdock, and view interactive installations curated by CCA@CCA Student Fellows Shreya Shankar (MArch '23) and Layla Namak (MArch '25).
---
Dream Sharing: A Partial History of the Communal Imagination with Matthew Spellberg
Organized by Susanne Cockrell in conjunction with her Critical Ethnic Studies seminar Social Dreaming and the Dream
Matthew Spellberg joined us on April 4, 2023, from Sitka, Alaska to share his research and scholarship on the long history and possible future of dream-sharing, including some of the strategies by which dreams have been negotiated and enlivened to become a part of waking life.
Matthew Spellberg is Dean of Outer Coast, an experimental institution of higher education in Sitka, Alaska. His scholarly research concerns the history of dreaming across cultures, language revitalization, and oral literature (particularly in the Tlingit language). He was co-founder of the Native Cultures of the Americas Seminar at Harvard, and creator of the Dream Parliament, a set of techniques for communally reimagining dreams that has been performed throughout the United States and Canada. He also serves on the planning committee for the biennial Sharing Our Knowledge Conference in Southeast Alaska. For six years he taught in New Jersey prisons with the Princeton University Prison Teaching Initiative. He is an Editor-at-Large at Cabinet Magazine, and was Guest Editor of Cabinet Issue 67, on "Dreams." Before coming to Outer Coast, he was a Visiting Critic at the Rhode Island School of Design and a Junior Fellow at the Harvard Society of Fellows.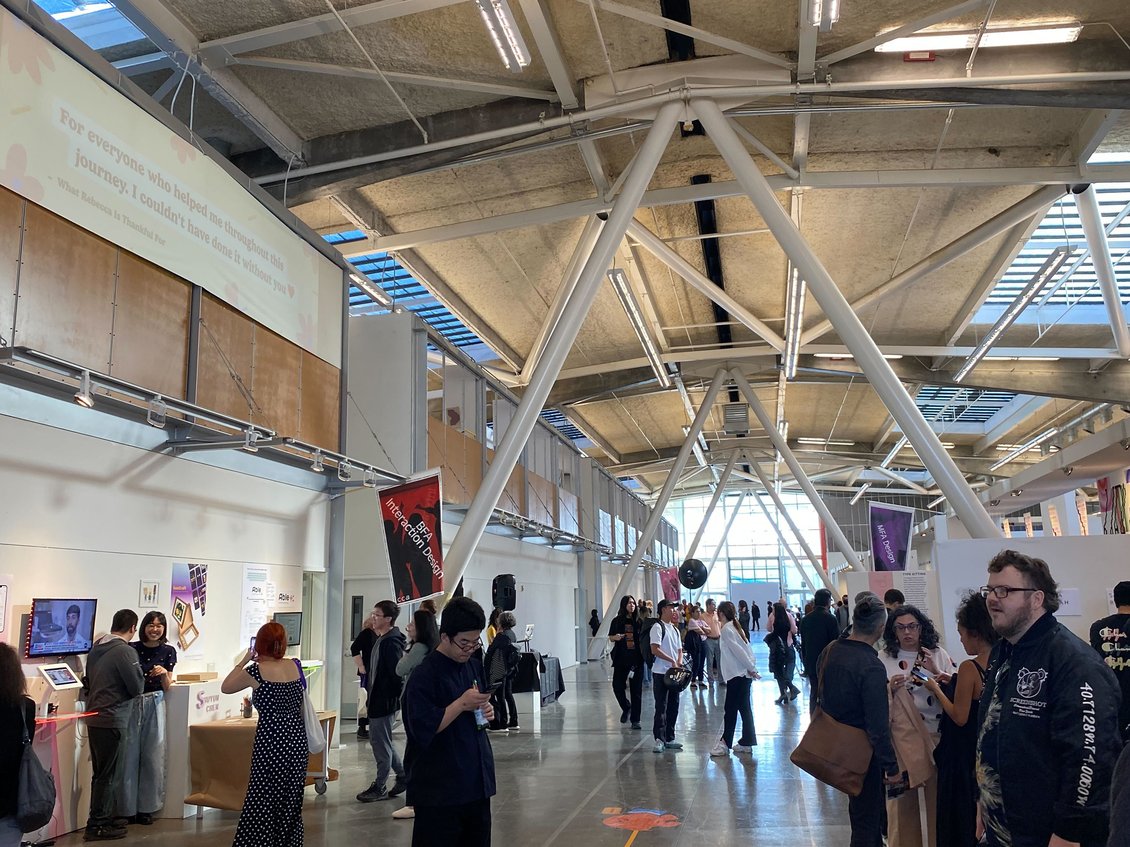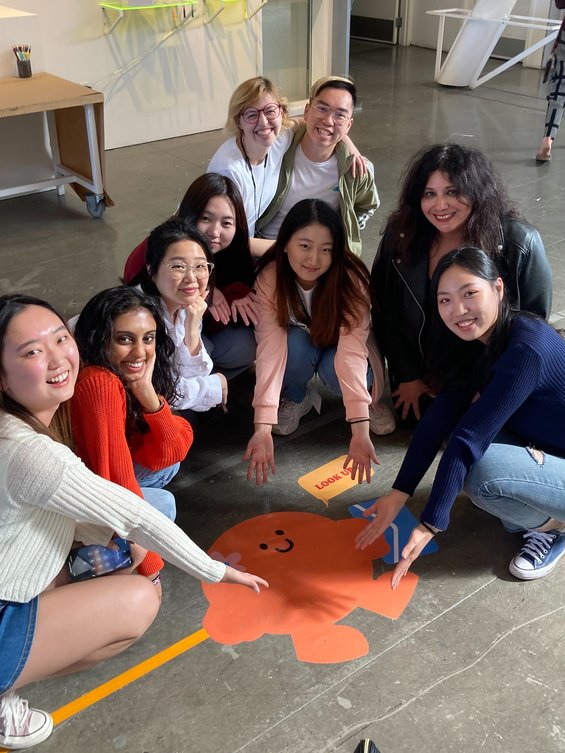 Organized by Aynne Valencia, Associate Professor, Interaction Design
The Happiness Project was a digital installation that aimed to spread positivity. The creative team's goal was to showcase personal stories, inspiring quotes, and messages of joy, hope, and pride, thereby activating and humanizing public spaces and making the everyday extraordinary and uplifting. This spring, the CCA Community was invited to leave messages for friends, professors, staff, or graduating loved ones via happinessprojectsf.org and instagram. The messages shared were displayed in the Nave during the Architecture and Design Division Exhibition on May 12th, 2023. 
Participating students included Colin Chan (Product Designer, Technical Engineer), Amber Chung (Product Designer), Nehashree Tatavarthi (Social Account Operator, Product Designer), Evelyn Lee (Social Account Operator, Product Designer), Yitong Wang (Content Writer, Product Designer), Selena Zhong (Web Designer, UX/UI Designer), Xialin Huang (Web Designer, Product Designer), Clarice Woo (Poster Designer, Interaction Designer), Jay Han (Postcard Designer, Interaction Designer), and Stella Kim (Postcard Designer, Product Designer).
---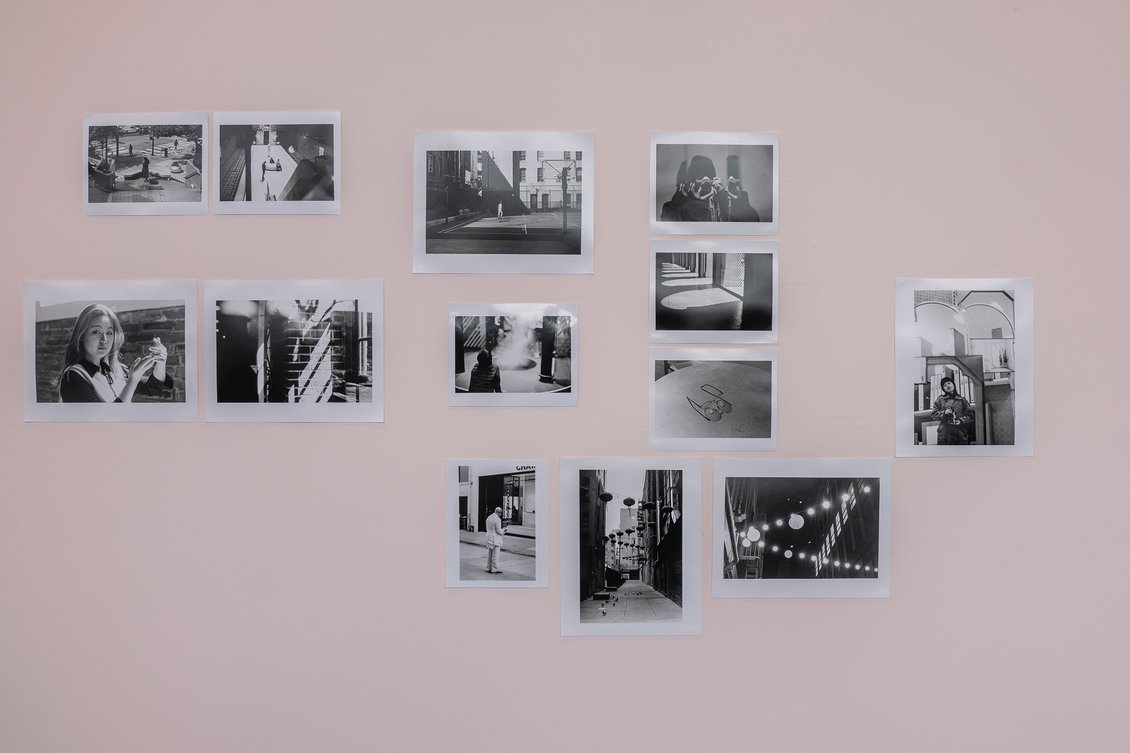 Organized by Ebti Shedid and Shao-Feng Hsu, Teaching Fellows, Photography
Steamy Windows was the final project for Photography TOOLS 1 students. The students' work in this show explores the concept of belonging and represents places of comfort and community, especially for those who are moving between countries and cultures.
Participating students include Kexin Ruby Zhang, Luna Jiang, Junjie Li, Hanbei Wang, Selina Qian, Emma Xing, Xuan Lu, Doris, and Eli Chang.
Steamy Windows was on view in PLAySPACE Gallery April 25–May 2, 2023.
---
Design as a Worlding Practice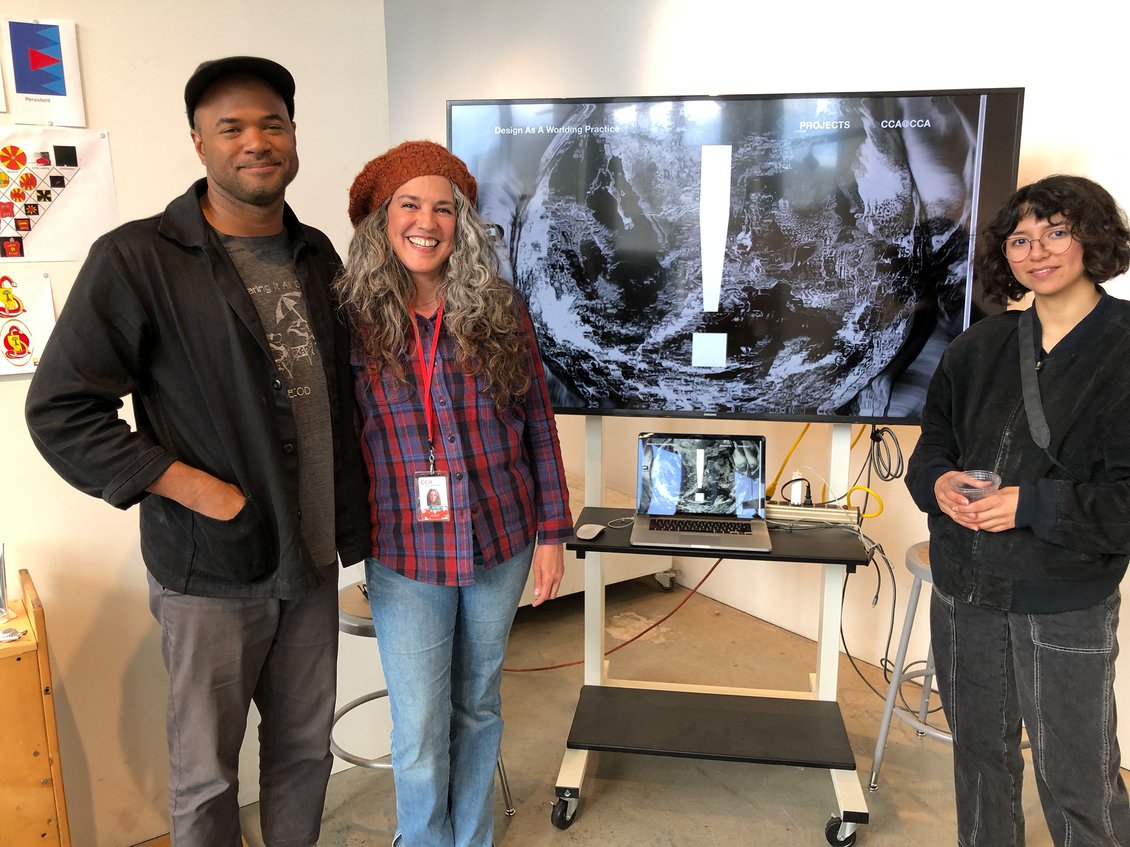 Organized by Ana Llorente, Adjunct 2 Professor, MFA Design, and Michael Washington, Adjunct 2 Professor, Critical Studies
The UDIST course Design as a Worlding Practice is about the relationship between creating new worlds and imaging them. The goal over the course of the semester is to, using a series of critical readings as a guide (as well as the critical and empathetic imaginations of the enrolled students), dream and invent new cosmologies: new societies, social orders, cultures, patterns and relations of life. Some of the writers and artists the class engages are adrienne maree brown, Wanuri Kahiu, Hazel Carby, and Octavia Butler. This worlding project takes on two forms: one, inventing the idea for the world; and two, creating a visual language to represent that world (maps, icons, languages, signs and symbols, and many other iconography).
The worlds that the students designed in spring 2023 were presented in an exhibition and website on May 4, 2023, in the CCA Drawing Studio. The website will expand to include the world-building projects of students enrolled in past and future iterations of the course.
---
Digital Placeholder Animation Dance Party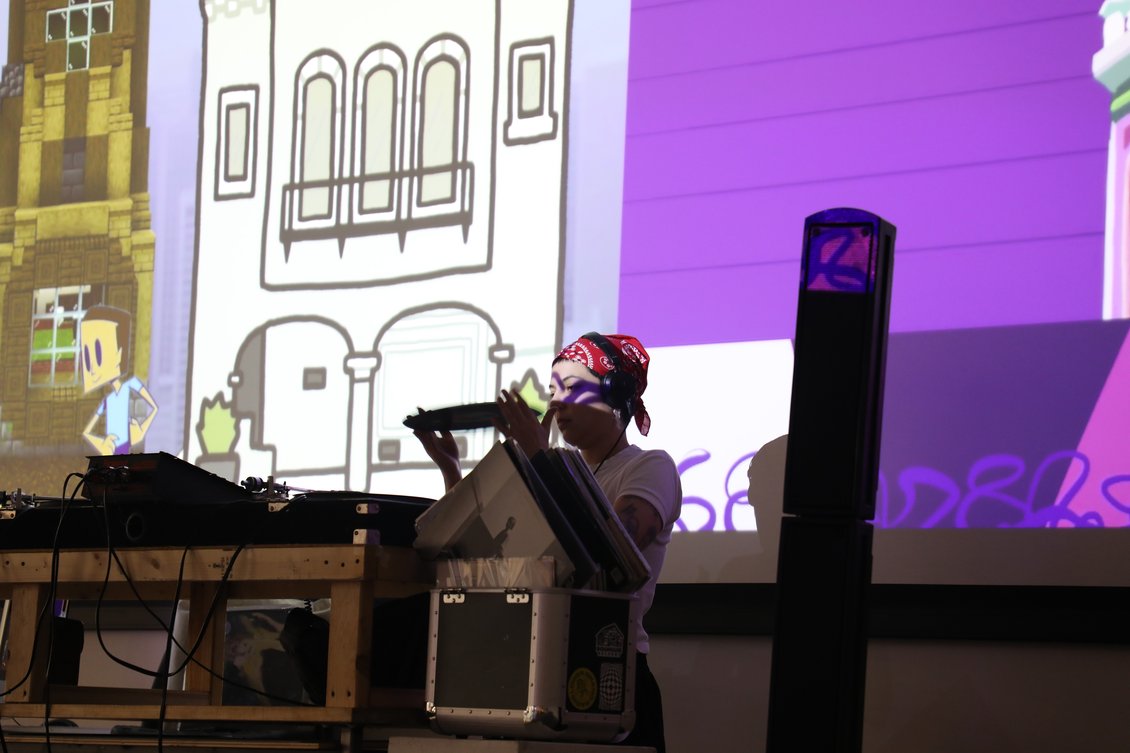 Organized by Anna Firth, Adjunct I Professor, Animation and Kyungwon Song, Visiting Faculty, Animation
On April 14, 2023, CCA@CCA and the CCA Animation Program hosted "Digital Placeholder," an event featuring an immersive bath of live animated visuals accompanied by a DJ set by Bay Area DJ Three6Sashia. The visuals were created by students from Animation History and Character Loops Workshop and responded to the neighborhoods surrounding CCA's San Francisco Campus.
🎥 See the students' .gifs in the video below or on YouTube ➞
---
Eco Soma with Artivist & Scholar Petra Kuppers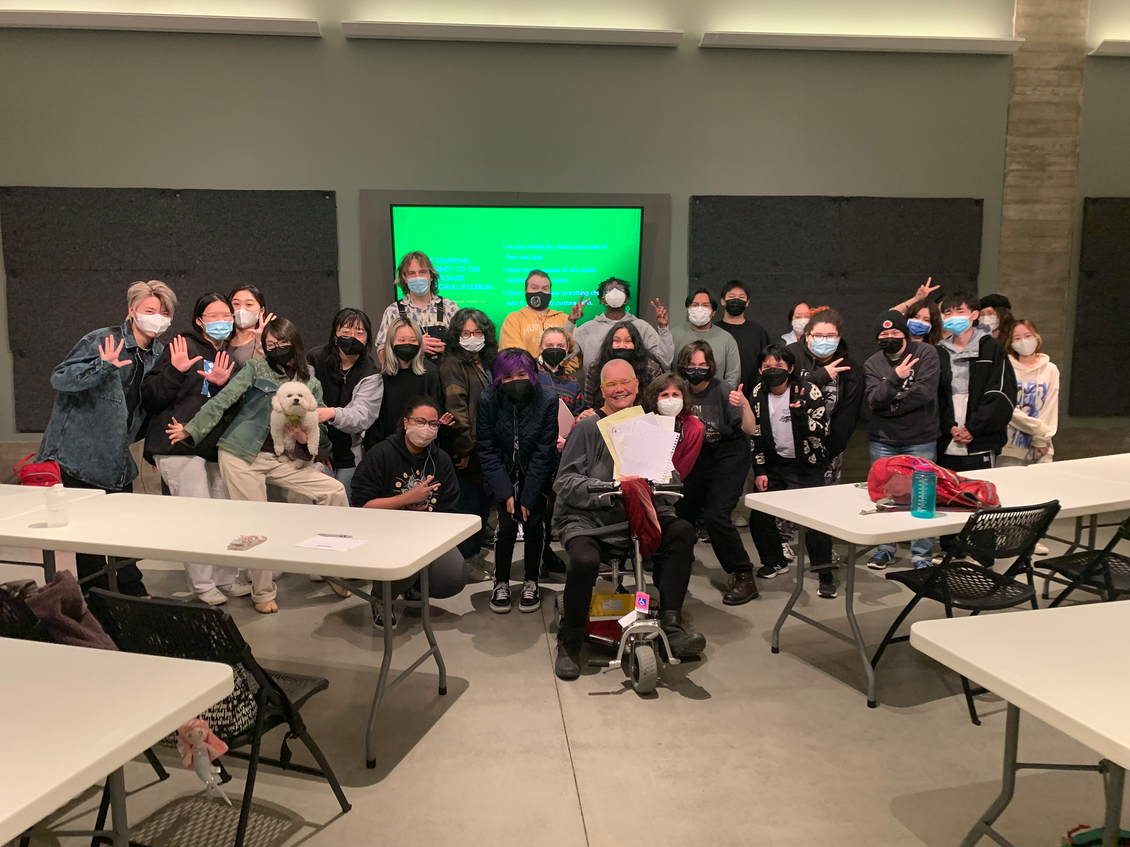 Organized by Stephanie Sherman, Adjunct 2 Professor, Critical Ethnic Studies
On March 16, 2023, disability and performance scholar and artivist Petra Kuppers gave a movement workshop and talk to students in Non Conforming: Disability and the Arts, taught by Stephanie Sherman, and Feminist Art, taught by Cindy Bello. The event explored contemporary disability culture performance through co-experienced embodiment in unequally distributed, not-always-accessible power fields. Traditional somatics teach us how to hone our introspective senses and expand our bodies' worlds; Eco Soma methods extend that attention toward the creative possibilities of the connection between self, others, and the land from a critical disability perspective. Eco Soma proposes an art/life method of sensory tuning to the inside and the outside simultaneously, which allows for a wider opening toward ethical cohabitation within human diversity, and with more-than-human others.
After leading students in a guided "eco-soma" meditation, Kuppers asked them to meditate on what "practices of peace" look like to them.
📸 See some of the participants' written and visual responses to Petra Kuppers' workshop ➞
---
Black Hole Cinematheque (BHC) / arc Experimental Film Screening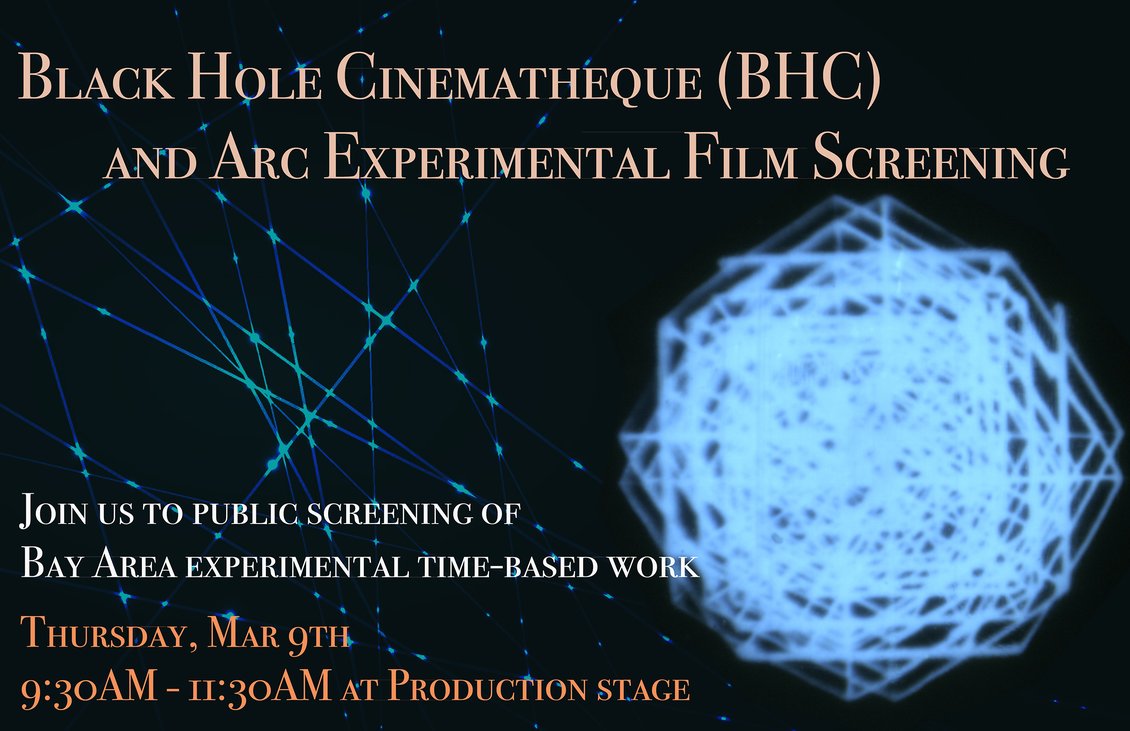 Organized by Sofía Córdova, Adjunct 2 Professor, Graduate Film
On March 9, 2023, Black Hole Cinematheque (BHC) / arc presented a public screening of Bay Area experimental time-based work from its archive, as well as arc's own analog film manipulation. BHC is a community-based microcinema and film archive that had a hub and resource center in West Oakland for years. Due to increasing costs of living, BHC lost their physical space. BHC has been heroic in their ability to stay afloat—not without hurdles—for several years and present experimental and interesting film works for a small fee (or free if attendants can't afford) throughout the Bay Area. Their collecting of film works that in some cases were due to be discarded, makes them not just artists but preservationists of local history. BHC is operated by tooth, an artworker and anarchist, living somewhere in so-called California.
tooth is involved in the process termed arc; arc operates as a collective entity which seeks to work outside of a framework that privileges the solitary authorship of objects as a point of artistic creation and finitude, looking instead to a process of intersubjective communal encounter as a locus from which the work generates.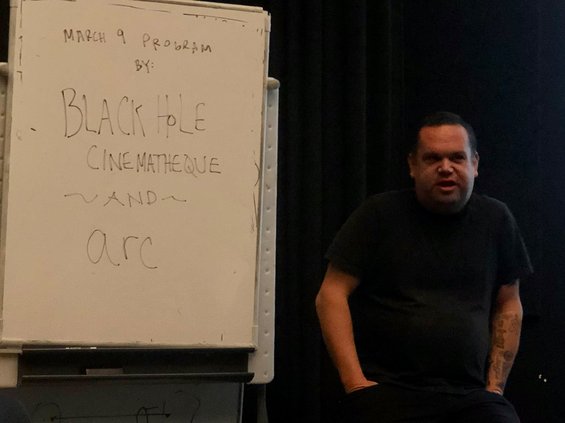 As conductive vessels, a configuration of material elements are used to initiate this process, including (but not limited to): photochemical film, performance, sound & light installation, written language, & time-based sculpture. arc work has been presented at numerous galleries, museums, and exhibition spaces around the world, including: The Lab, Berkeley Art Museum & Pacific Film Archive, The Stud, Sutro Baths Cave, Ann Arbor Film Festival, International Film Festival Rotterdam, Glada Sprutan (Stockholm), Spectacle Theater (Brooklyn), Squeaky Wheel Film & Media Art Center (Buffalo), NDSM Treehouse (Amsterdam), All Hallows Church (London), Atelier Äuglein (Berlin), L'Abominable (La Courneuve), Les Innatendus Film Festival (Lyon), La Cueva (Mexico City), among others.