CCA@CCA Archive | Spring 2021
CCA@CCA Archive | Spring 2021
Contents:
CCA@CCA Virtual Brunch Series | Presented by the CCA Exhibitions Department
CCA@CCA Faculty Micro Grants Program | CCA@CCA Faculty Micro Grants are designed to support the implementation of small-scale, immediate public-facing events, projects, or activations that aim to improve the learning experience of students and offer critical resources for civic involvement. These grants are administered by the CCA Exhibitions Department.
Pandemic Artifacts | Presented by CCA@CCA

CCA@CCA Virtual Brunch: A Conversation Exploring Food and Self-Nourishment with Salimatu Amabebe of Black Feast
Organized by Menaja Ganesh, CCA@CCA Student Fellow
The space we live in is a big part of our own personal nourishment, as we are so confined to it during the time of the pandemic. How do we make our space breathable? How do we honor the space in honoring ourselves? How do we show gratitude for having a roof over our heads and food to eat during such a precarious time? 
On Thursday, April 22, 2021, CCA@CCA Student fellow Menaja Ganesh was in conversation with Salimatu Amabebe of Black Feast, exploring rituals around food and self-nourishment, and the intersections between our art practices and personal ceremonies.
---
CCA@CCA Virtual Brunch: A Conversation Exploring Self-Nourishment with mak'amham / Café Ohlone
Organized by Jaime Austin, Director, Exhibitions and Public Programming, and Menaja Ganesh, CCA@CCA Student Fellow
This live Zoom event presented on March 25, 2021, explored the practices of Vincent Medina and Louis Trevino, co-founders of mak-'amham / Café Ohlone. mak-'amham (mahk-am-haam) means "our food" in the Chochenyo Ohlone language, which is the Native language to the Eastern shores of the San Francisco Bay, where CCA's Oakland campus is located. Medina and Trevino work to revive and strengthen traditional Ohlone foods by actively demonstrating the vibrancy and beauty of Ohlone food and culture, and mindfully stripping away layers of imposed identity in an ongoing process of decolonization. 
📖 Read a response to this event by Katherine Hamilton on the Rewind Review Respond website ➞

Organized by Sara Raffo, Assistant Chair and Assistant Professor, Graphic Design Program
We Are All Designers is a series of conversations with Anand Sheth, the CCA Counseling Services, Marjerrie Masicat, and Moonsick Gang, hosted by students in Sara Raffo's course, Graphic Design Tools. The idea for this series started at the beginning of the semester when the class collectively chose to invite new knowledge into the classroom. They asked: What should we be learning in Spring 2021? Who should we be learning from? How can the tools of graphic design help us memorialize, document, and send this knowledge forward into the future?
Student contributors include Alden Gendreau, Michel Minn, Junhee Koh, Guoer Cheng, Jing Xu, Joy Kong, Nathan Buenviaje, Yawen Wu, Yun Du, Run Li, Stefan Miller, Young Rok Lee, Carolina Stancati, Jay Han, and Wen Zeng.
---
Organized by Curtis Arima, Co-Chair and Associate Professor, Jewelry and Metal Arts Program
In the spring 2021 CCA Jewelry and Metal Arts program Special Techniques course, Hand to Mouth: Questioning Consumerism, students traveled the word virtually, investigating cultures through jewelry, culinary arts, and the environmental impact of the materials in our eco systems. The course delved into topics such as the history of food waste in the US, and the history of the many cultures of Indigenous people of what we now call the San Francisco Bay Area. Guest lecturers included Alberto Mellado Moreno of the comáac Nation, who spoke with the class about the preservation of his culture through environmental sustainability, and Laxmi Kant Soni from Binkaner, India, who demonstrated his traditional enamel and engraving work.
For the publication Hand to Mouth, each student found a family recipe. They researched and recorded some family and personal accounts related to the recipes, then researched the history of the recipe and/or the environmental or social impact of one or more of the ingredients. As a compilation of this information, Hand to Mouth allows each student to share their culture and personal experiences, and allows readers to question their consumer habits.
Student contributors include Jinghang (Beverly) Liu, Kirra Hellfritsch, Meztli Mercado, Michell Shim, Phaedra Freeman, Sizhe (Sylvie) Luo, Tailai Liao, Weixnin (Ursula) Huang, Xi (Alex) Ao, Yuchen (Cloris) Ding, Yumeng Wu, and Yuxuan (Sussie) Zhang.
---
Organized by Juan Carlos Rodriguez Rivera, Assistant Professor, First Year Core Studio Program / MFA Design / Graphic Design
Designing Our Way Out is a website that explores the ever evolving definitions of design, including: design methodologies, design for social change, design thinking, human centered-design, respectful design, etc. It features a series of conversations between designers, students and non-designers exchanging ideas on design and its possibilities. In order to continue working towards building a design practice that challenges westernized perspectives, dismantles white supremacy and oppressive systems, we must deeply understand design's plural histories and definitions. Collectively, the students and professor Juan Carlos Rodriguez Rivera, engaged in weekly conversations with designers and non-designers inside and outside the CCA Community. 

Student contributors include Zitong Huang, Rio Jiang, Lindsay Neal, Gowri Sunder, Xin Xu, Miao Yang, Hank Yao, Xinyu Zhang, and Yutong Zhang, with support from professor Saraleah Fordyce. Designing Our Way Out launched on Wednesday, May 12, 2021.
---
Organized by Janette Kim, Assistant Professor, Architecture Program
Designing a Just City is a book created by students from the Spring 2021 Urban Imaginaries seminar at the California College of the Arts Architecture Division. This publication is a toolkit for linking architectural design techniques to social justice activism. It builds on a 2020 iteration of the book to present architectural case studies, interviews with activists, and an illustrated guide depicting architectural strategies that can support fairness and equity in cities today. On Friday, May 7, 2021, students presented their work and discussed its potential with activists Marquita Price, Director of Urban and Regional Planning at the East Oakland Collective, and Gregory Jackson, Equal Justice Works Fellow at the Sustainable Economies Law Center. 
This conversation is part of a series of Urban Imaginaries events which also included an interviews with Marquita Price and Gregory Jackson. This series was co-hosted by CCA@CCA, E-School, and Urban Works Agency at California College of the Arts.
🎥 Watch a recording of the Designing a Just City presentations below and on YouTube ➞
🎥 Watch a recording of the students' interview with Marquita Price on YouTube ➞
🎥 Watch a recording of the students' interview with Gregory Jackson ➞
---
Black Experimental Narrative
Organized by Leila Weefur, Adjunct Professor, Critical Ethnic Studies Program
The course Black Experimental Narrative surveys the aesthetics, history, and theories that characterize experimental Black cinema and video art through a comprehensive range of filmmakers and artists that have contributed work to the canon. Through two distinct philosophical lenses, BEING and BECOMING, Blackness is articulated and presented across several expansive cinematic approaches. The films and accompanied writings focus on these essential subcategories; Being: Subjecthood, Death, Embodiment and Becoming: Gender/Sexuality/Desire, Technology, and Language. This course is taught by Leila Weefur, Adjunct Professor, Critical Ethnic Studies Program.
A zine of the same name features contributions from students Brandon Lee, Zihao Zhao, Leon Wan, Casse Kihúut, Audrey Brown, Jimmie Flora, Mitchell Kim, Angie Chaparro, Menaja Ganesh, Hasan Alshakhes, Madison Brooks, Jendayi Ingram, Abigail Sholly, Eri Ji, and Chloe Hicks, with a forward by writer and culture critic Elena Gross. The zine was published on Wednesday, May 5, 2021.
---
Building Post-Pandemic Art Worlds Grounded in Solidarity and Care
Organized by Vanessa Chang, Adjunct Professor, Visual and Critical Studies Program
On Wednesday, April 28, 2021, the VCS Methodologies 1 and 2 classes presented a conversation that brought together two arts-based organizers, Jia Yi Gu and Nati Linares, to discuss the formation of new global art worlds grounded in commitments to mutual aid, solidarity economies, and an ethics of care. As the world returns to pre-pandemic ways of gathering and living, artists—whose livelihoods have always been precarious—are left with several questions about this year of simultaneous transformation and uncertain-stability: How can artists support each other outside of the marketplace and gallery systems? How do we define resources in our field, and make material changes beyond challenges to institutions? How can we not only imagine, but materialize a global art world of mutual support and ethics? In a year with a thousand crises, we have fallen back on one solution: each other.
💻 Watch a recording of this event below and on YouTube ➞
📖 See a list of links to resources mentioned during this event ➞
---
A Roundtable on Art & Mutual Aid
Organized by Aaron Gach, Senior Adjunct Professor, Critical Ethnic Studies Program and SICA
A Roundtable on Art & Mutual Aid, presented on Tuesday, March 23, 2021, was a forum that brought the audience into dialog with four artists whose creative, socially-engaged practices actively support a range of community-driven mutual-aid efforts such as food banks, housing rights, pandemic response, and supply runs to indigenous communities: Kristina Wong and Badly Licked Bear of the Auntie Sewing Squad (A.S.S.), tactical art organizer and housing rights advocate Leslie Dreyer, and radical artist, activist and pedagogue, Amy Koshbin.
🎥 Watch a recording of this event below and on YouTube ➞
📖 Read a response to this event by Gordon Fung on the Rewind Review Respond website ➞
---
Friendship Power Pack: How to create thriving friendships during adulthood
Organized by Kate Rutter, Adjunct Professor, Interaction Design Program
On Friday, February 26, 2021, Kat Vellos, author, experience designer, and dynamic speaker, presented the "Friendship Power Pack: How to create thriving friendships during adulthood." In this talk, Kat shared the most galvanizing and insightful takeaways from her book, We Should Get Together: The Secret to Cultivating Better Friendships, and gave participants an action plan to create more belonging and connection in their lives.
Students in Kate Rutter's Interaction Design Professional Practices course organized four follow-up events to further explore the strategies Kat Vellos presented:
📖 See Kathy and Elena's presentation ➞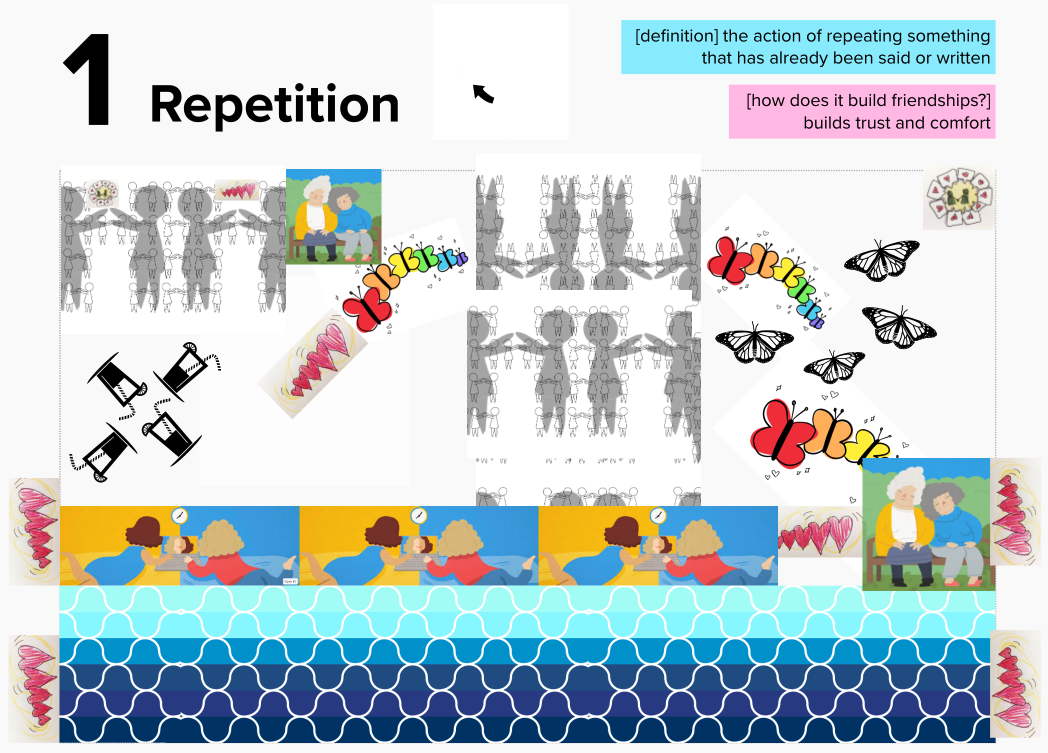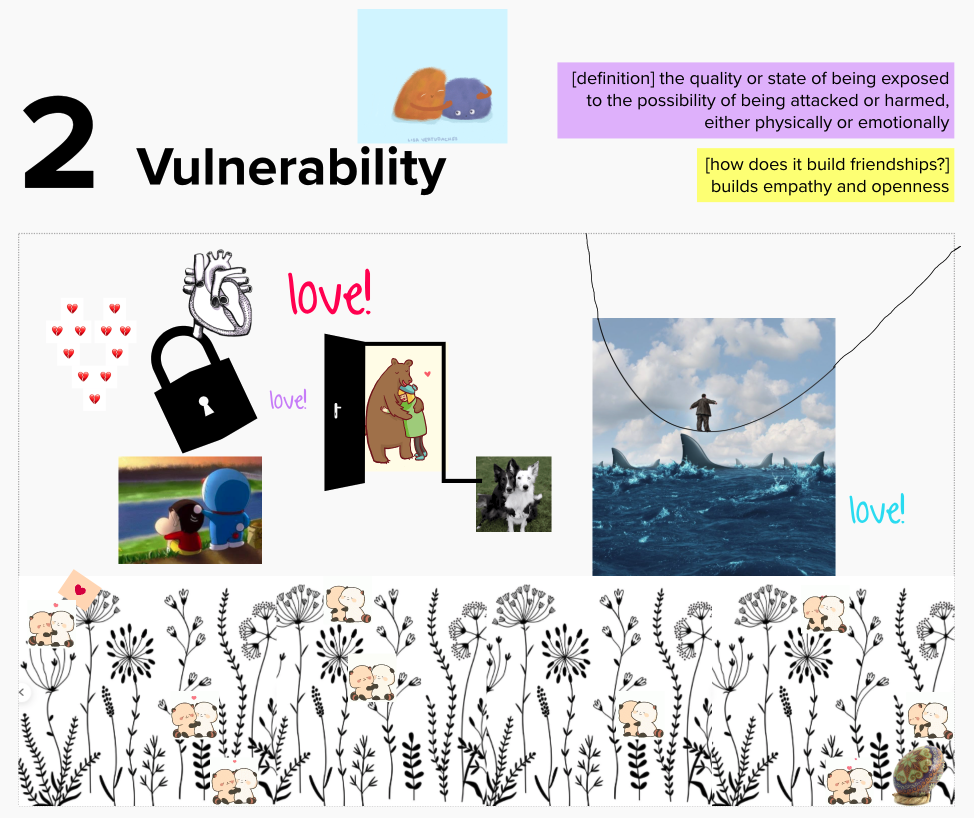 ---
Catalyst for Change: Asian American Narratives
Organized by Pallavi Sharma, Adjunct Professor, Critical Ethnic Studies Program
'Catalyst for Change: Asian American narratives' created a platform for a dialogue between local artists, curators, and activists of the Asian Diaspora and CCA students. Four invited artists—Rea Lynn de Guzman, Reiko Fujii, Irene Wibawa, and Ellen Bepp—shared their works that integrate their identity, personal and community experiences, and social and political issues. This project aimed to enrich our understanding of 'what it means to be Asian American' and educate, challenge, and inspire the students to generate creative strategies to fight for the social and racial equality we urgently need today.
🎥 Watch a recording of Rea Lynn de Guzman's artist talk on YouTube ➞
🎥 Watch a recording of Irene Wibawa's artist talk on YouTube ➞
🎥 Watch a recording of Reiko Fujii's artist talk on YouTube ➞
🎥 Watch a recording of Ellen Bepp's artist talk below and on YouTube ➞

Pandemic Time Capsule 2020-2021
Organized by Nielsen Arenas, Riah Trevino, Matt Silady, Noki Seekao, Connie Jeung-Mills, Jaime Austin, and Bryndis Hafthorsdottir
Pandemic Artifacts is a zine of student work that attempts to capture this unique moment in history when words often fall short. Similar to the 1906 San Francisco earthquake that gave birth to our college, we are being challenged to reimagine what creating and making in a pandemic looks like. This digital time capsule features a wonderful collection of creatives who capture the unique perspective of our community, informed by both the uncommon experience each of us are living through and the shared values we hold at CCA.
Student contributors include Riah Trevino, Annaleah Gregoire, Levi Jiang, Eman Ordonez, Jillian Ikehara, J Koptic, Alia Moussa, Niv Rajendra, Emily Markert, Joseph Hurtado, Nahashree Tatavarthi, Nielsen Arenas, Kenna Elliott, Scott Underwood, David Burns Marchetti, Sophie Hiltner, Megan Chen, Ace Matkin, Tony Bernardo, Angie Chaparro, and Emily Traub.