Zoom is a great way to hold digital meetings. You can share your voice and video, and also share your computer screen, all over an internet connection. If this is your first time using Zoom, you'll first want to make sure you have the Zoom client installed on your computer.
---
a. Open the Zoom client on your computer and press the New Meeting button. This creates a new meeting immediately. Clicking the arrow next to New Meeting will let you decide whether you want to start the meeting with video, as well as the option to use your Personal Meeting ID in place of a link.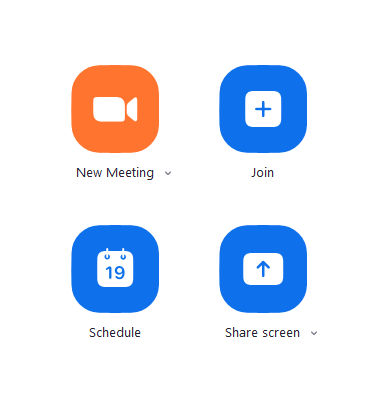 b. Once you've started the meeting, a new meeting ID and link will be generated. You can share this link with others so all they need to do is click the link to join the meeting.
c. Click the Invite button to add more participants. You can search for a person by name in the Contacts tab, or send an emailed invitation in the Email tab.
Your Zoom meeting's URL can be found in the lower left corner of the Invite menu. Click on Copy URL to save the link to your clipboard, and you can paste it wherever you need.
---
a. If you want to schedule a meeting for a later time, press the Schedule button.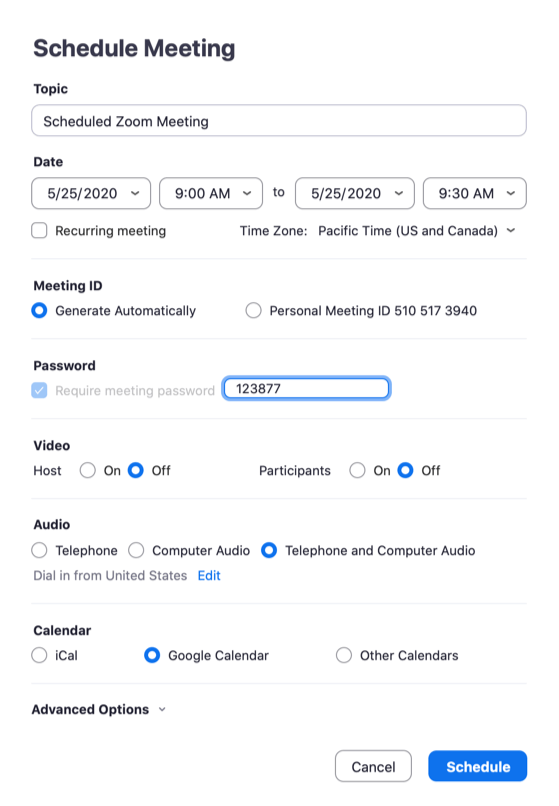 b. You can set the time and date of the upcoming meeting, as well as the duration. You can set whether participants and hosts join with audio and video. Because your Zoom account is linked to your CCA account, an event will be created in your Google calendar automatically after you schedule a meeting.
c. A password will automatically be generated for your meeting and will added to the meeting invitation.
d. Clicking the Advanced Options dropdown will display the following: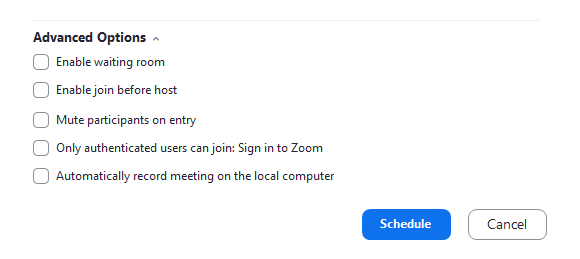 e. These options let you create a waiting room for participants who join before the host, or allow them to join the meeting beforehand without the host present. You can also opt to have participants join with their audio muted, and to automatically start recording the meeting when it begins.
Meeting's scheduled for a later time will have a link created for them at the time of scheduling, so participants can have the link ready when the meeting time arrives.