Zoom
Zoom is video conferencing software that unifies HD video conferencing, mobility and web meetings. With it, you can engage in online webinars and screen sharing. It also integrates with Google Calendar, creating new events for upcoming meetings and allowing you to respond to a meeting invitation. CCA has partnered with Zoom to offer these services to the community. It is available as a desktop application for Mac or PC, and as an app for iOS or Android.
Some of the features in Zoom include:
Up to 300 people in a single meeting for licensed users
High definition video and voice
Invitation via email or text message
High-quality screen sharing and recording
Instant and scheduled meetings
Breakout rooms
Faculty, students, and staff all have access to meetings supporting up to 300 people, with no limits on meeting length.
Zoom lets you hold virtual meetings or webinars outside of the usual classroom environment between instructors and students alike. It provides a convenient way for engagement for remote individuals as well, such as a guest lecturer meeting with the class. Zoom offers high-quality video and voice streaming, as well as screen-sharing features to help illustrate a point. Invitations can be sent via email, SMS, or instant messaging, and invitees can respond straight from the invitation.
---
Instructors can:
Meet one-on-one with students virtually
Have a guest lecturer speak to their class from beyond the classroom
Record a virtual session and download the video
Students can:
Participate and collaborate in a group meeting with their peers
Engage with instructors outside of class
Share their screen while in a meeting to show collaborators relevant media and content
Signing Back In
When you open the Zoom application, you may be prompted to sign back in.
1) Select the Sign In button on the first screen.
2) Click the Sign in with SSO button on the following screen.

3) Enter "cca" for your company domain, then click Continue.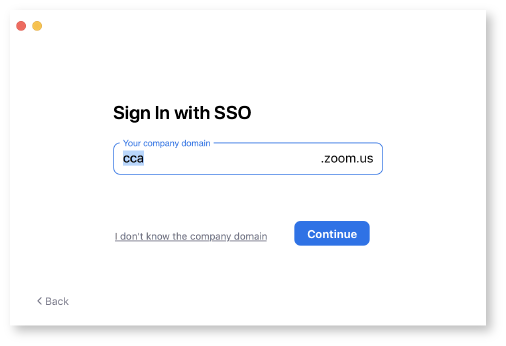 4) A browser tab will open, directing you to CCA's single sign-on page. Enter your CCA credentials (username and password).
5) Depending on your browser and settings, you may see an additional prompt to Open zoom.us. Confirm to open the Zoom application.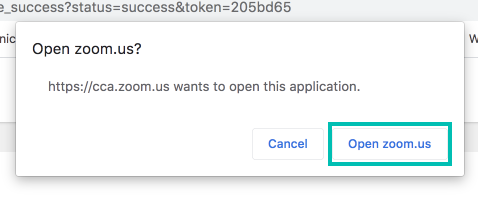 ---