CCA has a strong bicycle culture. Many students, staff, and faculty commute by bicycle. Ample indoor and outdoor bicycle parking accommodations exist on each campus and in or near all CCA residence halls. CCA is a member of the San Francisco Bicycle Coalition, and offers free urban bicycle workshops annually to the CCA Community.
---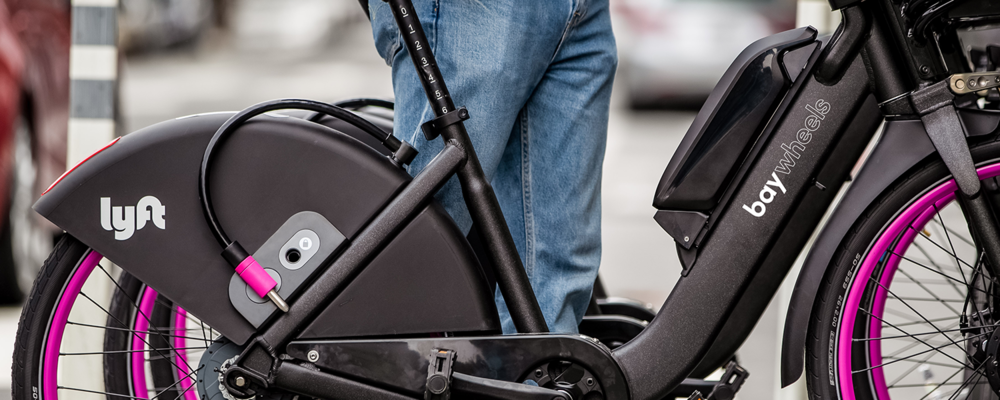 Bay Wheels Bike Share (powered by Lyft)
Bike Share stations create healthy, sustainable spaces around schools, and bicycling helps to reduce greenhouse gas emissions, relieve crowded buses and trains, and improve individual health. There are bike share stations within direct proximity to both CCA campuses
CCA MEMBERSHIP DISCOUNT
CCA Annual Membership: $134 (normally $159) = $11 per month
Go to baywheels.com and login or sign up with your phone number
Choose Annual Membership
Enter or choose payment option and select student or corporate discount
Enter program code CCABIKES into popup
Finish checkout
Link your Clipper Card
You can use your Clipper Card as an access key by linking your card to a membership within your profile.
Locations
Use the Station Map to locate a station closest to you, and check availability.
Near CCA
San Francisco campus Southwest Corner of Irwin @ Eighth, and Hubbell at 16th Street
Blattner Hall: on 17th Street at Arkansas Street
Oakland Campus: Broadway @ Coronado
Bikes on Public Transit
Check out Bike Hub, available at BART and Caltrain stations; a safe and convenient way to park your bike while you commute. There are currently seven locations throughout the San Francisco Bay Area. Each station offers slightly different services, including valet parking, controlled-access parking, bike rentals, bike repairs, and more.
Bikes are allowed on nearly all public transit. Below is a list of rules and regulations for brining your bike on major forms of public transportation:
Bay Bridge Bike Shuttle
The Bay Bridge Bike Shuttle (operated by Caltrans) runs during peak commute periods.
Expense per trip: $1.00
Free Urban Bicycling Workshops with SF Bike
The SF Bicycle Coalition is proud to offer free Urban Bicycling Workshops to all of the CCA Community. Whether you've never been on a bike before or you just want to brush up with some tips for riding in the city, they've got a class to get you rolling! They will visit the SF campus annually to host an urban bicycling workshop, but you may also register for classes offsite free of charge. View the workshop schedule and/or sign-up for class updates.
Watch
Home Street Home (Winner of CCA 2010 R.A.W. Student Video Contest)
CCA Graduate Design major Jesse Geller won first place in CCA's 2010 R.A.W. Video contest, in which he was challenged to document "CCA's Bike Culture" in a two-minute video.