Opening Reception for Between Friends Part 2
Opening Reception for Between Friends Part 2
+

Add to calendar
Fri, Oct 6 2023, 6PM - 8PM
PLAySPACE Gallery (N21) | 1111 Eighth Street, San Francisco, CA, 94107 View map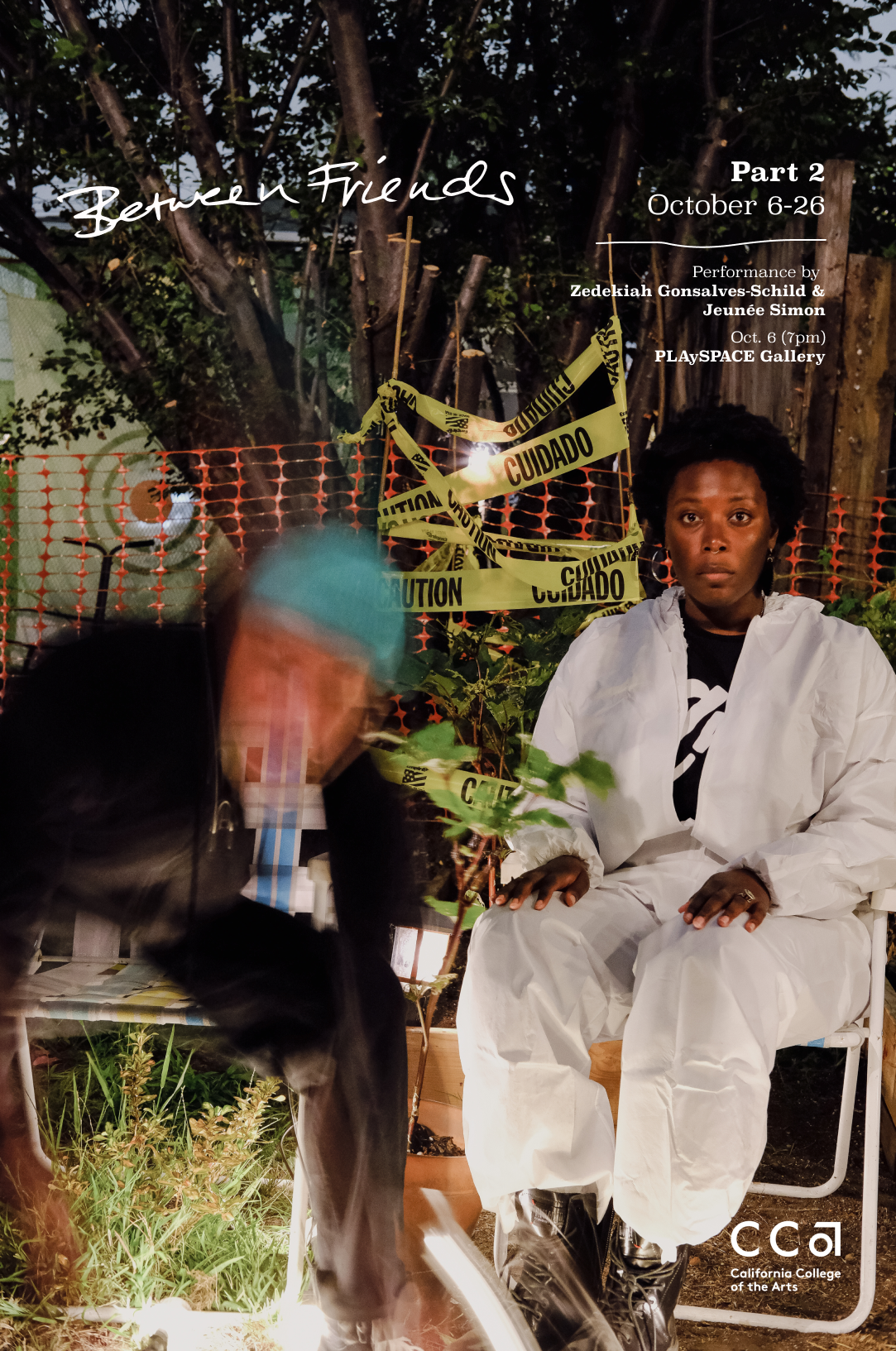 Organized by
Samantha Hiura, PLAySPACE Director
Event description
After sporadic summer studio visits in the Dogpatch with CCA's MFA students, I have the rare pleasure of knowing my community more deeply, bridging new connections and burrowing further into old ones. Through all these conversations, one fleeting thread always rises to the surface—a moment where an emergent or experimental niche in their work that they brush off from a part of their 'formal practice' slips out into open air. While many of the MFA students may be working towards refining and tailoring an idea or aesthetic for their thesis, this fall's PLAySPACE program, "Between Friends," serves as a space for those facets of themselves and their works that have not yet found a home in their practice. This program seeks to open a space of companionship and comfort in our vital need for exploration.
The fall 2023 PLAySPACE program will run as three mini-exhibitions, the 'opening' of each to be marked with an event related to the exhibition on view. The opening reception for Part 2 will take place on Friday, October 6, from 6 to 8pm, and will feature an activation by Zedekiah Gonsalves Schild and Jeunée Simon. Part 2 features work by Jesse Muñoz, Amanda Bristow, Jason Stern, and Molly Barker.
About the activation
This interdisciplinary performance will engage spoken words, light, movement, and sound to create dialogue with and heal an ailing okra plant. It will explore the syncretic nature of friendship and repairing the collective body (including okra) in a contemporary context.
Zedekiah Gonsalves-Schild is a multidisciplinary artist who lives and practices in Oakland, California. Zedekiah is a recipient of an Academy of American Poets Universities Prize, and a 2022 Carlos Villa fellow. He is currently pursuing an MFA in fine arts at California College of the Arts.  His first collection of poetry, Elegies for the Undead, is forthcoming from Gasher Press in 2024.
Jeunée Simon is a performer, intimacy director, and theatre director in the Bay Area. She is dedicated to creating braver spaces where artists can be vulnerable and play.
About the PLAySPACE Program
PLAySPACE is CCA's graduate student-run exhibition program that allows student artists and curators to support one another and gain practical exhibition experience. This exhibition is curated by the current PLAySPACE director, Samantha Hiura (she/her). Samantha is a second year graduate student in CCA's dual degree program for Visual and Critical Studies (MA) and Curatorial Practice (MA). Her academic and professional focuses are centered on contemporary art as forms of resistance, with particular interest in the intersections of queer and BIPOC representation. She holds a BA in Humanities and Art History with honors from Seattle University. She has previously worked at CCA Exhibition's new campus gallery, Micki Meng Gallery (San Francisco, CA) and currently as the Curatorial Fellow at the Institute for Contemporary Art San Francisco.
Entry details
Free and open to the public