Ekene Ijeoma: Poetic Justice
Ekene Ijeoma: Poetic Justice
+

Add to calendar
Wed, Feb 1 2023, 5:30PM - 7PM
Nave Presentation Space | California College of the Arts 1111 8th Street, San Francisco, California, 94107 View map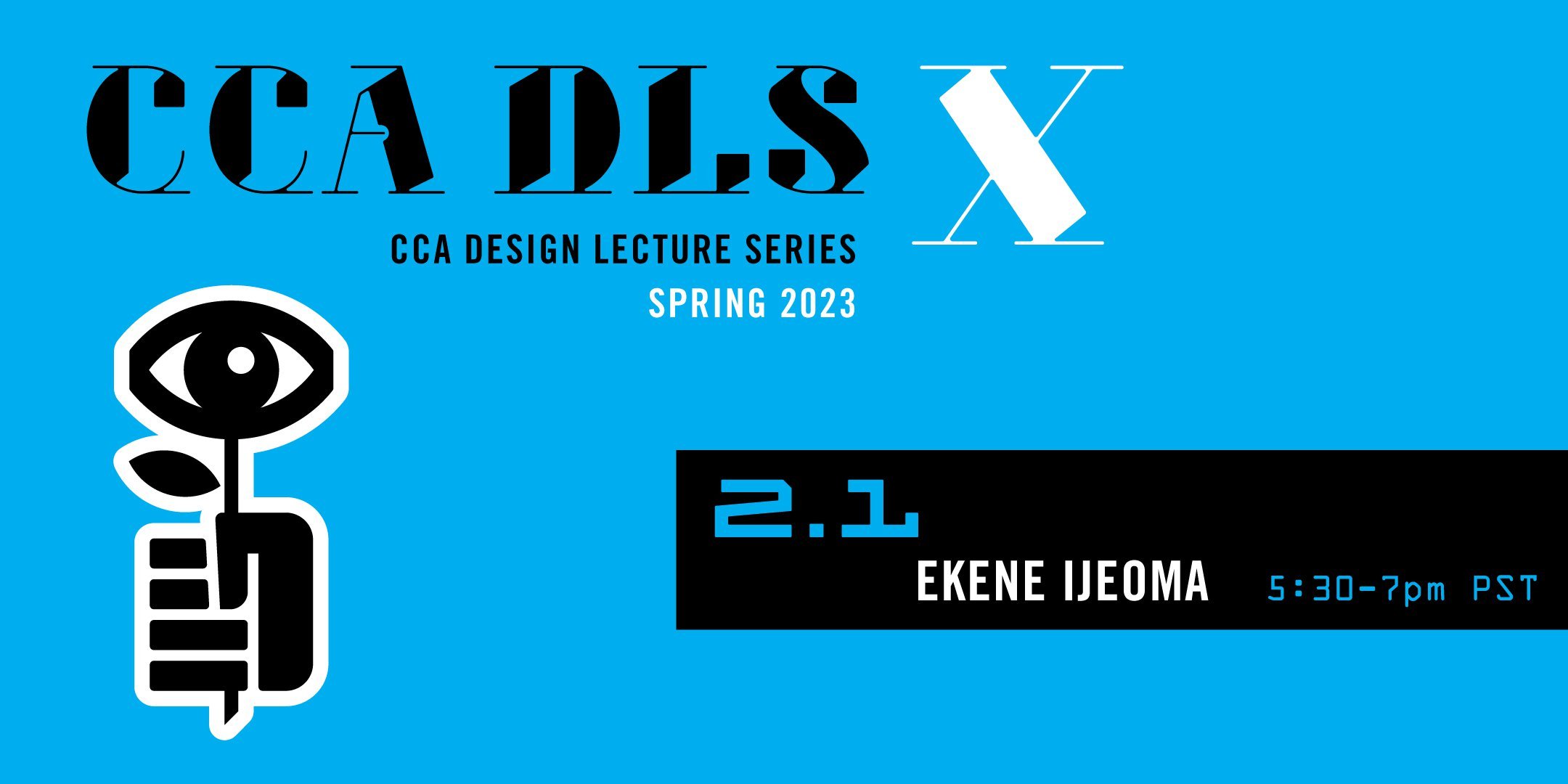 Organized by
Studio Forward x Google and MFA Design
Event description
The Spring 2023 Design Lecture Series will be available both in person and online. If you'd like to attend in-person, advanced ticketing is required. To attend virtually, please RSVP for the Zoom Webinar link.
Founder and Director of the Poetic Justice Group at Media Lab, Ekene Ijeoma, discusses his work with the group focused on how art can address the scale of sociopolitical issues through distributed, multisite, and participatory public artworks that are accessible over the phone, online, and on the streets.

ASL interpretation will not be offered at the event. The lecture uses a slide presentation. All content from the slides will be read aloud or described. Closed captioning will be available during this webinar. 
Speaker Bio
Ekene Ijeoma is an artist who focuses on the overlooked or shared aspects of socio-political trends and interpersonal dynamics through the lenses of personal observation and analytical exploration. His works include sound, video, sculpture, installation and performance.
His work has been exhibited and performed at Bemis Center for Contemporary Art (2021), Contemporary Art Museum of St. Louis (2021), Museum of Contemporary Art Denver (2020), Contemporary Art Museum of Houston (2020), The Kennedy Center  (2019, 2017), Museum of the City of New York (2019, 2018), Neuberger Museum of Art (2016), Storefront for Art  and Architecture (2015) and Museum of Modern Art (2015) among others. His practice has been supported by grants and fellowships including The New York State Council on the Arts (2021); Creative Capital (2019); Map Fund (2019); The Kennedy Center (2017); and New York Foundation for the Arts (2016) among others.
Ijeoma lives and works between his studio in Brooklyn, NY and lab in Cambridge, MA. He was born in Fort Worth, Texas. He earned his BS in Information Technology at Rochester Institute of Technology in 2006 and MA in Interaction Design from Domus Academy (Milan, IT) in 2008.
About California College of the Arts
Located at the center of innovation and technology in the San Francisco Bay Area, California College of the Arts is home to a world-renowned faculty of practicing artists and entrepreneurs, and a diverse community of makers that are boldly reimagining the world. Offering 22 undergraduate and 11 graduate programs in fine arts, architecture, design, and writing, CCA's creative culture is built around the ideals of interdisciplinary collaboration, sustainability, and community engagement.

California College of the Arts' current and historical campuses are located in Huichin and Yelamu, also known as Oakland and San Francisco, respectively, on the unceded territories of Chochenyo and Ramaytush Ohlone peoples, who have continuously lived upon this land since time immemorial. We recognize the historic discrimination and violence inflicted upon Indigenous peoples in California and the Americas, including their forced removal from ancestral lands, and the deliberate and systematic destruction of their communities and culture. CCA honors Indigenous peoples—past, present, and future—here and around the world, and we wish to pay respect to local elders.

Entry details
RSVP via Eventbrite