Spring 2023 Design Lecture Series
Spring 2023 Design Lecture Series
Event series
Wed, Feb 1 2023, 5:30PM - Wed, Mar 8 2023, 8PM
In-person and Zoom
Nave Presentation Space | California College of the Arts 1111 8th Street, San Francisco, California, 94107 View map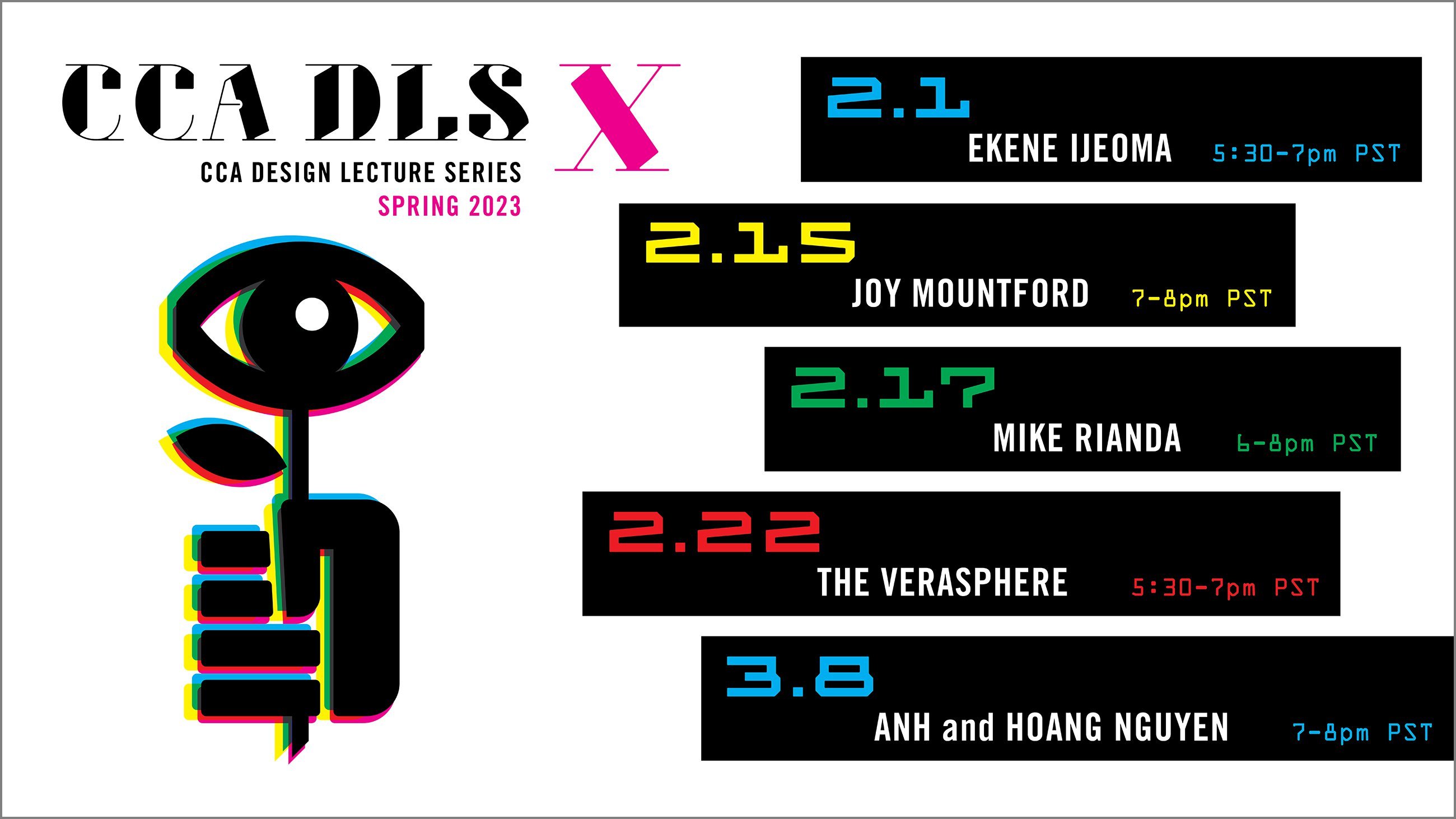 Organized by
The Design Division
Event description
Lecture recordings will be made available for educational purposes to the CCA community on Panopto.
The Spring 2023 Design Lecture Series will be available both in person, and online. If you'd like to attend in-person, advanced ticketing is required. To attend virtually, please RSVP on the event's Eventbrite for the Zoom Webinar link.


The Design Lecture Series reflects CCA Design's commitment to being a sanctuary for emerging voices and diverse practices. Each semester we host an impressive roster of thinkers and practitioners who expand our idea of what design is and what design can do.
Join us this Spring for the 10th installment of the Design Lecture Series, as our speakers trace their individual paths through their evolving practices. This semester's guest lecturers all sustain a deep commitment to design that expands possibilities, positioning both the creative act and its reception as integral to the outcomes. CCA invites you to engage with leading creators as they discuss their craft and purpose, fostering individuality, community, authenticity, identity, and their intersections.


We hope you'll join us for these critical conversations.
Design Lecture Series Identity by Angie Wang and Mark Fox of Design is Play
Mark Fox and Angie Wang are professors at CCA where they teach courses in graphic design and typography. They work under the name Design is Play, and their posters are represented in design collections at V&A, the Museum für Gestaltung Zürich, LACMA, SFMOMA, and the Library of Congress, among others. They authored the book Symbols: A Handbook for Seeing in 2016.
Fonts Used: France, Oblong Regular, OCR-A, Trade Gothic Bold Condensed No. 20