Voices in Moving Image: Trinh T. Minh-Ha
Voices in Moving Image: Trinh T. Minh-Ha
+

Add to calendar
Wed, Sep 13 2023, 6PM - 9PM
Timken Lecture Hall | 1111 8th St., San Francisco, California, 94107 View map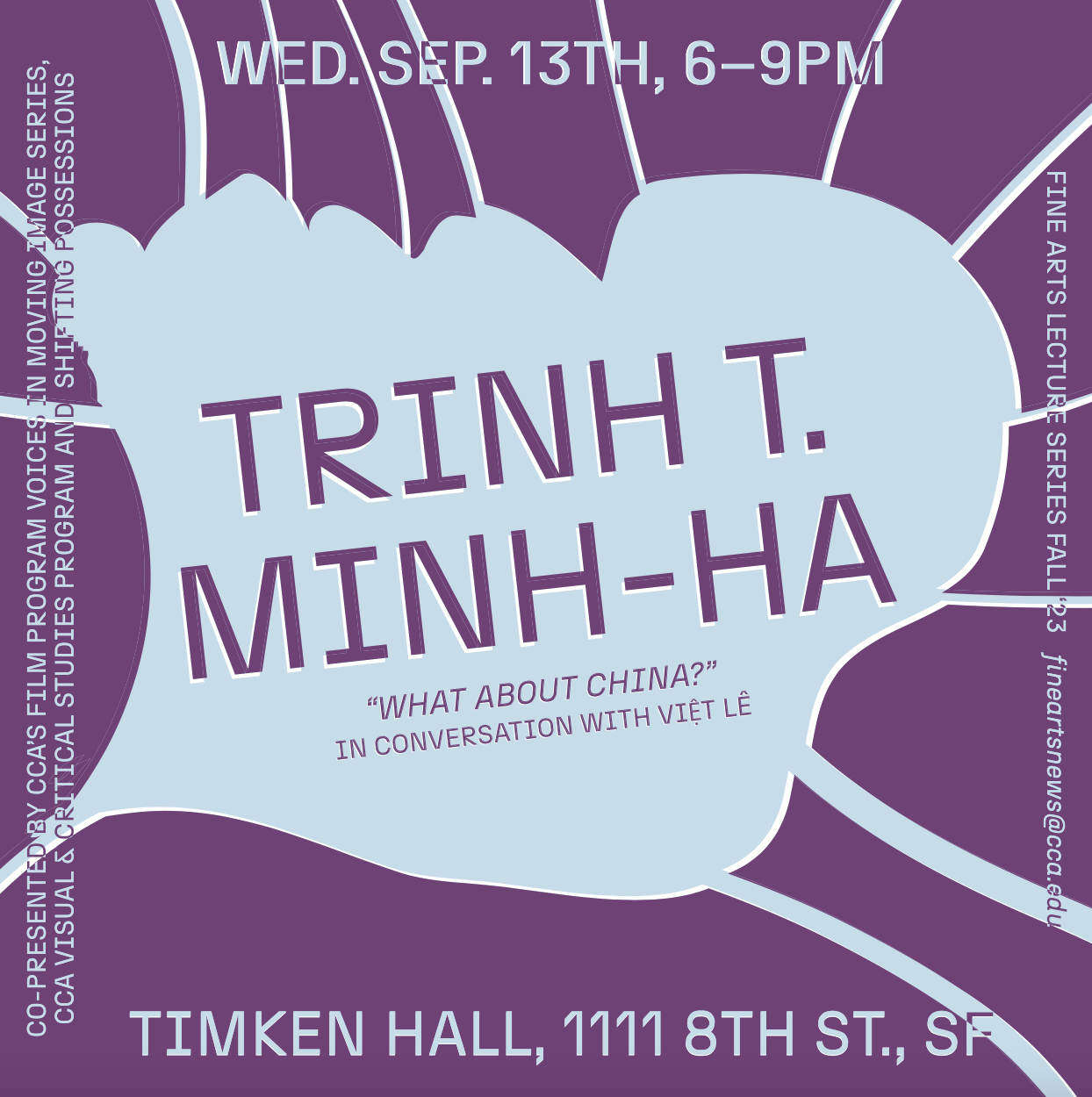 Organized by
CCA Film
Event description
The Fine Arts Lecture Series is a cornerstone of CCA's vibrant campus culture, providing an exceptional platform for students to engage with eminent artists from around the world. This dynamic immersive series offers an unparalleled opportunity for students to witness the creative process, gain insights into diverse artistic perspectives, and interact with established professionals.

Through these inspiring interactions, students are not only exposed to cutting-edge techniques and innovative concepts but also encouraged to think critically, question norms, and broaden their artistic horizons. The series fosters an environment of intellectual curiosity, cultural enrichment, and creative growth, empowering students to evolve as both skilled artists and well-rounded individuals poised for success in the competitive world of contemporary art.

CCA Film department's commitment to being a sanctuary for emerging voices and diverse practices. Each semester we host a powerful slate of thinkers and practitioners who expand our idea of what film is.
The Voices in Moving Image Lecture Series invites a number of successful artists and filmmakers to share their strategies and stories.

Please join us for in-person symposiums of screenings and artist talks, from  September 6th to December 6th.  

FEATURED ARTIST:
Trinh T. Minh-ha (Vietnamese: Trịnh Thị Minh Hà) is a Vietnamese filmmaker, writer, literary theorist, composer, and professor. She has been making films for over thirty years and may be best known for her films Reassemblage'', made in 1982, and Surname Viet Given Name Nam, made in 1985. She has received several awards and grants, including the American Film Institute's National Independent Filmmaker Maya Deren Award, and Fellowships from the John Simon Guggenheim Foundation, the National Endowment for the Arts and the California Arts Council. Her films have been the subject of twenty retrospectives.

Stay connected to CCA Fine Arts and sign up for our newsletter

Entry details
Free and open to the public. Limited seating available, RSVP required with link below.