Fine Arts Divisional Lecture Series Fall 2023
Fine Arts Divisional Lecture Series Fall 2023
Event series
Wed, Sep 6 2023, 4PM - Wed, Dec 6 2023, 9PM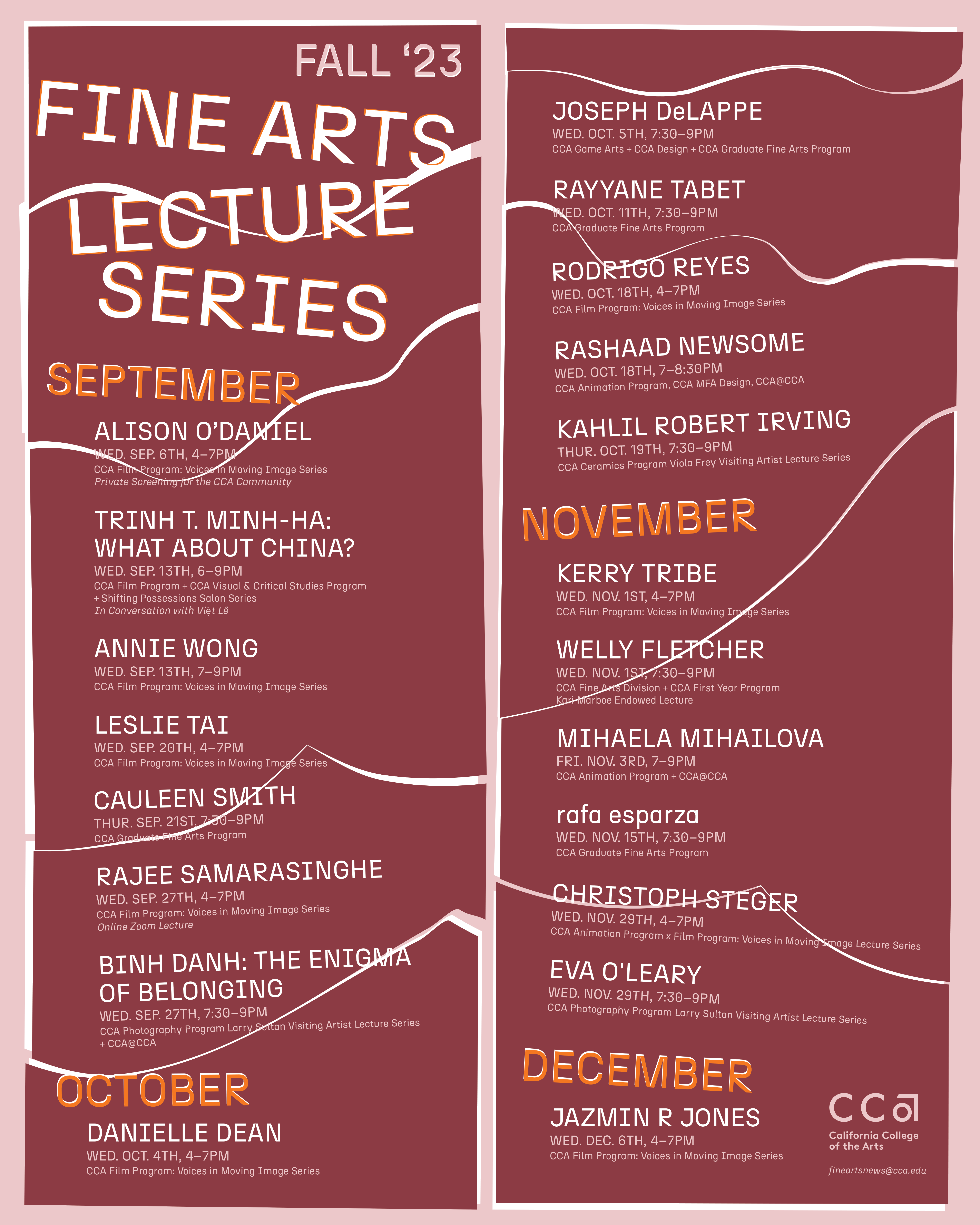 Organized by
CCA Fine Arts
Event description
The Fine Arts Lecture Series is a cornerstone of CCA's vibrant campus culture, providing an exceptional platform for students to engage with eminent artists from around the world. This dynamic immersive series offers an unparalleled opportunity for students to witness the creative process, gain insights into diverse artistic perspectives, and interact with established professionals.

Through these inspiring interactions, students are not only exposed to cutting-edge techniques and innovative concepts but also encouraged to think critically, question norms, and broaden their artistic horizons. The series fosters an environment of intellectual curiosity, cultural enrichment, and creative growth, empowering students to evolve as both skilled artists and well-rounded individuals poised for success in the competitive world of contemporary art.

Stay connected to CCA Fine Arts and sign up for our newsletter

Designs courtesy of Jennifer Hennesy

Jennifer Hennesy is a Bay Area Artist, Graphic Designer and Art Director. She graduated from CCA in 2011 from the Individualized Program where her studies spanned Graphic Design, 2D and 3D Art.
For the past fifteen years Jennifer's freelance design studio has made work for clients like: the d.school at Stanford University, the California Academy of Sciences, Sunny Smith, frog design, Google, SFMOMA, The Contemporary Jewish Museum, Southern Exposure and California College of the Arts. You can view her recent works online at jenniferhennesy.com.
Support the Fine Arts Divisional Lecture Series
Visit cca.edu/give
https://www.cca.edu/give
 and select "Fine Arts Lecture Series" from the menu.
Entry details
Free and open to the public unless stated otherwise.