Enroll in Duo for More Secure Logins
Enroll in Duo for More Secure Logins
---
Duo multi-factor authentication helps secure your online accounts and information by having you confirm whether a login attempt is valid or not.

Faculty, staff and students are required to enroll in Duo and will automatically be prompted to enroll the first time logging into any CCA system.
Follow the steps below to complete enrollment.
---
About multi-factor authentication
What is multi-factor authentication, and why is it important?
With cyberattacks on the rise, multi-factor authentication is one of the best ways to protect your online accounts, by requiring two (or more) methods to verify your identity when logging in to systems.
These methods can include something you know, like a username and password, with something you have–like a smartphone app, to approve login requests.
How will Duo change my login experience?
After entering your username and password to log in to a Duo-protected application (such as Portal), Duo will prompt you to verify the login from a device you've registered.
If you are NOT prompted to enroll in Duo automatically:
We strongly recommend downloading Duo's mobile application on a registered mobile device. Provided your device has internet connectivity, you need only respond to a Duo push notification to verify your logins. This provides the quickest, smoothest login experience.
Register a device for logins
The following instructions describe how to complete Duo enrollment by:
Logging into a CCA system from a desktop computer
Registering a mobile phone with Duo to authenticate the desktop login attempt
1

Log in to an SSO-protected system using your CCA credentials

Most online services at CCA are accessible through single sign-on (SSO) login.


For the purposes of this guide, try accessing a system with a short timeout period, such as Portal.


If you are already authenticated for a system, you may have to log out and log back in again.
2

Select 'Start setup" from the Duo welcome screen

After entering your CCA login credentials, you should see a screen prompting you to register a new device to authenticate your logins via Duo. Select 'Start setup' to begin.
3

Select device type

Select the type of device from the dropdown menu provided, then click 'Continue' to proceed.


We strongly recommend adding a mobile phone as your primary device type.


We DO NOT RECOMMEND selecting TouchID. We've found this option to be problematic for some users.

This guide walks through mobile phone registration, but you can follow Duo's enrollment guide for instructions on adding other types of devices.
4

Enter your phone number

This step is applicable for mobile phones and landlines.

Select your country from the dropdown list

Enter your device phone number

Check the confirmation box

Select 'Continue' to proceed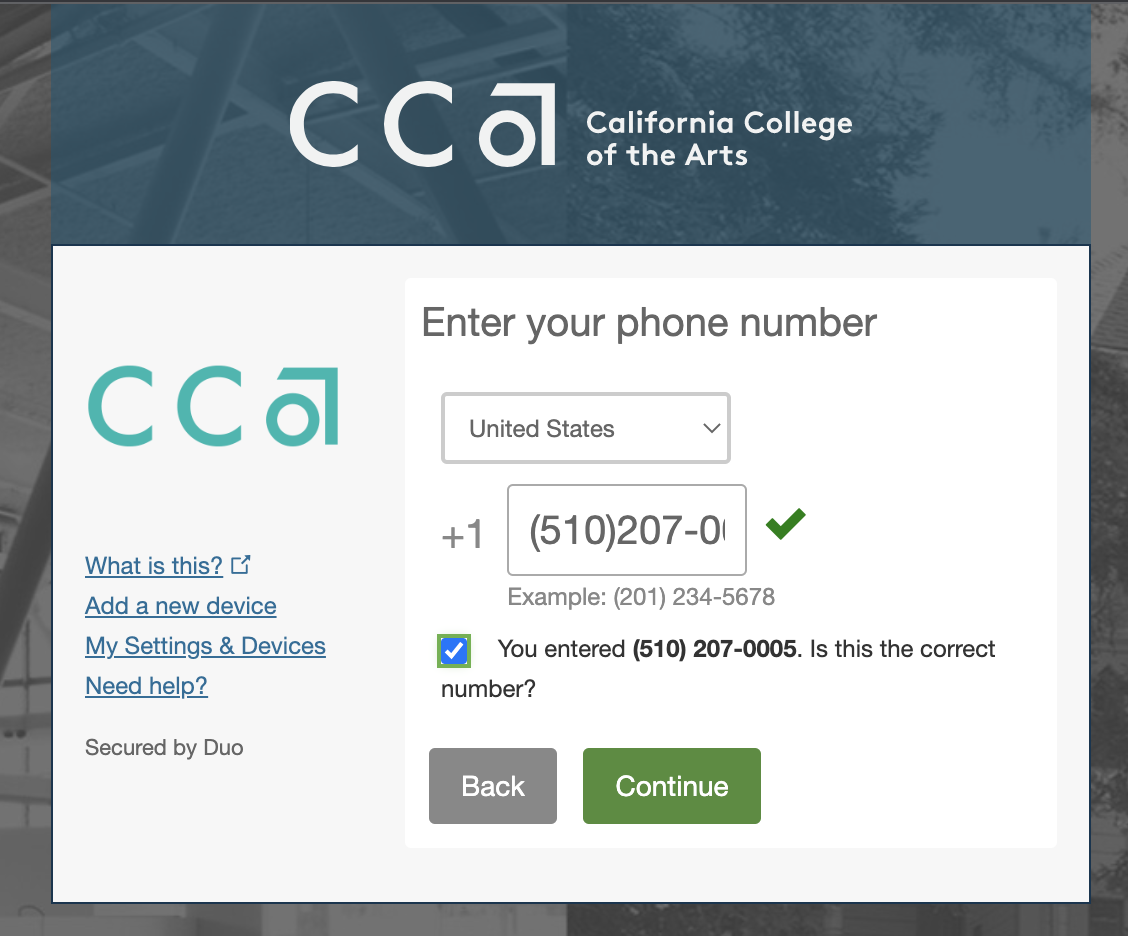 5

Confirm ownership of your device

Duo will send you a device verification code to confirm ownership of your device.

Select 'Call me' to receive your verification code by phone or 'Text me' to receive it by text message

Enter your verification code in the box provided, then select 'Verify'

Click 'Continue' to proceed
6

Select your device platform

Using the dropdown, select the type of device from the list provided, then click 'Continue' to proceed.
7

Install the Duo Mobile app

On the next screen you'll be prompted to install the Duo Mobile app.

If you need to install Duo Mobile, please do so:

Download Duo Mobile for iOS.
Download Duo Mobile for Android

Once downloaded, open the Duo Mobile application on your registered device

Back in the CCA login screen, select 'I have Duo Mobile' to continue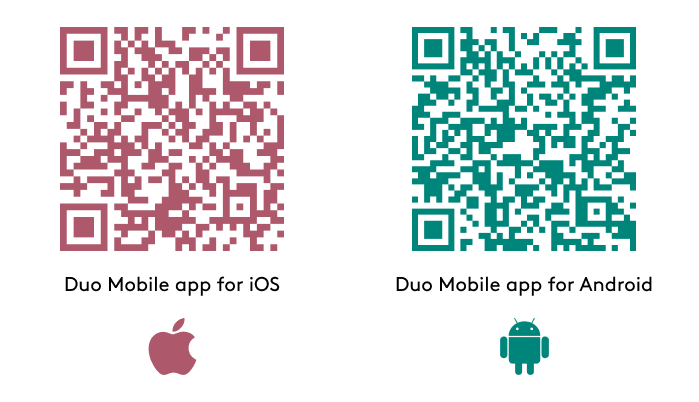 Duo Mobile may not be available for download everywhere. Make sure to download the application while on campus or elsewhere in the U.S.
8

Activate Duo Mobile for CCA logins

Scan the Duo Mobile activation QR code by doing the following:

Open the Duo Mobile app on your registered device

Select '+ Add' (next to Accounts heading)

Select 'Use QR Code'

Hold your device camera up to the QR code, and await confirmation

Once activation is confirmed, select 'Continue' to proceed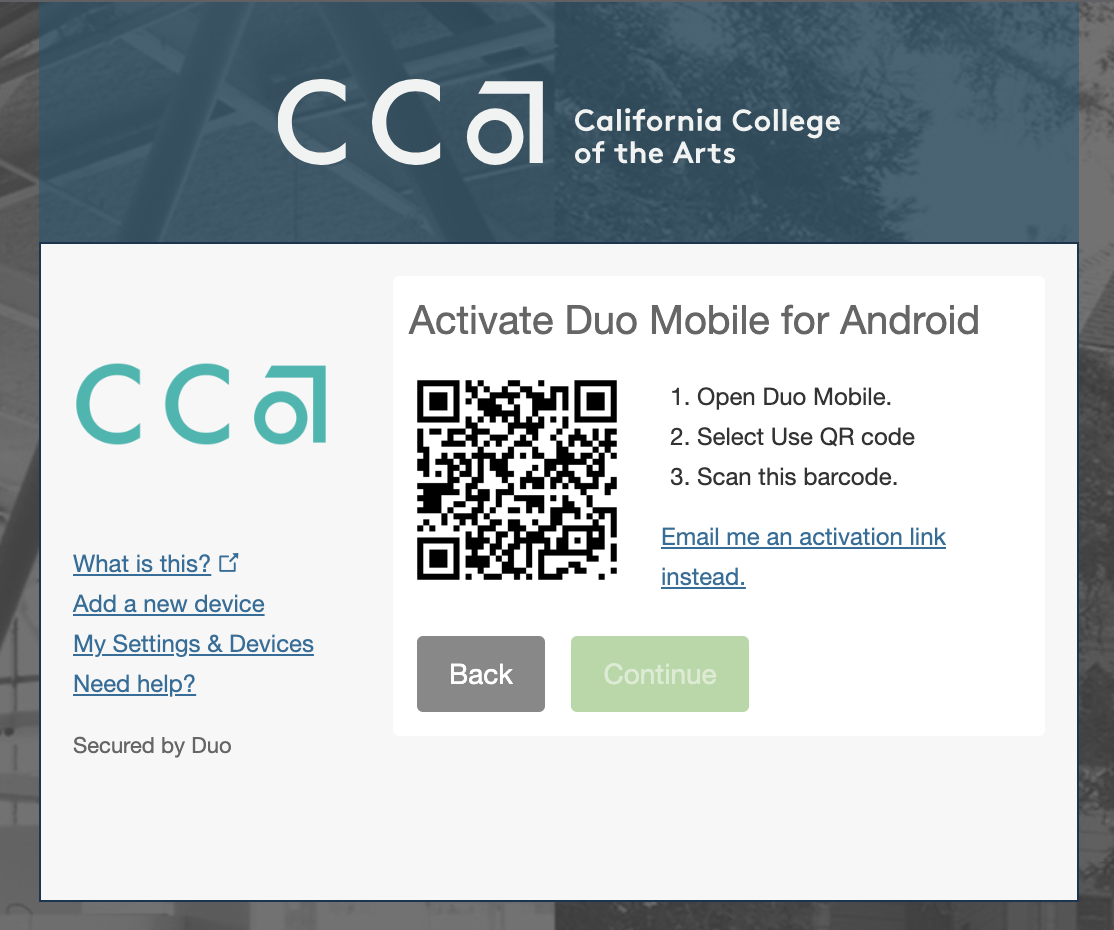 If you are unable to scan the QR code provided, you can select 'Email me an activation link instead,' then follow the instructions.
9

Choose how Duo notifies your device to authenticate logins

Select how you authenticate logins with your registered device under 'When I log in.'

By default, Duo will ask you to select your authentication method–push notification, phone call, etc.–each time you need to authenticate.

You may wish to select 'Automatically send this device a Duo Push' for your primary registered mobile device, which can save some time logging in.
You may adjust other settings here as well, such as:

Customizing your device name

Adding another device (refer back to step 5 as needed)

When you're finished adjusting settings, select 'Continue to Login' to proceed.
10

Authenticate your login attempt

Depending on your selection(s) in the previous step, you may choose your login authentication method from the options provided.

Alternatively, you may receive a push notification on your registered device automatically. To respond to a push notification:

Select/open the push notification from your registered device.

Approve or Deny the login attempt from your device.

Once approved on your registered device, your login attempt should proceed automatically.
And just like that, you're done! You're now set up for Duo and a more secure login experience.
Check the 'Remember me' box on the authentication method selection screen to stay authenticated in Duo for longer.
What do I do if I lose my registered device?
If you lose your registered device for authenticating your logins, you may reach out to the Help Desk for assistance.
We recommend that you register a secondary device with Duo, just in case your primary device is lost, stolen, or broken.
What should I do if I receive a Duo login request that didn't come from me?
If you did not attempt to log in to any CCA system but you have received a Duo login request to your registered device:
Deny the login request
Contact the CCA Help Desk to report the login attempt
Why aren't my Duo push notifications coming through to my registered phone?
One common reason for delayed or missing push notifications is that your device isn't connected to a cellular data or WiFi network.
If using WiFi, make sure that you are fully connected and, if necessary, signed in to the network (if you're on the CCA campus, you may need to register and/or log in in order to connect).
I locked myself out of my account. What do I do?
You will be locked out of your CCA account for 1 hour after 4 failed attempts to authenticate a login via Duo.
The lockout time increases to 90 minutes if you fail to authenticate your next login 4 more times. Lockout time increases to one day if you fail to authenticate 4 more times after that.
Upon successfully authenticating a login attempt, you'll be able to access your account, and the lockout times will reset.
I replaced my registered mobile phone with a new one. Do I need to do anything for Duo?
If your number remains the same between devices, you'll just need to download the Duo Mobile app on your new device and connect the app to your CCA account once more (see steps 7 and 8 above).
If your new device also has a new number associated with it, you'll need to re-register the device entirely.
If your old phone was your only registered device and you can no longer use it to verify your logins, you'll need to contact the Help Desk for assistance with registering your new phone.
To register your new phone as a secondary device, select 'Add a new device' on the Duo screen the next time you log in to a CCA system. Verify your identity using your primary registered device, then follow the setup prompts (from step 3 above).
How long does my Duo authentication last?
For a single browser session, Duo authentication lasts for 48 hours, after which time you'll be prompted to authenticate when logging in to CCA systems.
Note that CCA systems have their own timeout periods as well, which may affect the frequency with which you are prompted to log in.
Can I use TouchID as my primary authentication method?
Due to reported issues with TouchID, CCA does not recommend using it as your primary authentication method.
Make sure you set up an alternative authentication method if you use TouchID for Duo logins.