Single Sign-on for CCA Web Services
Single Sign-on for CCA Web Services
CCA's single sign-on system allows members of the CCA community to use one set of credentials (your CCA username and password) to securely access most college online services such as Workday, the CCA Portal, Moodle, and G Suite.
What web services are included in SSO?
The following services have been incorporated into the single sign-on system. This table will be upgraded as other services are added.
| Service | Description |
| --- | --- |
| | A tool for course-based, rich media discussions |
| | Globally accessible video hosting platform |
| | Library account, catalog, and databases |
| | Gmail, Calendar, Drive, etc. |
| | Learning management system |
| | Housing application and assignments software |
| | Equipment checkout for Media Centers, Film Cage, and Hybrid Lab |
| | The campus portal |
| | Administrative system for HR, payroll, financials, and student information |
| | Sales tracking cloud-based application |
| | Videoconferencing for remote meeting, teaching, and learning |
How long am I authenticated for?
Some web services on single sign-on, such as Portal and Gmail, let you remain logged in for a number of days before having to re-authenticate, whereas other systems, such as Workday, require that you re-authenticate every time you visit the site or following a short period of inactivity.
Single sign-on and Google Workspace
Google applications like Gmail, Calendar, and Drive have recently been incorporated into CCA's single sign-on system. Sign-in works a little differently for Google Workspace than other CCA web services.


When signing into any Google Workspace application, the first screen will be the Google login screen that you're already familiar with.
Once you enter your CCA.edu email and click Next, you'll be redirected to the CCA single sign-on screen to complete your authentication.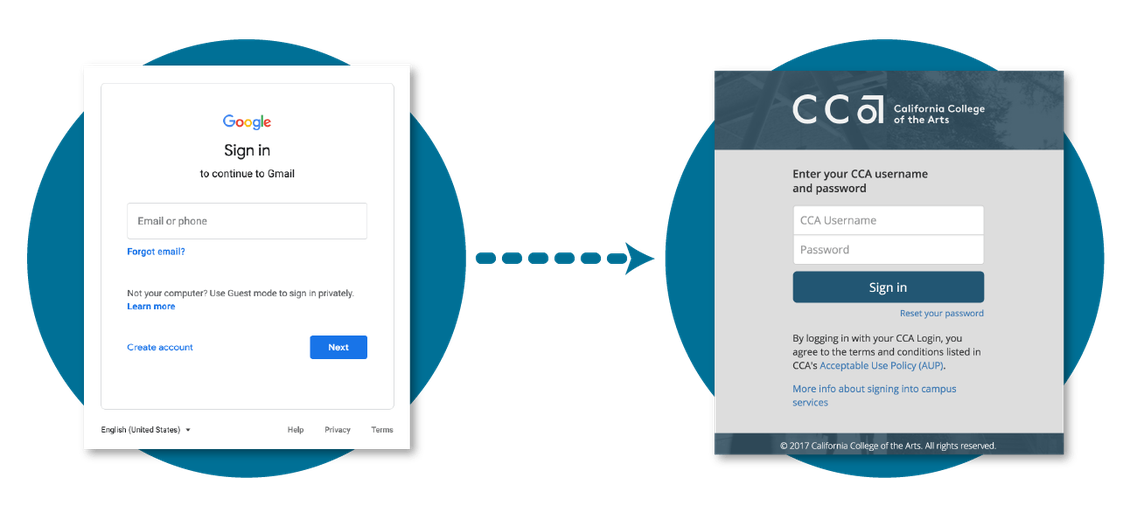 Logging in to applications with Google
A number of 3rd party applications allow you to sign-in using your CCA Google account. Logging in to these systems works exactly like logging in to Google Workspace as outlined above.
Depending on the system, when you click the Google login, the CCA sign-on may be skipped if you have previously authenticated.
Logging in to Zoom


Zoom allows you to sign in using your Google account, but we recommend that you select the Sign in with SSO option instead. See our Zoom documentation for additional instructions.
What about other web services not listed above?
We have included all of the systems that are currently managed by our identity management infrastructure. There are a number of other services being assessed for rolling into the single sign-on system. New and planned services will also be incorporated into the identity and access management system.
If there is a service you access regularly and would like added to our list of SSO candidates, please contact the Help Desk.