CCA Virtual Games Faire 2020
CCA Virtual Games Faire 2020
AN ASYNCHRONOUS ONLINE GAME CONVENTION
... for the CCA Community
Welcome to the 2020 CCA Virtual Game Faire, an ad hoc, communal, ludic intervention in response to the 2019-20 Coronavirus Pandemic. With so many in the world sheltering and social distancing, we're turning to old and new entertainments, to our virtual social connections, and to the time-tested pastime of playing games.
On these pages you can find over 20 new games created by CCA students during pandemic to be shared with the greater CCA community.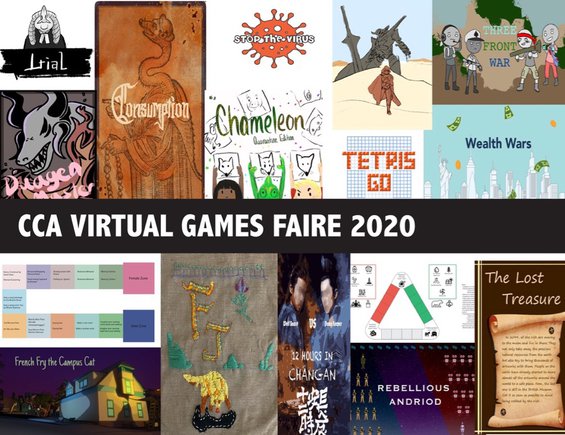 ...board games
...card games
...social games
...tabletop wargames
...online board games
...online video games
...mutli-genre games
...downloadable video games
...science-based games
...socially-critical games
... games involving cats!
A virtual faire?
As CCA returned from spring break to online teaching, in several of my classes we discussed how to proceed with our already underway game design projects, we arrived at the notion of sharing our games with our greater community that is stuck indoors, sheltering, and practicing social distancing. In a time where many are disconnected from their community and may feel powerless in the face of a global event, the hope was that our games might create small connections and opportunities for new experiences of play in these challenging times.
Who made these Games?
As we start this inaugural Games Faire, we've included original game designs from three of CCA's game-themed courses offered this semester, a senior thesis project in the Animation BFA program, as well as few select other projects from this and past years. Hopefully more will be added!
Now, go and play! (...until we can once again play in-person!)
- Zachary Walter, Assistant Professor in Animation, Game Arts Coordinator
SENIOR THESIS GAME PROJECTS
A cohort of graduating seniors have created an impressive digital game experience in Unreal Engine.
Play the games created by students in the "Game Making Workshop" course, the first course offered in the Animation Program's new Games Track. .
Play the games created by the students of the "Gaming and Play" course, offered in CCA's Critical Studies Program.
Play the games created by the students of the "Gaming Science" course, offered in the Critical Studies Program.
See a sampling of games created by other CCA students, faculty, or from classes in this and prior semesters.
This list will be updated as new games are submitted...
If you have a game you (or someone you know )created while at CCA that is distributable online, please zwalter@cca.edu to arrange how to post your game.