Individual Studio Critique (ISC)
Individual Studio Critique (ISC)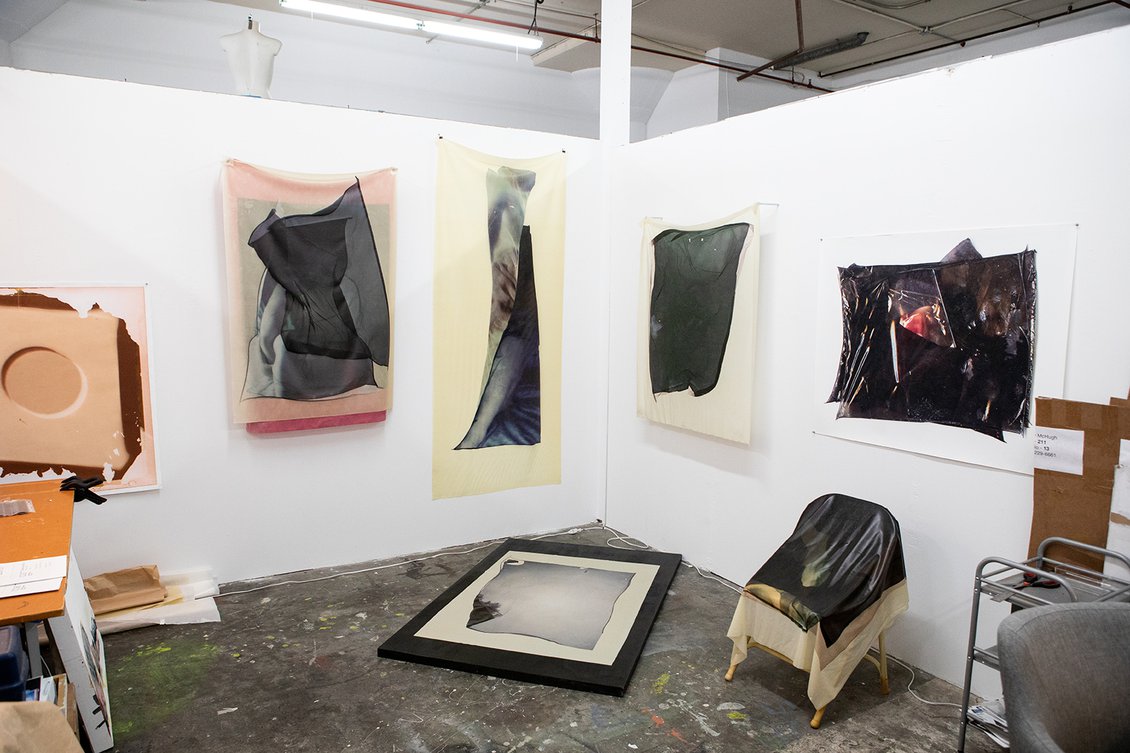 Individual Studio Critique (ISC––formerly known as Graduate Studio Practice) is a course of individualized study that typically takes place within the student's studio. Through this experience, students gather diverse opinions about the efficacy of their working methods and formal vocabulary and gather new resources that inform their research and practice.

MFA students take six units of ISC per semester––totaling 24 of the 60 units needed to graduate. One unit of advising equals three contact hours over the course of the semester. Students enroll in five sections of ISC per semester, with five different faculty, one of whom is a Main Advisor.

Your six units break down as follows:
2 units = Faculty member A as a Main Advisor,
1 units = Faculty member B,
1 unit = Faculty member C,
1 unit = Faculty member D, and
1 unit = Faculty member E


The student is responsible for communicating their specific goals and defining the preferred working relationship; together the student and Advisor should agree to the terms of their exchange.
The student is responsible for initiating contact with their Advisor, through their CCA email account to the Advisor's CCA email account to arrange their meetings throughout the semester.

Students are responsible for being present at each arranged meeting or communicating with the Advisor as far in advance as possible to reschedule, if needed.

The ISC advisor is an individual who works independently with one or more MFA students. Advisors are assigned to incoming students through a review of their portfolio, and in consultation with the Chair of Graduate Fine Arts. Students select their advisors in semesters 2–4.

Faculty Expectations
The Advisor's role is to help promote the development and refinement of students' work by offering critical feedback, professional guidance, or skills in particular areas of expertise.
The Advisor will communicate their schedule availability to students and make every effort to work within these time slots for ISC meetings.
All work provided by the ISC Advisors will be of the highest professional standard and performed to the College's reasonable satisfaction. If the Advisor feels that there are significant problems with their working relationship with the Student, whether through communication and scheduling issues or with the student's work, they should inform the program chair or program manager immediately.
Adjunct Advisors requested to serve on the hour-long review will do so on top of their contract and be compensated in compliance with the CBA.

Main Advisors
Each incoming student is assigned a main advisor who offers help with practical, program-related issues and tracks the development of the student's studio practice throughout the course of study.
In addition to the above, the main advisor serves as a figure of continuity and consistency within a program whose curriculum encourages wide-ranging contact.
The Main Advisor works to offer the student curricular guidance as they navigate their time at CCA, as well as provide support in professional development. Main Advisors are expected to serve on the student's hour-long review, which will count as one of the total number of contact hours in the ISC arrangement. This happens in the spring semester. Students have the option of requesting ranked faculty to serve as their Main Advisor for either 1 or 2 units. Normally a Main Advisor will work with a student for the entirety of their time in the Program, but students may choose to switch Advisors after one year, if mutually agreed.
Selecting Advisors | Semester 2–4
After the first semester, students consult their main advisor and work with the Graduate Fine Arts Office to select their other advisors during the registration period near the end of each semester. Students will receive detailed instructions on how to elect preferences for advisors. Please note: similar to other courses, advisors fill up. Students are registered for advisors on a first-come, first-serve basis after submitting their preferences to the Graduate Fine Arts Office, so it is important to return your preferences in a timely manner.
Advisors have the option of sharing their availability at the outset of each semester. In selecting an advisor, students are responsible for confirming that their advisor's schedule matches their own.
Independent Advisors
Students may take ISC units with CCA faculty or other cultural practitioners outside of the college (Note: non-CCA practitioners or CCA faculty who are not on the ISC advisors list are subject to the approval of the advisor and the MFA chair.). Students may work with a maximum of two "independent" advisors per semester, for one unit each.
Students must select their advisors by the end of open registration in order to allow adequate time for the Graduate Fine Arts office to contact and hire independent advisors before the start of the semester. See the Student Records page for dates and deadlines.
2 unit advising = 6 contact hours (Main Advisor)
Ideally ISC meetings are evenly distributed throughout the semester. Students should have their first meeting with each of their advisors by the end of week 3, second–fourth meetings by end of week 10, and their fifth and sixth meetings by the end of week 14 or 15.

1 unit advisor = 3 contact hours (all other Advisors)
Ideally ISC meetings are evenly distributed throughout the semester. Students should have their first meeting with each of their advisors by the end of week 3, second meeting by end of week 10, and final meeting by the end of week 14 or 15.

*Both advisory and main advisory Individual Studio Critique units can be fulfilled through meetings of varying length, with each unit equating to a total of three contact hours. Meetings tend to happen in one-hour sessions, but can be altered as agreed upon by both the Advisor and the Student, so long as the total number of contact hours is reached during the semester.


Meeting Schedule & Structure
The Graduate Office provides students with their advisors' email addresses. Students are expected to initiate contact with their advisors and are responsible for communicating their specific goals and defining the working relationship.
ISC arrangements should include the following:
A specific schedule of studio visits based on the number of assigned units. Students will meet with faculty during their previously agreed upon availability. Most of these visits will occur in CCA's Dogpatch Graduate Studios, though meeting locations may change if by mutual agreement;
During these studio visits, the Advisor should offer critical feedback about the student's work, their aesthetic intentions/strategies, research methods, etc. Advisors should be honest, rigorous, and constructive in their critiques;
The development of a bibliography, a list of artists/events/exhibitions that the student should research and then discuss in subsequent meetings, suggestions for potential visual, cultural, or bibliographic resources to explore;
In the initial contact with the Advisor, the student should be informed of the expectation to present their work orally from the first meeting onward.

The arrangement may also include:
A tutorial on a specific set of technical skills (i.e. mold-making, video or image editing, bookbinding, printmaking, voice lessons, etc.);
Guidance with the student's writing projects, as well as counsel on sustaining an artistic practice after graduation, including applying for fellowships and grants, securing and executing exhibitions, et al.
ISC units are pass/fail; students who fail to meet all requirements, to establish a schedule of visits with their advisor(s), or be present at scheduled appointments, or do not illustrate satisfactory progress, will be given a failing grade by their advisors.
Students are responsible at the end of each semester to evaluate their ISC advisors using the college's standardized evaluation form.