Use Every Resource You Can
Use Every Resource You Can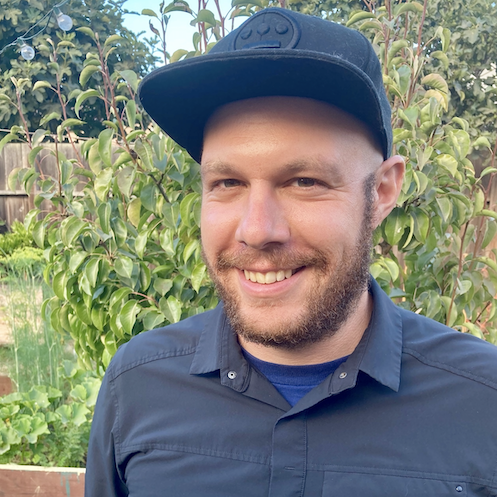 Leonard Crosby - CCA Alum, MFA Creative Writing, Fiction
I grew up in the small, rural town of Enumclaw, WA, about an hour southwest of Seattle. My father worked in construction, and my mother as a nurse. Though they both enjoyed reading, and had a small number of books in the house, neither of them had gone to a four-year college, nor had their parents. They were loving and caring, but neither had a vision or plan for my future in higher education. They helped with homework, and took me to the local library, but there was no demand that I achieve high grades, or prep for college entry exams.
In 2001, just before my junior year of high school, we moved to Hot Springs, South Dakota, in the Black Hills, to be closer to my mother's family. Not only was the high school much smaller (400 students vs. 1500 in Enumclaw) the culture was very different. The area was much more conservative, and almost nobody had any interest in hip-hop, punk rock, or science fiction (my three passions). I also felt outcast because my first day of class was 9/11, and I stood out over the next two years for opposing the invasion of Afghanistan, and later Iraq. Like in Enumclaw, I didn't connect with most of my teachers, many of whom seemed underpaid, uninterested, and with little concern for critical thinking or true learning.
When I graduated, I knew I wanted to become an English major and a writer. But my parents couldn't afford for me to go to school out of state, because of the added expenses. I also had limited options because of my 2.7 high school gpa, and low SAT scores. I ended up attending Black Hills State University, a small liberal-arts college of about 10,000 students in the northern Black Hills.
My first semester was difficult because I was shy and felt like I didn't belong. I remember watching an outdoor dance on the opening orientation day, standing on the sidelines, wishing I wasn't so scared and awkward and could join in.
However, once I got into my classes, things began to change. I took Shakespeare 1 my first semester, and was overwhelmed by the rigor of the class, and the requirement that we act out scenes from the plays. But the instructor, Dr. Oches, took me under his wing to guide me through the material, and help me in my other classes. I soon learned that having occasional free time on the weekends was the most I could expect if I were to succeed in college. I also realized, taking composition 1, that I really had little grasp of English grammar or the writing process and had lots to learn. At the same time, I was in danger of failing my remedial math class, and had to work with the instructor outside of class all semester just to pass. But my first semesters I earned a 3.00. I remember being proud, along with my parents, and Dr. Oches scoffing: "3.0, you should be getting straight A's."
Looking back, I would have greatly benefited from an academic coach to teach me time management, study skills, and the culture of higher education. I don't know if I had an academic advisor (none ever contacted me) or if there was a Student Success office, but I know things would have been easier if there had been. As it was, I had to figure all those things out by trail and error.
During my junior year, I was hired as a writing coach after excelling in an advanced writing course, but there was almost zero training on how to tutor, or how to help students with other issues besides writing. I had many rocky tutoring sessions, learning how to teach others how to succeed in college while I was still figuring it out myself.
Eventually, I graduated from the colleges' honors program, and applied to graduate school. However, I was never contacted by any Career Services program, or given advice on how to get into the best university for my future studies. Because of this, it was two years before I started my MFA in fiction at CCA.
But if there had been advising, success, or career services offices to take advantage of, I'd have achieved my goals much sooner and with much less work. So my advice to all first-generation students: use every support you can! You may reach your goals that much faster.
Advice for First-Gen College Students
Even if you're succeeding in college, make use of all the resources available to you! Develop partnerships and mentorships with your instructors, your colleagues, and the staff that is here to support you