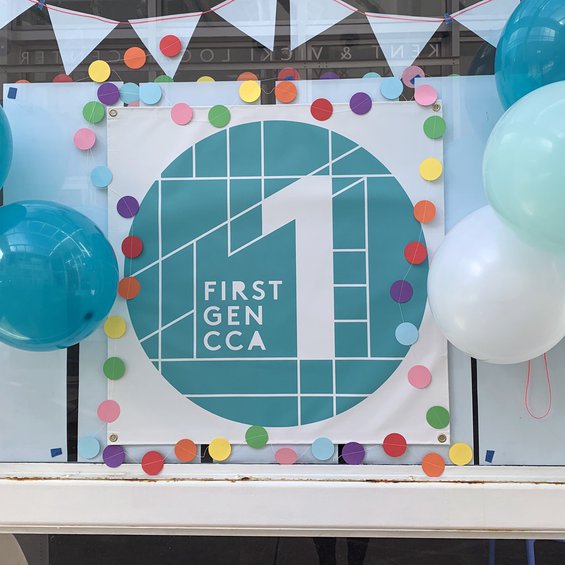 Select Words from the First Generation College Celebration on November 8, 2021
Know that you are not alone!
NEVER be afraid to ask for help.
Your ancestors love & support you.
Your past + future are valid + valued.
You are here for a reason. You belong.
The CCA community is more vibrant with you in it!
Just by being here, you are already making a difference.
Be proud that you are representing your family/community: Role model!
---
Support and Advice for our First-Gen Students from our CCA Community
"You are already more than enough, you have so much good to contribute and so many of us are here, simply waiting for your beautiful, honest, amazing brilliance!" ~Tammy Rae Carland, Provost
"Even if you're succeeding in college, make use of all the resources available to you! Develop partnerships and mentorships with your instructors, your colleagues, and the staff that is here to support you." ~Leonard Crosby, Interim Director of Learning Resources
"Your voice is important, you deserve to be here, and you have the right to celebrate your successes and honor your challenges." ~Fonda Yoshimoto-Reed, Director of Student Success
"You are divinely unique in the experience it took to get here. We see you!" ~Yesenia Aguilar, Individualized 2019
"My wish for our first-generation students in particular, is that despite any insecurities or challenges they face, they can truly find their place at CCA - and more importantly, they can find themselves. I hope they take full advantage of the formal and informal education they receive, the interactions with the people they meet, and the resources at their disposal to have as many transformative experiences as possible!" ~ George Luis Sedano, Vice President for Student Affairs
"Try to do something different every few years, pick up a hobby, learn a new language, read a new book, make new relationships, to keep expanding your network and skills." ~Jeremy Khuth, Director of Residential Education
"Being First-Gen is a part of our identity that we need to be proud of! From one First-Gen student to another, please know you have people cheering you on and when, not if, you complete your degree - you will be representing the countless familial generations before you that worked to get you across that stage!" ~Ardi Samonte